Report Colin Lewis Grand Prix, Paignton – Saturday, 25 May 2019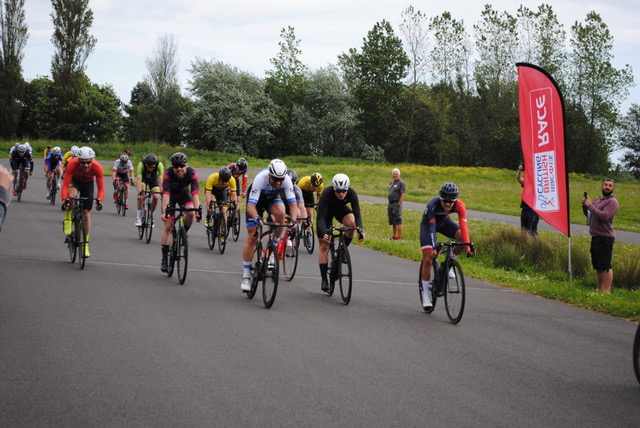 Mid Devon Cycling Club hosted the annual Colin Lewis Grand Prix at the Torbay Velopark on Saturday. This was also the second round of South West Series, with some of the biggest fields in the region this year.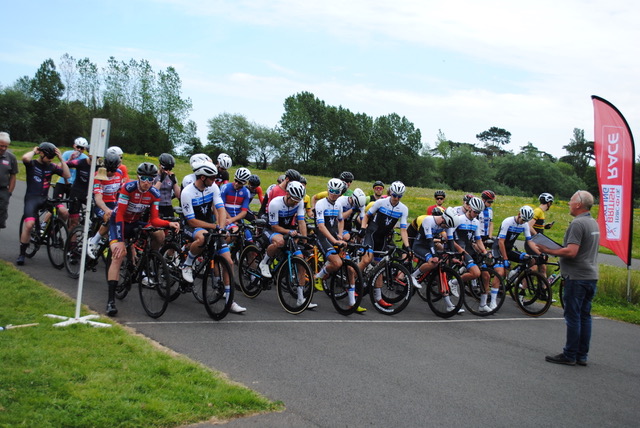 In fabulous weather conditions, the youth races started the day with MDCC youth having great success: In the Under 8's Ed Holmes won the boys and Maddy Woodger was 3rd in the girls.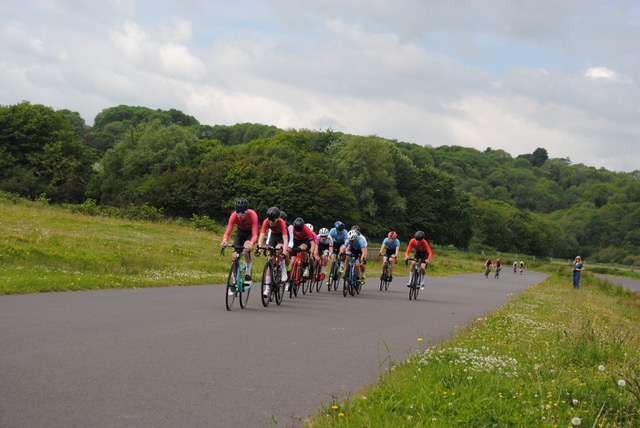 The Under 10 boys continued to clean up on the podium this season with 1st place going to Bayley Woodger, 2nd to Matt Holmes and Jacob Start coming in 3rd. In the Under 16's Boys Morgan Gibson-Clay was 2nd in a strong field with the places being contested in a bunch sprint. The adults races had strong field in both the Men's and Women's categories
Full results are here
U8 boys
1 Cody Culley Wheal Velocity
U8 girls
1 Lauren Fox Wheal Velocity
2 Bryher Elliott Wheal Velocity
3 Madeline Woodger Mid Devon CC
U10 boys
1 Bayley Woodger Mid Devon CC
2 Jacob Start Mid Devon CC
3 Matthew Holmes Mid Devon CC
U10 girls
1 Orla White Dartmoor Velo – Care Control…
2 Molly Hughes
U12s boys
1 Oscar Elliott Wheal Velocity
2 Elliot Albert Wheal Velocity
3 Joseph Edwards Mid Devon CC
4 Thomas Roodhouse Wheal Velocity
5 Jed Claxton Wheal Velocity
U12s girls
1 Eva Fox Wheal Velocity
2 Megan Dafydd Maindy Flyers Youth CC
3 Molly Lane Pilgrim Flyers
4 Aine Graham
U14s boys
1 Fin Mead Propello
2 Isaac Wythchard
3 William Salter 1st Chard Whls
4 George Packham-Southon Team Tor 2000 KALAS
5 Jack Wilson Wheal Velocity
6 Rhys Wythchard
7 Ewan Dix Dartmoor Velo – Care Control…
8 Noah Thomas Mid Devon CC
9 Reuben Walter Minehead Merlins
10 Angus Graham
U16s boys
1 Charlie Tompkins Propello
2 Morgan Gibson Clay Mid Devon CC
3 Finlay Walter Queens Head Cycling
4 Callum Start Mid Devon CC
5 George Eames North Devon Wheelers
6 Jacob Thomas Mid Devon CC
7 Shaun Duffield Propello
8 Harry Jukes Wheal Velocity
9 Jake Rowell Wheal Velocity
10 Reuben Heal Mid Devon CC
11 Abraham Reid Dartmoor Velo – Care Control…
12 Finlay Webb Exeter Wheelers
U16s girls
1 Hannah Ranger
2 Connie McLaughlin Dartmoor Velo – Care Control…
Women's race
1 Laura Rayner
2 Nikki Toomer Exeter Wheelers
3 Anja Roeding Exeter Wheelers
4 Catriona Ross Bridport CC
5 Rosalind Willicombe Exeter Wheelers
6 Haddi Conant Datalynx-Parenesis Cycling
7 Hetty Summerhayes Mid Devon CC
8 Francesca Parlur
9 Karen Wyle Smith Exeter Wheelers
3/4
1 Dominic Pullen Propello
2 Daniel Lyness Royal Navy & Royal Marines CA
3 Alexander Ford
4 Samuel Woods Plymouth Corinthian CC
5 George Greensmith Propello
6 Chris Howarth Royal Navy & Royal Marines CA
7 Michael Rogers Plymouth Corinthian CC
8 Nick Blight Nopinz Symec Development Team
9 Joe Rosser BGE
10 Andrew Henderson Nopinz Symec Development Team
Elite/1/2
1 Aled Jones VCEquipe/FlixOralHygiene/Propu…
2 Joshua Gray Team Tor 2000 KALAS
3 Oscar Hutchings Team Tor 2000 KALAS
4 Tom Nancarrow Nopinz Symec Race Team
5 Thomas Day Giant Cycling Club – Halo Film…
6 Dougal Toms University of Exeter Cycling C…
7 Philip Bray Plymouth Corinthian CC
8 William Makin Wheal Velocity
9 Matt Tupman Okehampton Cycle Club
10 Luke Craddock TAAP Cervelo
11 Charlie Revell Team Tor 2000 KALAS
12 Elliot Barratt BIKESTRONG-KTM
13 Blake Pond Nopinz Symec Race Team
14 Julian Pitocco Mid Devon CC
15 Geordie Stock Queens Head Cycling
Masters (over 40's)
1 William Bunday Royal Air Force CA
2 Wayne Hitchcock
3 Gavin MacDougall Tavistock Whlrs Cycling Club
4 Andrew Henderson Nopinz Symec Development Team
5 Si Potter Mid Cornwall Cycling Club
6 Brian Hennessey BCR Racing
7 David Elliott Wheal Velocity
8 Jason Kettle Mid Devon CC
9 Adrian Clode Revo Racing
10 Andrew Blake Wheal Velocity