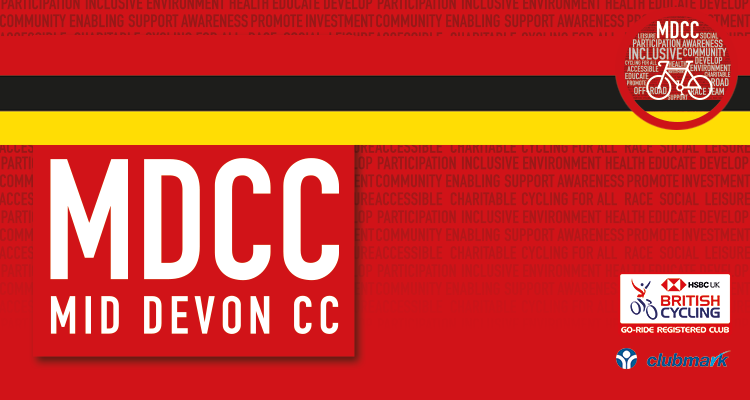 MDCC Mission Statement
Mid Devon Cycle Club is a community resource giving open access, supporting and promoting cycling for all, across a wide range of cycling activities to people in Devon and beyond.  The club:
Offers substantial physical and emotional health benefits including a broad social programme

Nurtures diversity

Provides coaching, funding and facilities to aspiring competitive cyclists

Contributes to improvement of the environment by influencing positive change.
MDCC Vision Statement – OUR ROAD MAP FOR THE FUTURE
Mid Devon Cycling Club will be an exemplar of a modern and progressive community Sports Organisation; a centre of excellence unlocking the potential of all its members and providing opportunity for fun and good mental and physical wellbeing.
Mid Devon Cycle Club will:
Secure growth in numbers and breadth of cycling activity whilst exhibiting commitment to its proud roots of competitive cycling

Coach and develop future champions

Build an expanding portfolio of activity to attract a broader community of interest and enable greater participation

Provide an improved rewards and recognition process.

Continue its commitment to its Dartmoor Classic Sportive enabling contribution to relevant local charitable concerns and to the infrastructure needed for development of its aims and of a growth in community hubs in the local area.

Host national standard cycling events that will be part of the building of MDCC as a recognised leading cycling club in the national context.

Expand its network of influence across community organisations to bring about positive changes in attitude towards cycling and cyclists in every aspect of society.

Lobby for suitable engineering and construction work to accommodate the increasing importance of cycling as a means for transportation.

Contribute to the improvement of the environment by influencing positive change.