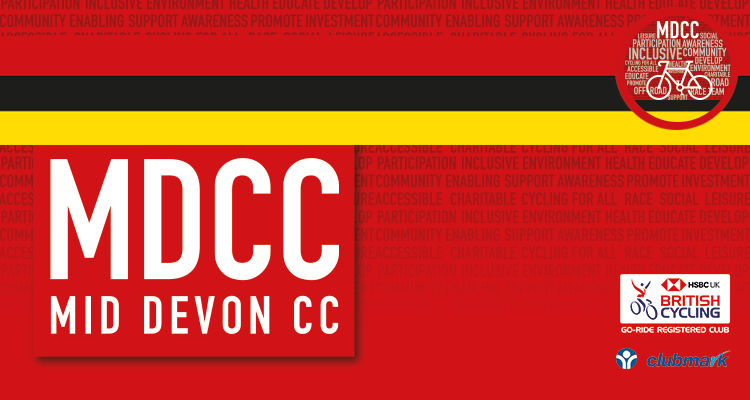 The 2023 Club Committee is as follows
Ron Keegan – President
Currently, my function as a club Vice President is limited to drawing on my cycle sport experience and communicating with our Chairman, Mike Gratton, ideas which may benefit events such as the annual Totnes/Vire stage race and the Dartmoor Classic sportive. I'm also part of the team who annually fill the rider packs for the D.C; something I have enjoyed doing ever since it's inception. I also help out on the weekend of the event, stuffing goody-bags and, on one occasion, I had the honour of serving as a ride ambassador.
Background: It was through the club's flagship stage race, the Totnes/Vire, that I first became involved with the Mid-Devon, acting as the main sponsor's representative and manning the public address system. At that time (and although I had been living in Devon for several years), I was not able to join the club as I was an active member of the Liverpool Mercury, as well as serving on the executive of the British Professional Cycle Racing Association (BPCRA).
During my involvement with the BPCRA, I worked as a publicity officer on a number of major stage races, such as the London-Glasgow and the Sealink International. It was during this period that I was approached by the Mid-Devon to promote the Totnes/Vire and secure meaningful sponsorship for the organiser's ambitious plans. Thus, in 1980, began a decade of growth which saw the event transformed from a regional 2Day to a 4day of national importance. While for the first three years I served solely as the event promoter, for the remaining seven I added and embraced the role of chief organiser. My ability to accept the organiser's job coincided with the conclusion of my previous cycling commitments and I was finally free to become a fully fledged member of the South West's most prestigious club, the Mid-Devon. The following years saw me serve terms as press secretary, general secretary, British Cycling Federation delegate and organiser of the Herald Express Heart Appeal charity cycle challenge.
In the late 80s, I regularly reported on the South West racing scene for Cycling Weekly and, for a couple of years, wrote a cycling column for the Western Morning News.
Prior to moving south, I started club cycling with the Merseyside Wheelers before helping to form the Liverpool Premier racing team. Over a period of eight years, I competed in every cycling discipline; with only very modest success.
Arriving in Torquay, I continued cycling, briefly returned to road racing and, over the following years, rode several challenges including the Etape du Tour and the Land's End – John o' Groats ride.
In 2005, inspired by riding one of a small but growing number of mass participation UK cyclo-sportive events, I pitched the idea to the club committee that the Mid-Devon should seriously consider staging such an event. The committee's acceptance of the idea ultimately changed the club's fortunes and I was proud to be the Dartmoor Classic's promoter for its first ten years.
After a varied working life, I finally retired from South Devon College, where I served as a lecture for eleven years. I am now looking forward to the next period of my involvement with cycling, so here's to an exciting, bright and enjoyable future for our club and all its loyal members.
Mike Gratton – Chairman

Roles include: Co-ordinating, supporting and representing the club and reporting on all club activities. Having a duty to all members and associates of the club to run the club and committee in a proper manner. Liaising with all sections of the club and overseeing all club activities.
Background: I have been a member since 2011 and has been chair since the start of 2021.  Mike also organises the Totnes Vire 2 day Stage Race.
Rob Woodger – Vice Chair and Youth Academy 
Roles include: Co-ordinating, supporting and representing the club at events across the UK and reporting on all Youth academy activities. 
Background: Retired Athlete Hammer and Shot, love all things sport and helping people to succeed their goals at any age. I have been in FE for 21 years and carry out many different rolls around the SW college 
Mark Sanders – Treasurer

I look after the finances of MDCC which includes the bookkeeping and preparing Accounts. It's worth noting that Dartmoor Sportive manage their own finances.
Background: I have been a member of MDCC since 2003 and am a keen time trialist. I am a qualified accountant and have been Treasurer for 5 years.
Paul Martin – Club Secretary & Moderate Group rider
Oversee: Core, Moderate & Fast Moderate ride groups. Organise, with others, ride backs, away day rides, French trips & other events such as the Mid Summer Fish 'n Chip ride.
Background: Former runner but very many years ago. Cycle mainly for pleasure and the social side of riding with so many good and interesting people. Enjoy doing some Sportives and Audax, mainly in the local area. Try to cycle about 100 miles/week.
Andrew Parker – Vice President

Overseeing role and support for the Chairman and club mainly focusing on the racing side of the club and encouraging people to race as well as the Youth coaching.
Background: I joined the club in 1985 and have been involved in a range of activities from social, club runs, youth hostel trips, racing and organising events. I work as the South West Regional Event Officer for British Cycling.
Andrew Perkins – Vice President

As former Chair Andrew supports the other office holders in their roles, assists on legal, governance and insurance issues and has the 'Event Partner Liaison' role on the Dartmoor Classic Committee. He promotes the annual Teign Valley Hilly TT on Good Friday.
Background:   Andrew first joined the club in 1985 when I was 14 years old, and has raced at elite level competing in road races, time trials and criterium races, and is regular leader of the 'A' Run.  He has recently turned his hand to triathlon competing his first event in October 2021.  When not cycling
Andrew enjoys skiing and open-water swimming.
Martin Smith – Off-road secretary – Cyclocross
To be a point of contact for members interested in off-road rides, cyclocross and mtb. Also a race organiser and a project manager of velopark off-road upgrades.
Background: Martin has been with Mid Devon CC since 2015 and joined the committee in 2019.Although starting with the club on C rides soon worked up through to A & B rides and to racing for the club in multiple disciplines. Circuit races, Road races including the Primavera. Club TT's plus MTB XC and Cyclocross at regional and National events. When not riding and racing or planning cyclocross courses, Martin is either walking his border collie, designing magazines as well as snowboarding or djing.
Ben Tisdall – Off road secretary – Mountain Biking
Working alongside Martin Smith promoting and assisting with the off road side of the club.
Background: Ben joined the club in 2010 after moving to Totnes from London. He is a long time cyclist who has tried just about every bike racing discipline over the years and is still looking for the one he really excels at. Ben is also a keen trail runner. His day job is as a full time events organiser with Sportiva Events.
Jane Taylor – TT and Event Organiser
I organise the Ken's Summer 10TT along the Teign Valley and am a Breeze Ride Leader.
Background: MDCC member for 5 years. Retired after 30 years of Policing. Volunteer with Domestic Abuse and Homeless Charities.
Vice Chair of Kingskerswell Parish Council.
Linda Simpson – Liaison Officer

Assist potential members and cyclist enquiries. Raise the profile of club activities internally and externally. Build relationship between membership and the club committee. Sit on the committee to help provide representation of the membership and their views.
Background: Switched from mountain bike to road cycling in Oxfordshire and since moving to Devon. Joined the club 5 years ago. Love being part of the MDCC family!
Jamie Horton – Membership secretary

Co-ordinate and process new membership applications and subscriptions. Renewals for existing club members. Reporting to the Chairman and Committee.
Background: I have been a member of MDCC since 2010, having moved into cycling from Triathlon where I competed in and also organised Olympic distance races. Since becoming a member of the club I have been involved in the Social side of the club and now sit on the Committee as Membership Secretary.
Colin Butler – Welfare Officer

Co-ordinate and lead welfare and safeguarding. Reporting to the Chairman and Committee.
Background: I have been a member of MDCC since 2016. I am a social cyclist and enjoy companionship, exercise and riding different roads to different cafes and value the positive effects on my and others wellbeing. I have participated in Sunday club rides, ride-backs and the Brittany Trip. Having recently retired from 33 years in education, 22 as a Headteacher, I have extensive experience of Welfare and Safeguarding which I will employ in this role.