We now require all rides, maximum of 6, to sign up by 2000h on the Saturday eve before the Sunday ride. We have always allowed 1 or 2 'trial rides' before you have to join. We want to continue with that but with 'The Rule of 6' we have to be careful. PLEASE DO NOT JUST TURN UP
We now have a sign on sheet which we are not making public so you'll need to fill in the form below to sign in for your trial ride. We'll then advise you via email what to do on the day.
Please fill in the form on these post to sign up: https://www.middevon.cc/mid-devon-club-runs-rule-of-6.html
The Club Runs are the heart and soul of the Mid Devon CC giving us the opportunity to meet on an informal or social basis, organise a lift to the next event and, most importantly to simply ride our bikes.
The Mid-Devon Cycling Club run a number of club runs every week, most of which are on a Sunday.  All our riders are very friendly and we will welcome you into the club.
Most rides leave at 9.00 am from Abbrook, Strap Lane, Kingsteignton,TQ12 3PS on a Sunday unless otherwise stated below. Please arrive at 8.50 and ask for one of the ride leaders. They will advise you on the ride best suited for you.
If you come by car to Abbrook then please park considerately as the local residents don't take too kindly to being woken early on a Sunday morning. Parking on site is not recommended as from time to time the gates are locked via a combination lock and you do not want to be on the wrong side of the locked gate.
You don't have to be a member for the first two rides.  Just come along and see if you like it.  We are sure you will.
All the rides have a cafe stop so bring some money for drink and food.
Wear clothing suitable for the conditions that will keep you warm. If there is any chance of rain then bring a wet top.
The club will provide you with a card for your emergency contact details to be written on.
Please ensure you have a filled drinking bottle with you, at least one spare inner tube, tyre levers and a pump in case of a puncture.
Routes are often hilly so you are recommended to use a road bike.   A light hybrid is also suitable for the Social and Introductory rides.
Social – (30 miles @10-12 mph) A social ride that goes at the pace of the slowest rider.  Lots of opportunity for chatting.  As this is Devon there will obviously be hills so a road bike or light hybrid is recommended.  The group will stay together on the flat and although they may split when climbing, the group will wait at the top of the hills with riders given the opportunity to recover from the climb before restarting.
G – (40 miles @ 12-14 mph) is for those who are ready to venture slightly further afield than the social ride, at a slightly quicker pace, while still enjoying the social aspect of group riding. We will ride together as a group on the flat and regroup where necessary at the top of the hills. The speed will be the pace of the slowest rider.
F Group – (50 miles @ 13-15 mph – If you've enjoyed the friendly G group but want a little more then try raising your pace and distance.
E – (50 miles @ 14 mph) is for anyone who wants a good challenge but isn't interested in the competitive side of things. They do regroup after long or steep climbs but try to keep on the move. There are many riders in this group who know almost every possible route that can be used to and from Abbrook. They will take you on rides of discovery and interest.
D –  (60miles @ 16mph). Mixed hill and flatter rides generally on more main roads than country lanes. Group riding with aim to increase/maintain fitness in preparation for moving into racing.
C – (60 miles @ 16 mph) is a taster for anyone thinking of the A  & B Runs (racing) and needs to build on fitness but at a (slightly) more relaxed pace.  There is a lot of climbing with no real stopping to wait for riders, which isn't necessary as the group keeps together.
B Run (70 miles @ 18 mph) is normally a mixture of racers/fit recreational riders
A Run (70 miles @ 20 mph average) is the fastest group aimed primarily at the racers. This ride is renowned as being one of the toughest in the South West and often you'll be joined by many of the regions most exciting young talents. You need to be experienced at this level to join this run. In the summer, this ride often merges with B Run (at B Run pace)
Early Sunday Spins – (2nd Sunday of the month 30-40 miles @ 12-14 mph, 7.30 am start, returning by 11:30).  A monthly ride at the pace of the G ride for the benefit of riders who want to do a full ride but also be home at an earlier time. No cafe stop but we will aim for a short al fresco stop instead. Riders from faster groups are welcome but you are expected to stay within the group so that the pace remains comfortable for all.  Please ensure that you have good lights in the winter months and bring plenty of water and snacks
Saturday Spin– (35 miles @ 11-13 mph)  is for anyone wishing to ride with cyclists of varying strengths while still enjoying the social aspect of group riding. We will ride together as a group on the flat and regroup where necessary at the top of the hills. The speed will be the pace of the slowest rider.  Please note that this ride leaves from the visitors car park at Forde House.
Please use the contact form below for more info
Ride
Organiser
Mileage
Approx average mph
 
Social
Michele Radant
30
10-12
 
G
Caroline Twigger
40
12-14
 
F
Paul Martin
50
13-15
 
E
Ken Robertson
50-60
13-15
 
D
Tim Hingston
60
16
 
C
Craig Maberley
60
16
 
B
Mark Sanders
70
18
 
A
Andrew Perkins
70
20
 
Saturday Spins
Louise Swann
35
11-13
Starts from Forde House Visitors Car Park, TQ12 4XX.  9,00 am
Early Sunday Spins

 

7.30 start (Monthly)

Mike Dunbar
30-40
12-14
Abbrook – 2nd Sunday of the month
 
 
 
 
 
Tuesday/Thursday – 09.00 ride at 14 m.p.h with no cafe stop and home for 12.30, latest.
Tuesday Chain Gangs. These fast training rides mainly aimed at the A, B & C runs leave every Tuesday evening at 7pm from Abbrook throughout the summer.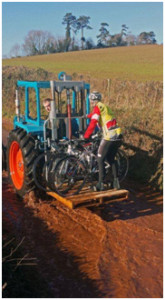 Remember to wear suitable clothing and wrap up warm in the winter months. If you are having a bad day or a mechanical problem the group will wait for you and ensure you safely reach your destination. You don't need to think about joining the club until you've attended two or three club runs but see our membership page for all the benefits of becoming a member. Many people ride to the meeting place as parking is not currently available at Abbrook. Contact info@mdcc.org.uk