Totnes Vire – 2 Day Stage Race Report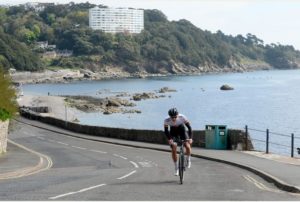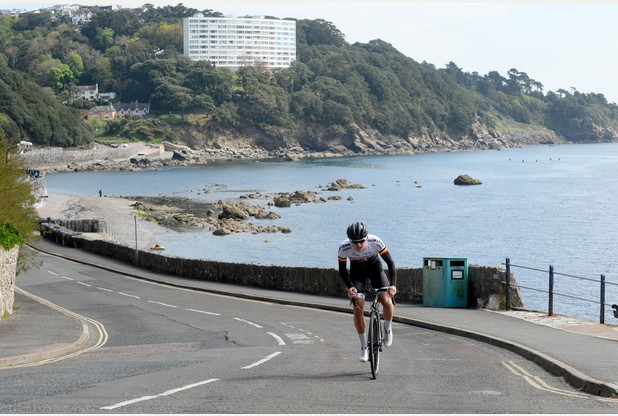 Overnight leader Stephen Bradbury dug deep to clinch overall victory by just nine seconds at the end of a third and final stage which tested the whole field to limit in the 44th Totnes Vire Two-Day Cycle Race at Okehampton.
Riding for Hampshire's Morvelo Basso Racing Team, Reading-based Bradbury had seized control by winning the Second Stage Circuit race with a huge burst of speed, and with it 30 important bonus seconds, at Paignton's Velopark on Saturday afternoon. Promising Mid Devon CC Junior Joe Saunders took 5th in the bunch kick. The morning Time Trial at Torquay's "Millionaires Row" saw some big time gaps with nearly 2 mins spreading the field and 30 secs over the Top 20.
Bradbury then made sure that he was in the key break of Stage Three, which carried him and four rivals clear halfway through the super tough hill-packed 70-mile test over a circuit between Okehampton, Whiddon Down and North Tawton.
Bradbury could not deny Douglas Coleman of Buckinghamshire's Spirit Tifosi RT the stage victory, ahead of Sam Williams (ONE Pro Cycling) and Lee Frost (VC-Equipe-Flix).
The final stage featured a gutsy effort by Matt Langworthy of the host Mid-Devon CC who was nearly three minutes down on the leaders at one point.
University student Langworthy, 21, from Combeinteignhead near Newton Abbot mounted a spirited chase over the last of four laps, helping to pull former Mid-Devon teammate Tom Baylis, from Chard, and his ONE Pro colleague George Harper back to within half-a-minute of the leaders.
But it was too little and too late to threaten stage or overall honours.
Photo credit Andy Styles. Report Dave Thomas
Overall
1 Stephen Bradbury Morvelo Basso RT
2 Samuel Williams One Pro Cycling
3 Douglas Coleman Spirit Tifosi Racing Team
4 Lee Frost VC Equipe – Flix
5 Michael Mottram Morvelo Basso RT
6 George Harper One Pro Cycling
7 Thomas Baylis One Pro Cycling
8 Matt Langworthy Mid Devon CC
9 Lawrence Carpenter Catford CC Equipe/Banks
10 Anthony Moye Spirit Tifosi Racing Team
11 Harrison Jones Hosté TAAP Storck
12 James Jobber Catford CC Equipe/Banks
13 George Smith VC Equipe – Flix
14 Jake Alderman Saint Piran
15 Jason White Bristol RC
16 Graham Collins Team Tor 2000 KALAS
17 George Kimber Cycle Sport Dynamo
18 Laurence Kirby Catford CC Equipe/Banks
19 Matthew Clements Catford CC Equipe/Banks
20 Alex Anderson VC Equipe – Flix
21 Samuel Woods Plymouth Corinthian CC
22 Sean Frost Tri UK
23 David Reece Saint Piran
24 Benjamin Irving Hosté TAAP Storck
25 Nic McKibbin Bath Cycling Club
26 Daniel Mcquillan Tri UK
27 Colin Smith Ely Race Club
28 Joe Peatson Ely Race Club
Stage 1 Time Trial
1 George Harper One Pro Cycling 00:06:59
2 Lee Frost VC Equipe – Flix 00:07:02
2 Thomas Baylis One Pro Cycling 00:07:02
4 Max Stedman BIKE Channel Canyon 00:07:07
5 Samuel Williams One Pro Cycling 00:07:10
6 Anthony Moye Spirit Tifosi Racing Team 00:07:11
7 Frederik Scheske University of Exeter Cycling Club 00:07:14
8 Stephen Bradbury Morvelo Basso RT 00:07:15
9 Harrison Jones Hosté TAAP Storck 00:07:16
9 Oscar Hutchings VC Equipe – Flix 00:07:16
11 Douglas Coleman Spirit Tifosi Racing Team 00:07:17
11 George Smith VC Equipe – Flix 00:07:17
11 Jake Alderman Saint Piran 00:07:17
14 Matt Langworthy Mid Devon CC 00:07:23
15 Graham Collins Team Tor 2000 KALAS 00:07:25
15 Scott Probert Morvelo Basso RT 00:07:25
17 Nic McKibbin Bath Cycling Club 00:07:26
17 Ken Buckley Spokes BPC Racing 00:07:26
19 George Kimber Cycle Sport Dynamo 00:07:27
20 Michael Mottram Morvelo Basso RT 00:07:29
20 James Jobber Catford CC Equipe/Banks 00:07:29
22 Lawrence Carpenter Catford CC Equipe/Banks 00:07:30
22 Ben Lockett Saint Piran 00:07:30
24 Jason White Bristol RC 00:07:31
24 Peter Haworth Team Tor 2000 KALAS 00:07:31
26 Benjamin Irving Hosté TAAP Storck 00:07:32
27 David Reece Saint Piran 00:07:33
28 Laurence Kirby Catford CC Equipe/Banks 00:07:35
28 Sean Frost Tri UK 00:07:35
28 Daniel Mcquillan Tri UK 00:07:35
28 Ashley Towey Mid Devon CC 00:07:35
32 Matthew Clements Catford CC Equipe/Banks 00:07:36
32 Ryan Visser Hosté TAAP Storck 00:07:36
32 Alex Fanshawe Saint Piran 00:07:36
35 Peter Hodson-Thomas Latchem Sunwise Race Team 00:07:37
36 Dante Carpenter Private member 00:07:39
36 Adam Moore Morvelo Basso RT 00:07:39
36 Joshua Croxton Team Tor 2000 KALAS 00:07:39
39 Alex Anderson VC Equipe – Flix 00:07:40
39 David Johnson Mid Devon CC 00:07:40
39 James Hywel-Davies Latchem Sunwise Race Team 00:07:40
42 James Porter Team Tor 2000 KALAS 00:07:43
43 Henry Farrell Hosté TAAP Storck 00:07:45
43 Joe Harris Maxxis 4 Racing Team 00:07:45
45 Charlie Beake Tri UK 00:07:46
46 Benjamin Manfield-Yorke Morvelo Basso RT 00:07:47
46 James Williams Team Tor 2000 KALAS 00:07:47
48 Charlie Revell Team Tor 2000 KALAS 00:07:48
48 Kristian Woolf VC Equipe – Flix 00:07:48
50 Joseph Saunders Mid Devon CC 00:07:49
51 Colin Smith Ely Race Club 00:07:53
52 Duncan Heywood Saint Piran 00:07:54
53 Jason Kettle Mid Devon CC 00:07:56
54 Samuel Woods Plymouth Corinthian CC 00:07:59
54 Ashley Fletcher Southfork Racing.co.uk 00:07:59
56 Ian Cullen Mid Devon CC 00:08:00
57 David Mixell Ely Race Club 00:08:05
58 Ashley Hutchison VC St Raphael 00:08:09
59 Nick Onyett Ely Race Club 00:08:12
60 Joe Peatson Ely Race Club 00:08:13
61 Joe Monk Exeter Wheelers 00:08:20
62 Andrew Turner VC Equipe – Flix 00:08:22
63 Julian Pitocco Mid Devon CC 00:08:24
64 Joshua Green Catford CC Equipe/Banks 00:08:26
65 Tom Lane Latchem Sunwise Race Team 00:08:53
Stage 2 Closed Circuit over 30 miles
1 Stephen Bradbury
2 Sam Williams
3 Jason White
4 George Harper
5 Joseph Saunders
6 James Williams
7 Daniel McQuillan
8 Tom Baylis
9 Max Stedman
10 Laurence Kirby
11 James Jobber
12 Ken Buckley
13 Samuel Woods
14 Harrison Jones
15 Ryan Visser
16 Ashley Fisher
17 Lee Frost
18 Alex Anderson
19 Scott Probert
20 Matt Langworthy
Provisional Stage 3
1. Douglas Coleman Spirit Tifosi Racing Team
2. Samuel Williams One Pro Cycling
3. Lee Frost VC Equipe – Flix
4. Stephen Bradbury Morvelo Basso RT
5. Michael Mottram Morvelo Basso RT
6. George Harper One Pro Cycling
7. Thomas Baylis One Pro Cycling
8. Matt Langworthy Mid Devon CC
9. Lawrence Carpenter Catford CC Equipe/Banks
10. James Jobber Catford CC Equipe/Banks
11. Harrison Jones Hosté TAAP Storck
12. Anthony Moye Spirit Tifosi Racing Team
13. George Smith VC Equipe – Flix
14. Matthew Clements Catford CC Equipe/Banks
15. Jake Alderman Saint Piran
16. David Reece Saint Piran
17. Graham Collins Team Tor 2000 KALAS
18. Benjamin Irving Hosté TAAP Storck
19. Jason White Bristol RC
20. Alex Anderson VC Equipe – Flix
21. Laurence Kirby Catford CC Equipe/Banks
22. Samuel Woods Plymouth Corinthian CC
23. George Kimber Cycle Sport Dynamo
24. Nic McKibbin Bath Cycling Club
25. Sean Frost Tri UK
26. Daniel Mcquillan Tri UK
27. Joe Peatson Ely Race Club
28. Colin Smith Ely Race Club