2021 Totnes Vire – Race Report
RORY TOWNSEND, one of the top riders on the UK domestic circuit, outsprinted a 13-strong bunch as professional quality told at the end of a rain-lashed Totnes-Vire Road Race.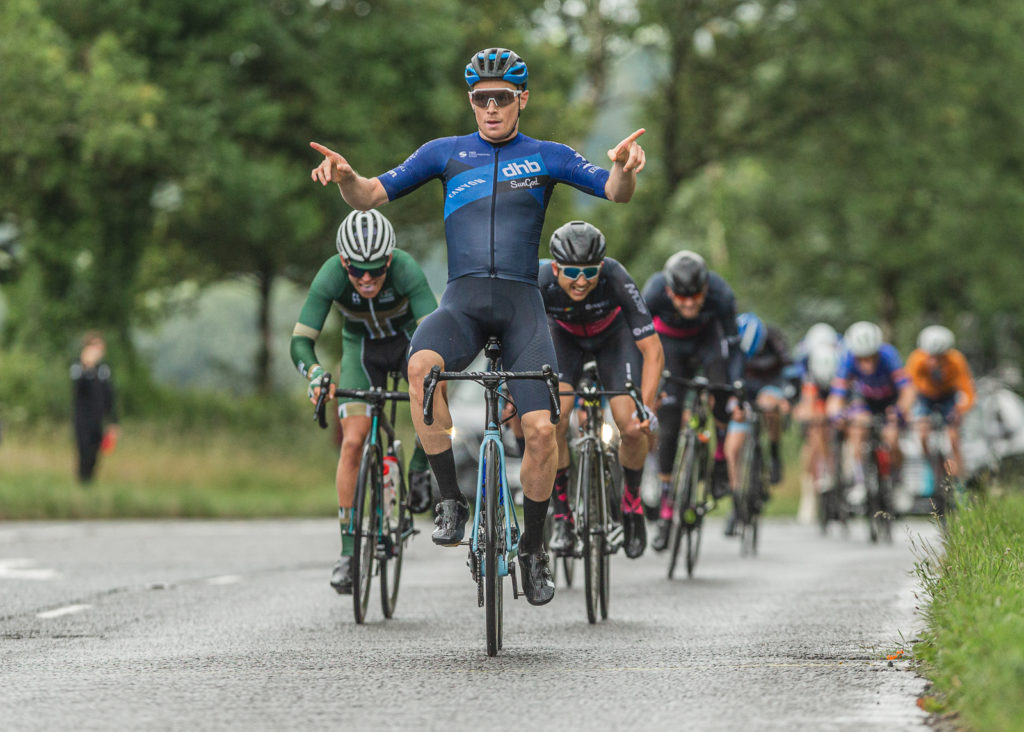 Townsend (Canyon dhb SunGod), the 26-year-old all-rounder from South London, and his teammate Max Stedman covered all serious breakaway moves during the Mid-Devon CC's 90-mile race at Bridestowe near Okehampton.
The event, the leading RR on the South-West calendar, started in a downpour, and a puncture effectively knocked Cornwall's No.1 hope, Steve Lampier (Saint Piran), out of contention.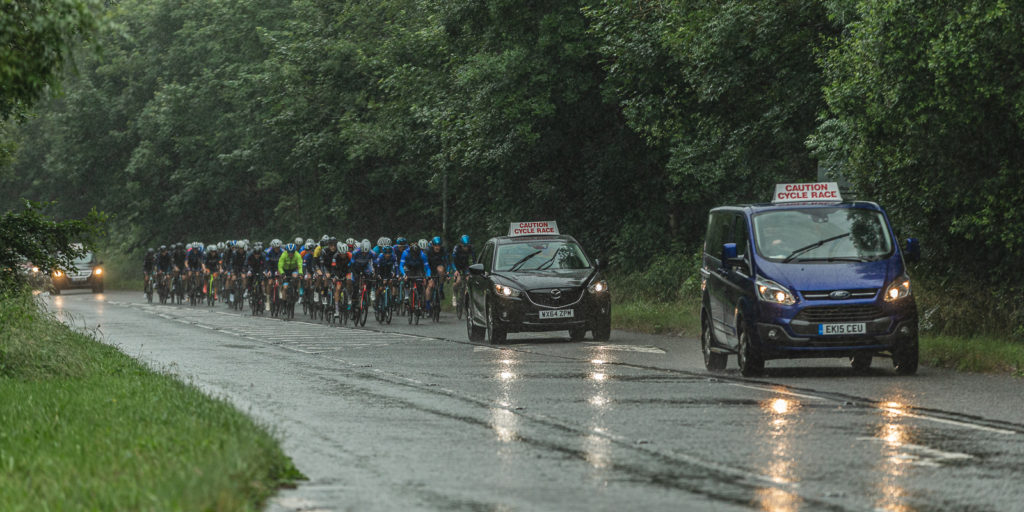 But conditions mercifully improved by the time the leaders passed Roadford Reservoir for the second of three times.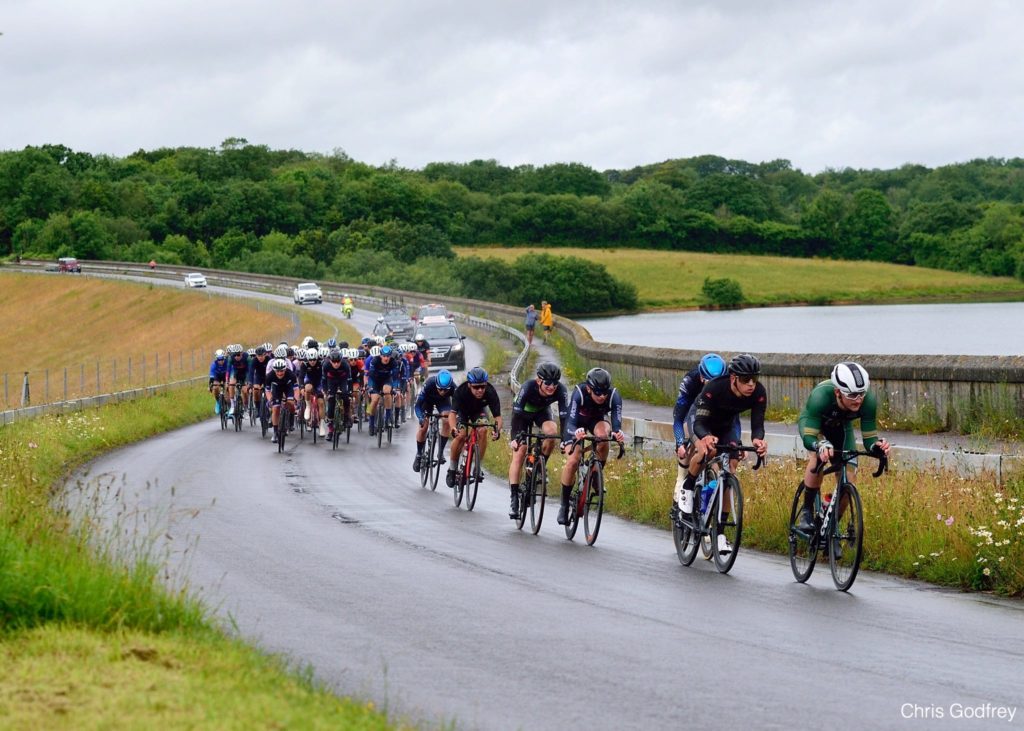 It was on the final run home from Lewdown that former Exeter University student Stedman, primarily a climber, rode hard to stop anyone else attacking before the line, and Townsend's finishing kick did the rest.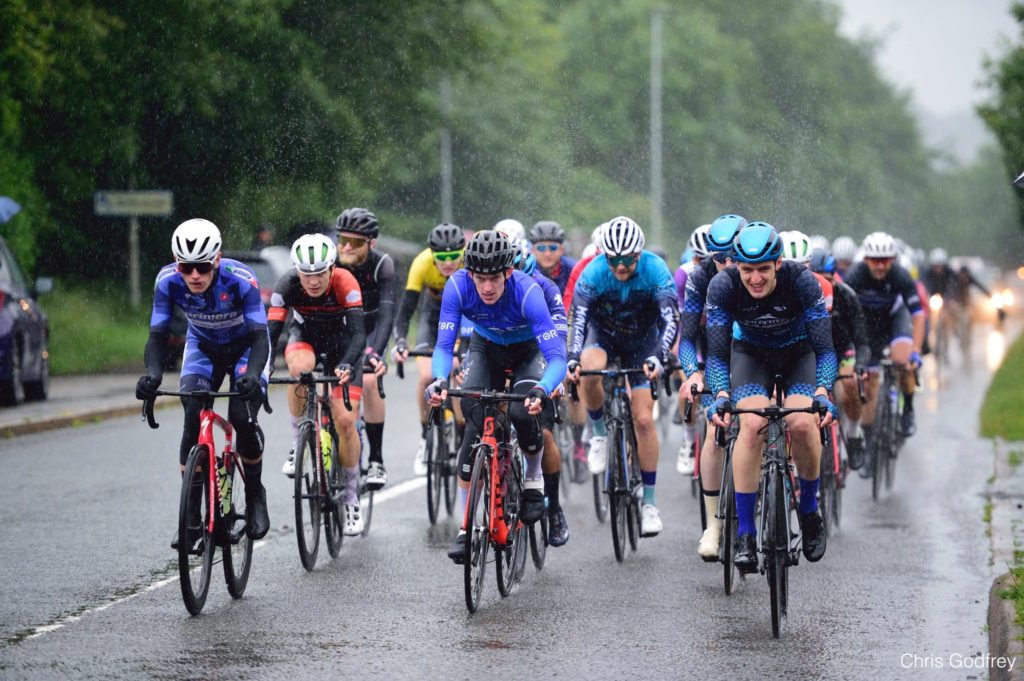 He won in 3hrs 29mins 46secs, from Oliver Hucks (NOPINZ Motip RT), with Jack Rootin-Gray (Team Inspired), Cameron Biddle (Vredestein Basso) and Cornwall's Tom Nancarrow (NOPINZ Motip) in the minor placings.
Former titleholder Lampier, who rode home steadily after his setback, promptly went out and did an extra lap just for training!
Another Home Counties-based rider, Mattie Dodd (Backstedt Bike Performance) won the 60-mile Junior race by more than a minute from Angus Lawrence (Lee Valley Youth).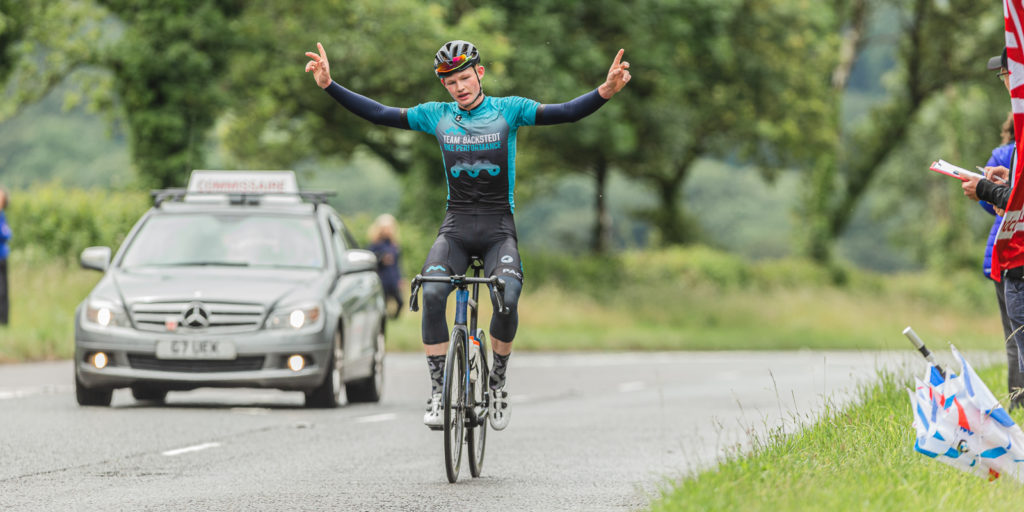 Mid-Devon CC duo Callum Start and Reuben Heal were 12th and 14th respectively.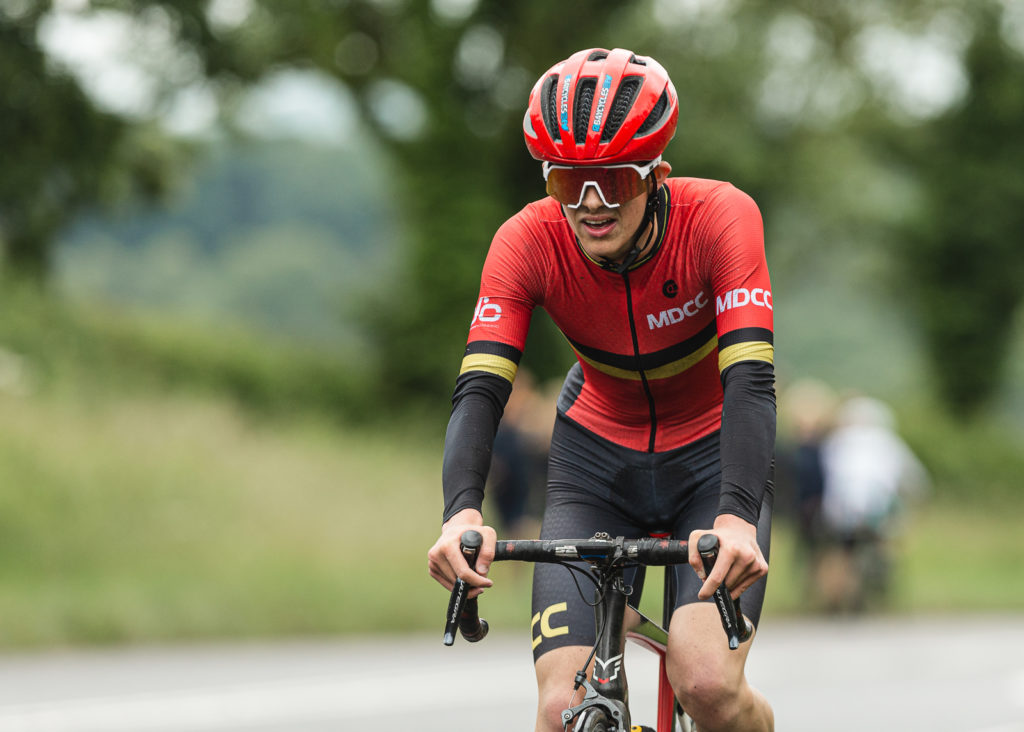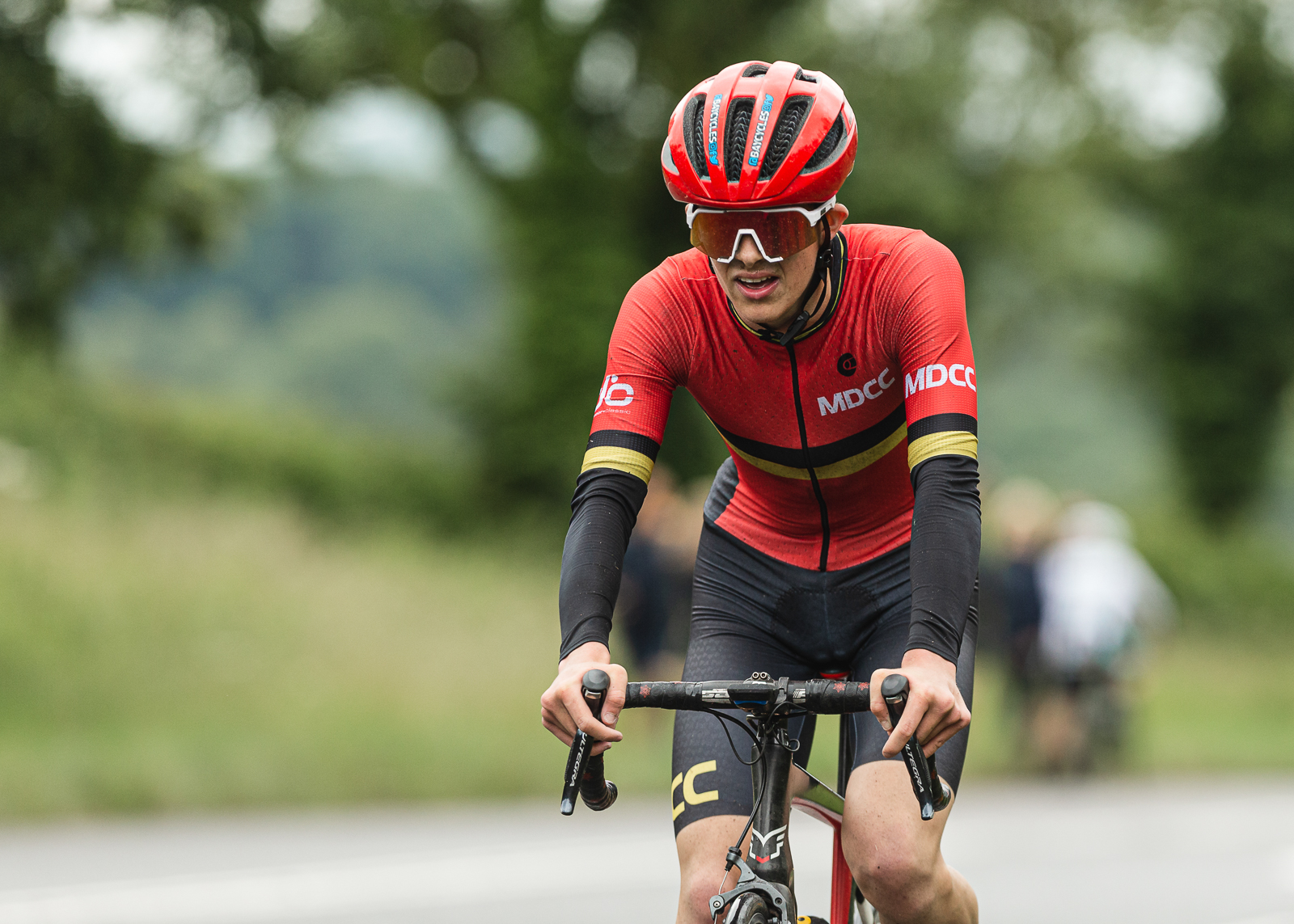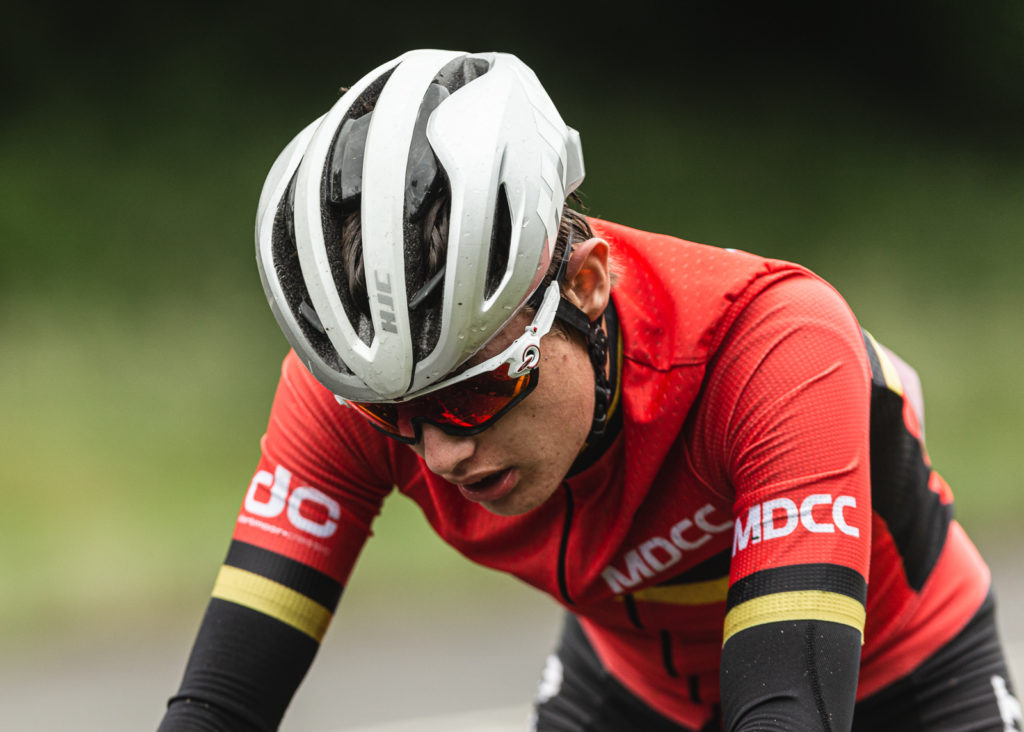 | | | | |
| --- | --- | --- | --- |
| Junior | | | |
| | | | |
| 1 | Mattie Dodd | Backstedt Bike Performance RC | 2.30.07 |
| 2 | Angus Lawrence | Lee Valley Youth Cycling Club | @1.07 |
| 3 | Joshua Golliker | trainSharp Development team | @2.13 |
| 4 | Ben Etherington | Manilla Cycling | @2.19 |
| 5 | Charlie Johnson | Lee Valley Youth Cycling Club | @2.50 |
| 6 | Jamie Gostick | Banjo Cycles – Raceware – Specialized | @2.56 |
| 7 | Oliie Cadin | Jersey Youth Cycling | @3.35 |
| 8 | Lucas Byam | Nopinz Motip Development Team | @3.38 |
| 9 | Callum Biggs | FlandersColor Galloo | @5.11 |
| 10 | Benjamin Harris | Maindy Flyers CC | st |
| 11 | George Cottrell | Poole Wheelers CC | st |
| 12 | Callum Start | Mid Devon CC | st |
| 13 | Connor Stevens | Lee Valley Youth Cycling Club | @5.17 |
| 14 | Reuben Heal | Mid Devon CC | @9.05 |
| 15 | James Pearcy | Mid Devon CC | @9.14 |
| 16 | Gaurav Meher | Lee Valley Youth Cycling Club | @9.19 |
| 17 | Shaun Duffield | Mid Devon CC | @11.20 |
| 18 | Luca Unwin | Lee Valley Youth Cycling Club | @11.58 |
| 19 | Finlay Walter | Team Zoyland Race Academy | st |
| 20 | Jack Charlton Hunt | Lee Valley Youth Cycling Club | @13.58 |
| 21 | Alfie Salmon | Lee Valley Youth Cycling Club | @19.01 |
| 22 | Finlay Webb | Exeter Wheelers | @36.56 |
| | | | |
| E/1/2 | | | |
| | | | |
| 1 | Rory Townsend | Canyon DHB Sungod | 3.29.46 |
| 2 | Oliver Hucks | Nopinz Motip Race Team | st |
| 3 | Jack Rootkin-Gray | Team Inspired | st |
| 4 | Cameron Biddle | Vredestein Basso | st |
| 5 | Tom Nancarrow | Nopinz Motip Race Team | st |
| 6 | Oliver Stockwell | Team Inspired | st |
| 7 | Samuel Clark | TBW23 Stuart Hall Cycling | st |
| 8 | Joseph Rees | BIKESTRONG-KTM | st |
| 9 | Cai Davies | BIKESTRONG-KTM | st |
| 10 | Joshua Price | Spirit Racing Team | st |
| 11 | Matthew Houlberg | Meudon Pedal Heaven Le Col RT | st |
| 12 | Samuel Painter | TBW23 Stuart Hall Cycling | st |
| 13 | Luke Barfoot | Primera-TeamJobs | st |
| 14 | Max Stedman | Canyon DHB Sungod | @ 5 secs |
| 15 | Nicholas Tyrie | Primera-TeamJobs | @ 9 secs |
| 16 | Samuel Tillett | BIKESTRONG-KTM | @3.01 |
| 17 | Sion Harlow | Team PB Performance | st |
| 18 | Chad Scanlan | Team PB Performance | @4.05 |
| 19 | Ben Millar | Team Tor 2000 Kalas | st |
| 20 | Angus Hawkins | Spirit Racing Team | st |
| 21 | Oscar Hutchings | Team Tor 2000 Kalas | @ 4.57 |
| 22 | Peter Merritt | TBW23 Stuart Hall Cycling | st |
| 23 | Thomas Lowther | Vredestein Basso | st |
| 24 | Jack Freeman | Meudon Pedal Heaven Le Col RT | st |
| 25 | Maximillian Ashwanden | TBW23 Stuart Hall Cycling | st |
| 26 | Sebastian Garry | Nopinz Motip Race Team | st |
| 27 | Jack Dallyn | Exeter Wheelers | st |
| 28 | Matt Clarke | Wheelbase CabTech Castelli | st |
| 29 | William Tidball | Team Inspired | st |
| 30 | Steve Lampier | Saint Piran | st |
| 31 | ? | Number not visible | st |
| 32 | Matthew Ellis | Saint Piran | st |
| 33 | Daniel Shoobridge | Nopinz Motip Race Team | @6.02 |
| 34 | Simon Skinner | Paceline RT | @10.14 |
| 35 | Rupert Graham | Spirit Bontrager BSS Rotor | @11.23 |
| 36 | Iwan Evans | Saint Piran | @17.34 |
| 37 | Jordan Retallick | Saint Piran Development | st |