Morgan Gibson Race Report – Maiden victory in first race as Youth A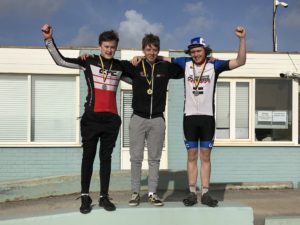 10th March 2018
Wheal Jane : SW series race 1
As expected the wind was strong up at the circuit in Cornwall making warming up on the rollers quite a challenge. The closed circuit consisted of a short but steep climb, followed by a rolling flat section and a gradual uphill stretch towards the finish. After the line a slow hairpin corner into a fast downhill – flat section with fast corners back to the hill.
I didn't know what to expect being my first race of the season as a first year cat A. The field consisted of a few strong riders, Sam Medlyn being the rider to watch. As soon as the race started I felt a huge difference from last year in terms of my performance, the race starting quickly splitting the group up to five riders, including me, up at the front. The race consisted of a lot of quick attacks up the climb and at the downhill. From the start I was feeling comfortable with the pace and was doing my part on the front, as well as sticking close to the wheels of the riders to watch. Halfway through the race an attack went on the hill, everyone instantly set out to catch the attacker as I sat in with a group of three, bringing back the solo attacker within three laps or so. With two laps to go the group of four sped up. On the last lap I sat on the back of the group ready for a sprint, with two hundred or so meters left Sam Medlyn made a seated attack as I stuck closely behind. On the last thirty meters I snuck in on his inside out the wind and sprinted for the line stealing 1st place.
Overall it was a great race, the speed and effort levels constantly in short intervals making it quite a demanding race. A great way to start my season and the SW series and get some points and experience. Thanks to Mark Dolan and Andy Parker for helping out with my coaching.