Race Report – Tris Davies 3rd at the Velopark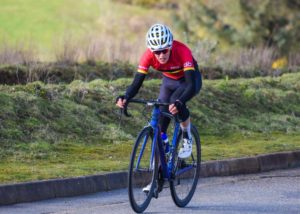 The start of the race was fairly casual with no-one really attacking. Because I didn't know what the pace would be like, I sat in for a few laps. On lap 3, I sprinted from the back of the bunch and attacked down the right hand side of the road. This was effective and I got a good gap almost immediately. I was alone however and hopes of staying away were quickly brought back as I was caught after nearly 3 laps away. I decided that the best thing to do was to sit in the bunch and follow the wheel of Tom Nankarrow, as I felt he was the strongest.
With roughly 8 laps to go. Three of us attacked, including Tom. We had a decent gap and rode hard to snap the elastic between us and the bunch. A national mountain biker called Fletcher bridged the gap, making there 4 of us. We extended our gap each lap and to be honest my legs were starting to feel it from my win the previous day. With 1.5 laps left, Tom from Exeter university attacked from behind us and no body could respond. I was certain we were going to have to sprint for third and wanted to be behind the other two riders for the finish. This was not possible however as the others were keen to keep me on the front, no matter how much I slowed down. I could have done with rear mirrors at this point as I was waiting for someone to launch their sprint. Fletcher launched his sprint, so as did I. I managed to hold off 4th but I couldn't quite get my front wheel ahead for second. I was pleased however as it was a close finish and I was easily the youngest and smallest racing. For sure I was pleased with third and picked up a nice amount of points.