Cadence Junior Road Race – National Series Round 1
The Mid Devon CC are proud to have a squad of 4 talented Junior riders for 2018. This weekend saw the first of the National Series in Wales with both 2nd Year Juniors Louie Priddle and Harrison Wood representing the club. To have two riders place in the Top 10 in an event such as this is a remarkable achievement. Louie came in 4 and Harrison just behind in 6th. Massive congratulations to them both.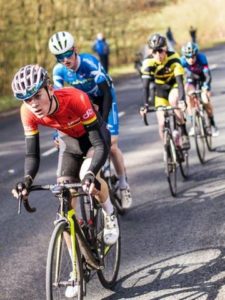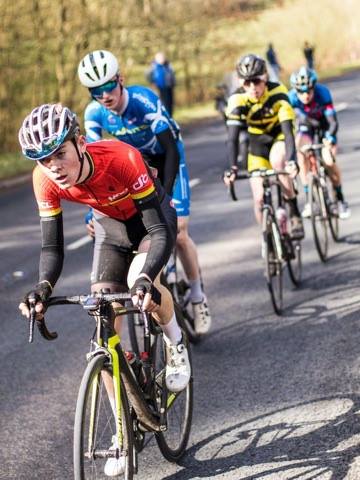 Louie Priddle
This was a race I was unable to race last year but this year I was able to. I had heard and read a lot about this race from previous years. It seemed like it was a race to break away on – but not to early and not too late! On the Saturday Harrison W arrived at my house for us to drive up and stay at the same hotel in 'Three Cocks' right next to the sign on for the Sunday. I went out and did course recon just after we arrived at the hotel and I ended up doing 2 laps whilst Harrison went on for some extra. The course looked tough in places mainly the finish where it went up a 1km climb! There were also some very tight bends with some slippery surfaces due to gravel and mud.
On the Sunday I woke up had my breakfast and got in the van and travelled literally 1 min to the HQ! All signed on and kitted up I started a 15min warm up just focusing on getting my legs opened up because I knew it would be a quick start being the first national of the year. We began the sketchy neutral section where there were actually a few crashes towards the back because of people trying to move up. After the first lap we were stopped because of 'white lining' and also to let the load of people who crashed get back on. After a good telling off we were off again. People were chipping off the front but nothing was successful. I had to keep the early race excitement under control and focus on what I was want to achieve.
After 2 and a half laps had passed I knew I had to move now because there were two riders up the road gaining time and if I'd go now I thought hopefully others would follow and form a nice group! And that we did. I attacked with Joe West who had been out for two laps prior to that so he was a bit tired. But I knew there was a group of 3 coming up behind so I pushed on even harder to make the gap bigger. The group of 3 made it to me and we worked very well to chase the two out front down. After two laps of chaingang and chasing them down we caught the two up front. We now had a break of 5 and still gaining time on the peloton. I believe I time gap went up to 2mins 40 at its peak.
On the 2nd to last lap one of the Spokes riders From Scotland chipped of the front. From then on our group started looking at each other and not wanting to work. We worked but it wasn't smooth at all with riders skipping turns and just sitting on (very frustrating after working so well for 65km!) we hit the final climb and the rung the bell to signal the final lap! This was it – we had to push on hard or else we'd start to get caught quickly by the chasing group! Which had Harrison W and a few other strong riders in.
We hit the final climb and I glanced behind to see the chasing group behind about 10s back. I really had to dig deep if I wanted a top 3 now. I attacked half way up the climb and came past the group when cramp hit both my legs, legs on fire I was about 30 meters from the line and I could here heavy breathing and panting just behind me. I sprinted to the line and just missed out on third place by half a wheel length. And ended up getting 4th.
For the first national of the year I was pleased with how the legs were and am excited to be doing the MDCC Hilly TT on good Friday Luxembourg and then Travelling to Luxembourg on the Saturday to race in the Bob Jungels UCI race on the Sunday. Massive thank you to My Dad for driving us around and also MDCC for all of the support given to us.
Harrison Wood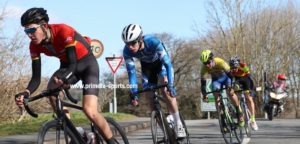 Last year was an eventful first national awakening for me. Being taken out by a motorbike wasn't exactly how I planned on ending the 2017 race. I was therefore excited and of course a bit nervous for the 2018 edition of the race. I travelled up the day before with Louies dad and I rode 4 laps of the course the day before so I knew exactly what was to come!
Now onto race day. The race started in typical UK fashion. Riders crossing the white lines with a few crashes chucked in the mix as well for good measure. The race was then stopped as I predicted after the 1st lap. They told us off. I got to the front and rolled off the front. Kind of by accident really but still a group of 5 of us rode through and off. I didn't commit really and after half a lap we were pulled back.
I held my position towards the front until around 60 kms to go from the end when I got caught behind a rather big crash. Luckily I only ended up in a thorn bush which was good ish! However I then had to chase back on for a bit as the pace was pretty high as Louie and a few others had attacked just before. I got back on and it eased. I used this opportunity to move towards the front. Then I noticed a few rides were drifting off so I decided to jump across with just under 3 laps to go. We went hard and eventually the elastic snapped to the peloton and we were away. A group of 5 of us working well together chasing a group of 6 who with around 40 kms to go still had 2.5 minutes on us. With 1.5 laps to go we had caught a few from the break but we're still 1.5 minutes behind the break. We went even harder and eventually just as we hit the bottom of the final 2 minute climb we caught them. I was done in by this point after a very hard few laps. I rolled over the line to take 6th which I was happy with after having a fairly eventful race.
Next time I hope to avoid crashing and I'm sure the top result will follow! Thanks to MDCC for the support, well done to Louie for 4th and his Dad for taking us!