Junior Tour of The Mendips – Louie takes the Points Jersey
Junior Tour of The Mendips
This was my first time racing this  as I didn't get a place last year. After being ill all week running up to the race and still feeling ill on the race day I was unsure  how I would go.
Stage 1 – 4km TT
I finished the TT with a time of 6min 16 sec which put me in 51st. This left me feeling hopeless and demoralised. But I had to put this behind me for the next stage in 2 hours time.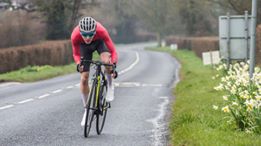 Stage 2 – 105km Road Race
The course was mostly rolling with no steep climbs other than at the very start for KOM points. I came 4th in the sprint to the top for the KOM points just behind the jersey winner for that day. I sat in the top ten of the bunch for 1 lap when I decided to make my move with Welsh rider Brecon Burnett. We soon had a large gap of about 1 minute when a few others bridged across to us. We all worked smoothly but the bunch picked up the pace. After 3 laps of being out solo we were caught. But I still had good legs! I kept trying and trying and whilst trying I was picking up all the Points for the Points jersey competition. I had won 2 sprints and got 2nd in one.
With 3 laps to go I started my sprint to grab some more points (which I did) and found myself off the front with the same guy I was in a break with at Cadence. He shouted to me "come on let's keep this up" so we put the hammer down and pushed on. A few people bridged to us and we soon had a large gap of around 1 min 30 on the peloton. Coming into the last lap I knew that the break was going to work. You just get a feeling it will. There was 5 of us up the road and working in a Chaingang – the gap did start to come down but they were too late. We were on the final straight. Unfortunately I picked the wrong wheel to start my sprint and they came around me and I got 4th… AGAIN. But I was put into the Points jersey which I actually won because there wasn't any points sprints on the next stage. I took the jersey by 3 points ahead of Matt Ellis who took the win. I also moved from 51st on GC to 14th! Overall my best stage.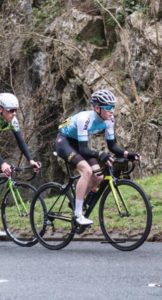 Stage 3 –
This was the stage that should have suited me this most. Sadly I had left so much out on the road the previous day I had some very tired legs. On the 2nd climb of the day I was gapped from the peloton leaving me and about 20 others to chase hard to get back on. After about 30 min of solid chasing we made it to the peloton. I moved straight to the front to make sure I wouldn't get gapped up any of the other climbs. We started to chase the break down but sadly didn't have any luck, they were too far ahead. Coming into the final climb about 1km to go my legs have out, but this was to be expected after putting such a big shift in the day before and still having some underlying illness. I was left feeling knackered! I finished up 34th overall but the winner of the points jersey. I was a little disappointed about the last stage and to end up so far down on GC but I was over the moon to take the points jersey and 4th place on stage two.
Huge thank you to MDCC for the support as always and to my Dad for taking me to the race. None of this would happen without them. Now looking forward to Totnes Vire and seeing what I can do there.