Race Report – UCI 2017 Masters Cyclo-Cross World Champs – Robin Delve takes the Rainbow Jersey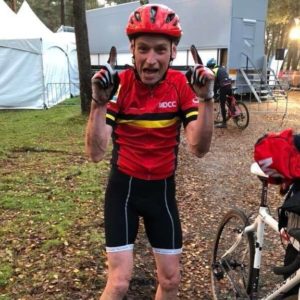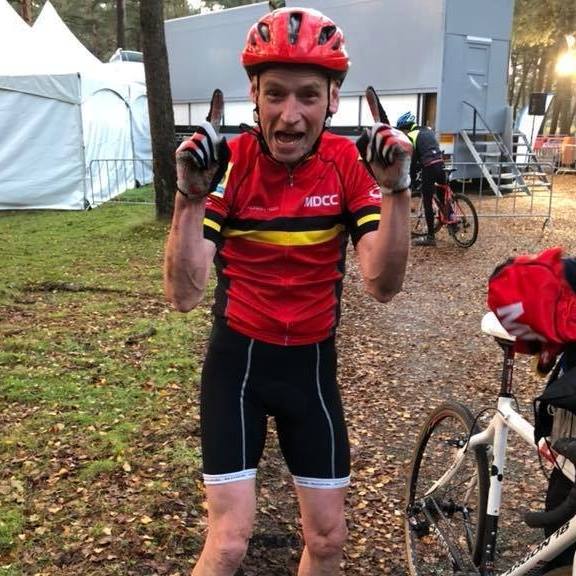 Race Report: Robin Delve
UCI 2017 Masters Cyclo-Cross World Champs: Mol, Belgium. Friday 1st December, 2017.
My age qualifies me to ride in the 60 to 64 age group.
It's now nearly a week since the race and my feet have still not touched the floor. Finding it really difficult to
write a report as the race went by in a blur, I can't remember much!! However I do love it when a plan comes
together and everyone else is totally shocked and amazed at the result…Robin Delve..World Champion!!!!!
Wednesday 29th November
Packed van and washed it. Departed 11am. Smooth incident free straight to eurotunnel. Arrived far too early
so got the rollers out in the car park to loosen the legs. Didn't see the reaction of others arriving because if I
look around I fall off!! Got the 7.20 tunnel so arrived France 9pm. Drove for 30 miles before kipping down in the
van. The noise of hard rain on the van kept me awake.
Thursday 30th November
Met Georgia, my daughter who works in France, at Lille train station. She will be my pit helper for the race.
Dodged traffic and closed roads to arrive Mol at 2pm. Important to arrive in daylight to get some practice in the
sand and to work the legs. The course was identical to last year….lots of tough deep sand…rideable but if you
do it's exhausting. Five minutes after arriving I descended the 'demon drop death slide' to hit the soft
sand…somersaulting head over heels…ending with bike landing on my head..denting my helmet!!! Great start.
Thursday evening settled into our chalet just 2 mins from the course. As per last year I took all my own food to
eat before the race and not risking any strange food.
Friday 1st December…..RACE DAY
Usual race day breakfast of porridge. Race not until 3pm. Did more practice in the morning…much more
successful this time. Checked on random gridding: 15th in a race of 32…no problem 2nd row start. Lunch at
12noon..3hrs before race..leftovers from previous evening!! Pre race warm up on the rollers and a few hard
sprints around the car park…decided last minute to put more air in tyres.
55-59 age group went off first. Our whistle went 30secs later. Plan as per last year to stay in touch but be
safe..the race can be lost in the first 2mins but can't be won. Georgia counted me at 13th after a few minutes.
We were soon into the back of the 55s which caused a log jam at the first steps. The first sand section was a
run,,,felt great….rest of first 9min+ lap went like clockwork….never felt so good….ran all sand passing many
others but were they in my race? Impossible to tell. Fast sections on tarmac went well….still passing others!!
Only way to describe it is like being in a ball with only the small area infront actually in focus….floating zooming
along!!! Don't remember puffing and panting!! First lap completed…commentator announces No 108 Robin
Delve is leading the 60-64 race!!! Heard this clearly! Can't say what I thought! Used the 55s to draft on the fast
sections..but simply left them behind on the running…this is going too well. Steve Davies pulled out with injured
leg so Lester Young switched his pit duties to me. Apparently the conversation between Georgia and Lester
was a very excited disbelieving 'I think Dad is in front leading!!!' Lester told me I was just 15 sec in front and to
control it….15secs..not much so go faster I thought!! Georgia's filming went to pieces as nerves and
excitement took over.
Next time past Lester, he shouts 1min lead….control it. There was definite shock in his voice. The support from
Brits all round the circuit was brilliant…..I did not look to see who any of them were. 2 laps done just 2 more to
go…but he announces 3 to go….jeez slight change of plan…race will be 8mins too long. Told myself same for
everyone..no negatives today. Same plan stay with 55s on flat…fast as hell running. It worked because in one
light handed moment I passed a rider….as he shouted in a very american accent..'are you a frigging
Kenyan?'..this made me chuckle but I showed no emotion…I'm on a mission!! Lester's shouting was now
pleading for me to control myself and not to take any risks. By this time my dodgy left calf was pure pain and
muscles were beginning to crumble in my right leg…just pain not fatigue so no problem. Into the last
lap..Lester's advice changed to a relaxed 'enjoy it, enjoy yourself'. Final time across the long sand section and
a huge smile breaks out across my face..time to take in the crowd. Down the finish straight..commentator
announces here he comes… the new masters world champion from Great Britain…Robin Delve. Eyes began
leaking straight away. Mission accomplished. Unbelievable excitement from Georgia, Lester and Nick Blight.
Phoned my lifelong sponsors Mum and Dad immediately. Can barely stand up my legs hurt so much….but you
are never tired after winning. The other Brit riders were all so pleased for me….but they were amazed and
shocked.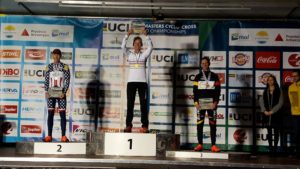 To cap it all a podium presentation like no other….national anthem the lot. I have watched so many of these on
TV…never thought it would be me. Totally awesome experience. Gold medal and a very special Rainbow
jersey.
I did not start cycling until I was nearly 40 and had my first cx race at Exeter Racecourse in 2002. Lined up that
day next to ex pro Andy Shaw who promptly lapped me in nearly every race during those early days. Andy was
there on Friday racing in the 55s. I think he finished 17th and first brit, however I had apparently passed him
and had got myself up to 14th in the 55s despite giving them all a 30 sec start.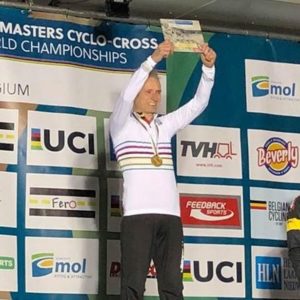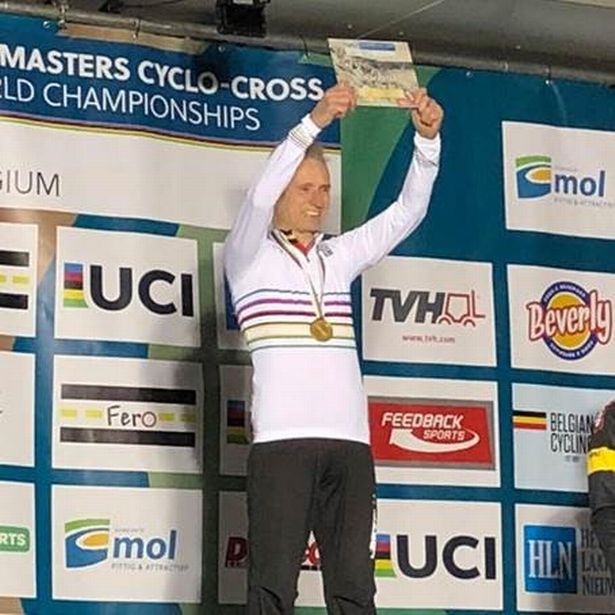 Before Friday I had done 18 cx races in just 13 weeks a deliberate ploy because I know that I push myself
much much harder in racing than in training. This included racing in Derby on a saturday and then in Falmouth
on the Sunday! 5000 miles driving already this season. I have also spent a year training for the Mol course.
High end speed, sand and running. Highend speed at westpoint crits on my cross bike. Sand training at
Exmouth. Running immediately after rollers. It seemed to work.
Fantastic to show off the jersey and medal at the velopark on Sunday. Hopefully everyone of all ages should
be inspired by my achievement.
Thank you to MDDC for providing a brilliant club framework to allow the
development of my potential.