Race Report – Mark Sanders – The Masters in Albi
The Masters in Albi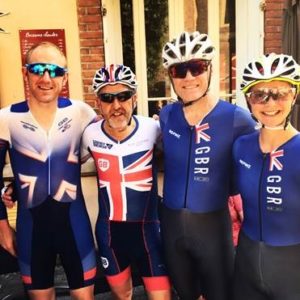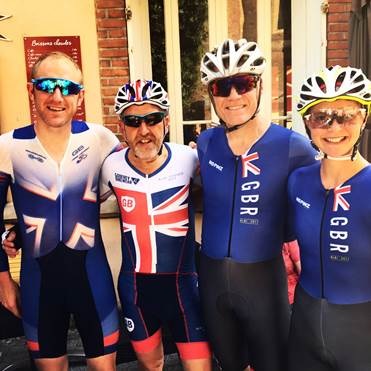 By way of background Ian Deakin and I needed to qualify to gain an entry to the World Masters Championships in Albi in August. Ian had already pre-qualified in the Cypriot event for the RR and TT for his age group 60 t0 65.
So when I went to Peterborough for the pre-qualifying event 'the Tour of Cambridgeshire' in June.  I had entered the TT and RR for my age group 55 to 59 along with Ian in his age group. At the event both Ian and I finished in the top ten in the RR (80 miles) and we were both outside the qualifying 25% for the TT. I was later to appeal and was fortunate enough to be accepted for the TT as well.
So began the logistical nightmare that involved taking four bikes and three people to Albi. For a number of reasons we decided to travel by people carrier in the end. Also by way of support my son George came along. So on a Tuesday morning at 6am we left for the Shuttle and a day and a half later arrived in Cordes Sur Ciel near Albi. Firstly we registered and got our TT bikes checked for UCI compliance and rode the TT course in 36c heat.
The next day we got to the course that started outside Albi at the motorsport race track. The bikes were checked for UCI compliance and if we had any motors on board. Then Ian was off down the ramp around an undulating sporting course that had been used for many professional events before. Then 30 seconds later the next rider. Ian finished by doing a circuit of the race track and coming under the banner in a respectable 37 minutes. My group followed with around 60 entrants from all over the world, many from GB. In my Nopinz GB kit I charged down the ramp with George encouraging me and I pursued my half minute man. It was a tough technical course which I stopped the clock in just under 36 minutes and around 40th in my age category. Kevin Tye a GB rider won in 31 minutes so I wasn't close, but enjoyed the experience. Our watts were around 20 down on normal because of our lack of acclimatisation we were later told by Matt Bottrill.
Next up was some training around the hills of Albi for our RR preparation. We did this fairly early to avoid the extreme heat. The circuit I had to do was just under 100 miles and Ian's around 65.  Then back to the hotel for a cool off in the pool. In the afternoon we registered for a 'Team GB Relay' (It was held around the town of Albi and started just outside the Cathedral) which included; Crystal Spearman, Matt Bottrill, Ian and me. I went off first and didn't really hold my own on the 2km circuit for the first lap, but pulled a bit back on the next two to pass over to Ian and then Crystal and our secret weapon Matt. We finished a creditable 16 out of 25 and I must say the most enjoyable race of the three. By the way I must thank Conrad for getting Matt on board; Matt was a gentleman despite our lack of relative speed. It was won by a team of professional Belgium's who looked very polished on the podium listening to their national anthem – maybe next year.
Now for a day off and another recce. This time more hills, but it was all good for acclimatising and getting to know the course. At the end we had a couple of beers and cycled back to the hotel.
On the day it was fairly chaotic at the start as there were friends and family members everywhere in the way of the cyclists. It was good to start the main event and I was feeling fairly good. I started around 15 minutes before Ian from the centre of Albi. As with all RR I aimed to stay near the front but with around 250 in my age group this was hard. On the first incline the GB riders seemed to drift back but I tried to stay with it. With 30 miles gone there were probably still a big group of 150 or so all together. Then the first real climb of 450m and a group of about 25 riders got away and I kept in the second group and managed ok although I realised a 39 X 25 was burning my legs a little. My group didn't seem to want to work too hard to catch the front group and we settled into an infrequent 'on and off'. Our group numbered around 35 at this stage but as the pace fell a little a few latched on. There were probably 4 or 5 GB riders and having covered another 30 miles we met another hill of 400 metres which was steeper in parts than the previous hill but then it flattened and went up again. At 65 miles in it started getting really hot and it was here near our hotel base that George handed me up a bottle thankfully. Then it was a reasonable, but undulating 20 miles to the finish at the motor circuit. It was the hardest RR I have ever done with climbing of 1660m and heat of 36c. At the end I was completely spent and drank as much coke as I could get my hands on.
Ian was well up in his race and I finished 65 so just outside the top 25%. Ian had waited for me at the finish to navigate us back to the car. I was shattered and when we got back to the hotel had a swim to cool down and then contemplated the journey home. 36 hours later we were home both very satisfied with our performances and agreed it was a wonderful experience and a great place to spend five days.
Next  year it's in Italy if we are mad enough to enter again.