Race Report Conrad Moss – Welsh 100 Championships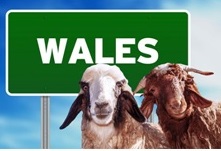 I'd start off this report by confirming that I am not Welsh, although I did serve there for 4.5 years in the RAF
I'd won this event in a record breaking time 12 months ago, and although I've been struggling a wee bit with recovery, after my National 12 hour escapades, I had some good form, which I'd backed up by battering my S4/25 CR by approaching a minute a week before with 48.03, and so I decided I'd do the honourable thing and try and defend my title.
The forecast for Abbergavenny was abysmal. Bright sunny skies for Saturday and Monday, but the Sunday was to be cold, wet and windy with no prospect of any calm and dry conditions.
I travelled up on Saturday evening, and stayed in a Premier Inn near the course. The weekend started well, with a tasty spinach and ricotta lasagne and chips, which was made even more enjoyable, when a nice local presented me with a 40% off voucher. The customary poor night sleep was shortened by a 5am wake up to cram breakfast down me, ensuring I was starting the 100 fully loaded up, and followed by a short drive to HQ, to get ready.
At the HQ the weather had began to turn already, with black skies, filled with fast moving rain clouds, confirming I was in for a wet ride. I completed a short warm up, with 2 layers on, to try and generate some core warmth, and didn't remove them until 30 seconds to go – it was grim.
Given the conditions I knew my 3.37 from 2016 was not going to be troubled, but I was confident I could go sub 3.40, by getting my average speed there early on and then managing it, over the duration.
The first 6 miles are similar to the Teign Valley; country roads, rough, undulating and absolutely sodden, and by the time I got to the first DC section I was already way down on schedule, but thinking back to 2016, I expected to gain the required speed over the next 15 miles or so – I was way off the mark.
The first section of DC is really exposed and I could really feel the wind, and it was clear that the first hour or so was going to be pretty challenging. I was managing to nudge my speed up a fraction with every 5 miles or so, but each time I got it close to where it needed to be I was met with a direction change that simply wiped it out.
At 33 miles in I was around 2 minutes down on schedule, but despite the cold, my energy levels were strong, and I decided to lift the power to try and get on target, and also to try and warm up.
The 2nd section was a similar story, but the increase in power was getting me closer to where I wanted to be, although did nothing to warm me up, as the rain had started to come down in stair rods in isolated parts of the course.
The last lap I raised my power close to what I'd put out for a 50, and I took 2 caffeine gels in quick succession to ensure I didn't blow. At 85m I was on target, but now it was absolutely hammering down, although the wind was more favourable, and I gave it everything I had to the finish line in 3 hours 39 minutes and 13 seconds.
I stopped about 250m away from the finish, and tried to get off the bike – I had no idea what I was actually going to do at this point, but I was unable to move anyway. I span back the 2 miles to HQ, where I learned I'd retained my title by 5 minutes, and just 90 seconds shy of my winning ride last year, in pretty spot on conditions. In my mind, time aside, this was a better performance.
I'm pretty close to wrapping up for the year now; I've raced more than I'd planned, and thanks to the support of the club I've travelled a lot more than previous years, which has taken its toll a bit, there's the prospect of 1 more Welsh title race – the 50 at the end of September if I can muster some enthusiasm!