Mid Devon CC Womens Race Team – Season Update
MDCC Women's Race Report ( 2018…so far)
So despite little written reporting from us, the women's racing scene has been pretty active so far this season.
One of our main aims is to encourage other female cyclists  to give racing a try and to explain a) just how much fun it can be and b) how there is something for everyone. Whether you are a sprinter, a time trialist or just a total novice wanting to have fun, make some new friends, and see what you can achieve.
The thing to do is just to …start!
We have been forming links with some other local clubs female cyclists, with the intention of doing some races together as a south west type combined team (the more the merrier right!?). 
A group of four of us entered the Three Day Bedford stage race earlier this year, and MDCC was really keen on supporting us. Sadly after everything was all sorted, the race was unexpectedly cancelled…but it's definitely on the agenda for next year!
We travelled up recently to South Cerney Road together and between three of us ( two mdcc and one wheeler) managed two top 10s ( a 4th and a 7th) and to take the sprints prize.
We meet up socially for rides (and obligatory coffee and cake) We take each other on guided reconnaissance of the routes of certain events before they take place, as both a social and for those who plan on entering to get to know the course from those that have done it before.
We also meet for evening meals at each others houses now and again and share lifts to events…
We are a lovely and supportive bunch, and if you are interested in joining in with the fun then please message anyone mentioned below. It doesn't matter how strong a cyclist you are – we all had to start somewhere, and there's lots of support in the group. And we may be able to learn from you too…
So here are some of our results:-
Jenny Corser,
Results:-(Crit/ RR)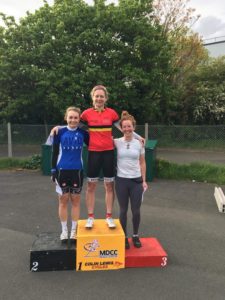 24 March Totnes VP Support races 1st
8 April Hatherleigh Women's RR 14th
14 April Totnes Vire Support Races 3rd
22 April Rob Wilmot RR 11th
29 April Chittern RR 4th
6 May Cotswold Veldrijden RR 4th
12 May Colin Lewis Cycles GP 1st
27 May South Cerney RR Queen of sprints prize 
Results TT
18.2.18 10M 1st (but only two women entered)
15.4.18 17M (forfirs/ Woodbury route) 1st female VET. 
Juliet Elliot
I've not yet done a huge amount of racing this year but I'm pleased to have tried something new – this season, with the encouragement of Jenny I decided to try my first road race – the Hatherleigh race put on by the club. To say it was a baptism of fire would be an understatement and I didn't manage to stay with the main group for the entirety of the race (although I didn't come last either). But honestly, getting dropped didn't matter as it was so fun to actually be trying a road race (despite being so hard) that I couldn't wait to try again and see if I could do a bit better. I raced my third road race last weekend and finished 4th!
I've also entered two of the crits at the Velopark, most recently the one put on by Somerset Road Club where I came 1st.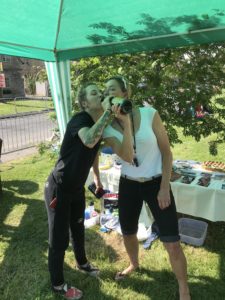 Ruth Burrows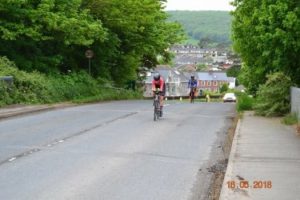 24.05.18 S4/10 22:39 1st female – PB / club 10 female record
16.05.18 S4/10 23:18 1st female
06.05.18 R25/3H Welsh 25 Championships 55:32 4th female – PB / club 25 female record
15.04.18 S7/17S 39:43 1st female – course PB
08.04.18 S8/25S 42:00 1st female