Mid Devon CC Race Team – Weekend Round Up
Plenty of action for the Mid Devon CC Race team at the weekend The TT crew were in action first riding the the 10 mile Time Trial on the S26 at Honiton.
S26/10 TT
There were two events and the Mid Devon had riders in both the solo and 2up categories. Youth A rider Harrison Wood took 3rd in his category. Here are his thoughts on the race
The sun came out for the time trial which was a huge bonus for all riders. The tt took place on the S26/10 which takes on part of the A30 dual carriageway. On arrival I became aware that there were some top riders racing. Disc wheels galore and also a lot of Mdcc riders representing the club. Warm up done and dusted I headed down to the start to be told that it was very hard on that way out and very fast on the way back due to the 10-15 mph headwind on way out and then the tailwind on way back. On the course all was going well and pacing was also going well when I got a bit confused and nearly took the wrong turn. I began to take the turn about 1/2 miles before the actual one and quickly came to holt and jumped back onto the dual carriageway course The way back was super fast with most riders speed in excess of 35 mph. The finish was just on the top of a slight rise which really smashed your legs to pieces. I then returned to the Hq in a mixed mood. Anger at having to stop and lose time but also happy with the weather and course. The HQ offered tea for all which was a nice touch whilst waiting for the results and times to come in. 
Other Mid Devon Riders:
13 Mike Gratton Mid Devon CC 22-34
21 James Tribble Mid Devon CC 23-20
28 Simon Medlyn Mid Devon CC 23-55
29 Jamie Plummer Mid Devon CC 23-59
31 Darin Dodd Mid Devon CC 24-00
33 Kevin Weymouth Mid Devon CC 24-11
34 Stewart Dunn Mid Devon CC 24-13
35 Harrison Wood Mid Devon CC 24-28
39 Oliver Twigger Mid Devon CC 24-55
40 Ian Deakin Mid Devon CC 25-00
42 Dominic Start Mid Devon CC 25-42
43 Will Lofthouse Mid Devon CC 25-54
49 Sarah Lakey Mid Devon CC 28-29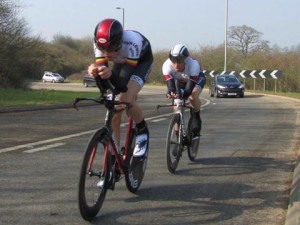 In the 2up. Andy Perkins and Matt Langworthy took the win with a 20.24. Jamie Plummer and James Tribble were third with a 23.16
Modbury Road Races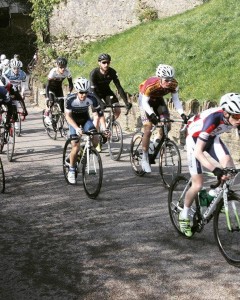 At Modbury the Road Race guys took to the stage in the 2/3/4, facing ex MDCC and World Tour Rider Jon Tiernan Locke.
Here's what Jason Kettle had to say about the race
It started very fast from the gun, St Piran lads on front stretching it out. Then JTL went and was away. There were surges to try and bring him back, but his team mates just disrupted it. (which worked until I joined a couple of Kibosh riders, forcing ourselves in front of them on the down hill section) which then brought him back, but this was close to the climb before the finish, and he just went again with a lap to go, buy which time I'd been surround by the bunch again. I've never seen so many riders struggling within the first 10 mins of a race! 
Ian Cullen took 8th in the Sprint, great rides also from Julian Pittoco and David Johnson to finish 12th and 14th respectively. Jason Kettle, Andrew Hitchens, Gareth Bushnell, Ashley Towey and Harry Loader all finished with the bunch
Ex MDCC Starlets Charlie Meredith and Lauren Dolan both showed their classy credentials again. Lauren won the bunch sprint for 1st in the Womens race and Charlie finished 3rd after being in the break in the Mens 2/3/4. Looks like another promising season in prospect for these two!