Mid Devon CC Teign Valley Hilly 23 mile TT Race Report
No Pinz rider Dean Robson came out top in with the traditional Good Friday 23 mile event
This year's race again had a stellar cast with last year's winner Tom Baylis (One Pro Cycling), our own National Junior 25 mile record holder Matt Langworthy (Mid Devon CC) and Robson himself amongst the favourites.
Team Corley's Rob Hogg put down an early marker clocking 56:53 before Robson stormed around the course in 54:48. Matt split the pair recording a 55:54. However, a late arrival at the start line cost Baylis dear, whilst he covered the course in 54:26, he carried a 40 second penalty for a late start giving him a time of 55:06. Robson was very gracious in victory acknowledging Baylis ride when collecting the trophy.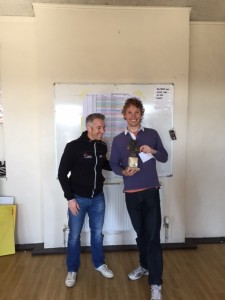 Mid Devon's Ian Cullen 58:15 and Lee Sanderson clocked 58:39 – great rides to take 5th and 6th place
Caroline Hilton of Sid Valley CC took the Women's prize and George Kimber of CS Dynamo the Junior competition
Other Mid Devon times included:
Matthew Dunn 1:17:13
Darin Dodd 1:06:02
Ashley Towey 1:01:37
Jeremy Butcher 1:07:27
Mike Gratton 1:00:05
Stewart Dunn 1:04:07
Mark Sanders 1:02:44
Tim Prowse 1:06:41
Alex Blackburn 1:11:53
Ruth Burrows 1:13:08
Oliver Twigger 1:10:17
Andrew Parker 1:04:15
John Gordon 1:08:14
Jason Kettle 1:01:42
Simon Medlyn 1:03:51
Diccon Hayes 1:21:53
Phil Smith 1:10:53
James Stevenson 1:05:48
Harrison Wood 1:03:27
Will Lofthouse 1:11:33
James Tribble 1:04:12
A huge effort from club members to set up, time and marshal the event – thanks to all involved.
Youth Rider Harrison Wood rode the event for the first time,  here were his experiences
The conditions were brilliant for what was a great event. The sun was shining and all riders were looking forward to getting out there and smashing themselves. The course was a very hard course. Plenty of hills (hence the name) and also some fairly technical descents which was not helped by the heavy rain the day before which caused some damp part in the corners. I was off fairly late out of all the riders which allowed me to have a bit of a lie in. Warm up all done. I rolled down to the start. I had been given some good ideas by my coach Conrad as to how to pace the effort as this was my first hilly tt and first tt over such long a distance. I started off with a steady pace and was quickly passed by Matt Langworthy who was chasing me. He flew past me just before entering Bovey which was expected. I then continued into my rhythm and managed to pick up a few riders in front of me. I went fairly hard up Doccombe due to my weight which makes climbing a lot easier than the flat. Doccombe crested I began the descent where I finally caught my minute man. The descent was technical but wasn't too bad which allowed for some quick corners The return leg was the Teign valley which was a fairly fast way to finish but having just come off a descent it took me a while to collect myself and get back to a rhythm. At the end of the valley after the hell of Tappers hill you turn left and the finish was just at the top of the climb to Chudleigh which was a hard blast to the finish. Having been out for a recce the weekend before with mum I knew where to ease off and where to push myself which helped drastically with being able to get first Juvenile, 3rd in the juniors and 16th overall out of a fairly big field. A big thanks to all marshalls and Andy Perkins for organising such a great fun event. Bring on the rest of the season!!