Matt Langworthy wins TWCC S5/25 TT in emphatic style
MDCC junior rider and National Circuit TT Champion, Matt Langworthy smashed the senior competition yesterday in the S5/25 TT promoted by Tavistock Wheelers.
Matt was the only rider to break under the hour on the day and romped home with over a minute on his nearest rival with an overall time of 59.16
Near perfect conditions saw the riders battle over the moors from Tavistock to Fowley Cross and back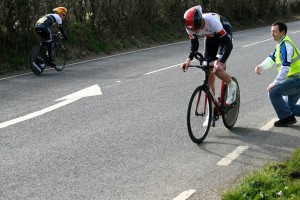 Other MDCC riders were Harry Loader with 1:05.55 and and Mike Gratton with 1:06.58. Mid Devon narrowly missed out on the team prize by 24 secs from Tavi Wheelers
Mid Devon are lucky to have two of the best Time Trialists in the South West currently with Matt and Conrad Moss. Friday 3rd April will see them ride against each other in the Clubs Good Friday "Hilly TT" – its sure to be a great contest!