Matt Langworthy – Season Summary
After a successful 2016 season, I planned to continue my transition to the road throughout 2017 whilst maintaining by background in time trialling. The support which Mid-Devon CC provided me with for the 2017 season made it possible and allowed me to have my best season to date.
On a cold February morning, my season began with my one and only ride for the year on the S4/10. I won the event with a course PB which in February, put me in good spirits and set me up well for the early season National Bs.
Winning Primavera was certainly a season highlight despite being such an early season race. It was my first National B win and made me realise I could actually road race rather than ride on dual carriageways. It was a successful day for the club with Harrison Wood winning the 3/4 race too.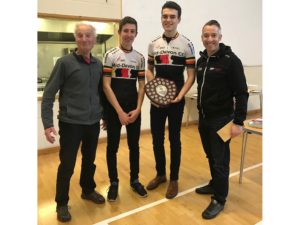 I went to Bristol to race the Severn Bridge RR to see how long I could last in the bunch. I'd heard horror stories about the hill on the circuit and similar weather conditions to Primavera did not pose well. Severn Bridge is ranked the same as Primavera however it attracts a large talented field and is considered a big early season race for many domestic teams. I never thought until the last few laps our breakaway would stay away. I couldn't match Ed Clemans' kick on the climb but I was good enough to take second on the day; a result I'll remember for a while.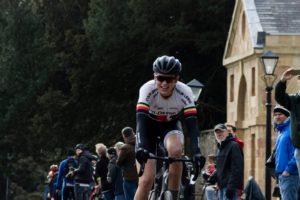 I placed 2nd behind Tom Baylis in the Teign Valley hilly TT before Totnes-Vire 2 day. I was just outside of the top 10 after the prologue and crit on the first day so I needed one hell of a ride on the final stage. I got away on the final lap from the heavily diminished peloton and managed to make it across to George Harper and Tom Baylis to begin the impossible task of pulling back the breakaway up the road. We never got across but I was more than happy with 7th on the hilliest circuit I've raced on and 7th overall.
I then had exams and fieldtrips with university and a transition to Saint Piran on the road racing side of things. I ticked off some big goals with the team including finishing Stockton GP, picking up another 2nd in a National B and 2nd in the Divisional Championships.
The end of season was in sight and it was time to get back on the TT bike and slip the Mid-Devon skinsuit on with some goals to hit. In August, I raced a 10 in Coventry and clocked an 18:55 along with the event win. I'd been chasing a sub-19 for ages and it was nice to finally get it, especially on an average course. The National 10 was a big end of season target and I was hitting PB numbers so I knew I was in for good shot at a top 10. It seems the worse conditions are, the better I go because 40mph crosswind gusts and rain greeted the riders in Cumbria that day. I rode the 10 of my life and somehow got 3rd. This has to be my stand out performance of the year and I'll never forget that day. I've just got to somehow better it next year.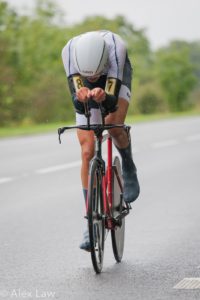 My penultimate race of the season was the S4/25; my first 25 of the season. I rode it like a 10 and recovered on the downhills. My goal was a sub-50 minute which I'd never done on a lumpy course. The end took forever to arrive but I managed a short 49 and took the event win by a slim seven seconds. My final race was the Duo Normand in Northern France with Saint Piran. I raced it with Matt Downie, the one who crashed just behind me in Primavera at the beginning of the year on the final roundabout. Luckily we both stayed upright this time and finished 4th in our category (1st/2nd cat) with a time just over 1hr 10 which is pretty quick for a first attempt. The quality of time trialling in Europe is another level so it's good to be put in your place.
I really cannot thank Mid-Devon CC enough for the support they have given me over the years. I would never have gotten this far without their support and I can't quite believe how far I've come over the last few years. I'm looking forward to 2018 and hopefully another successful season.
See you on the road.