Digging in the Archives – remembering Dave Bedwell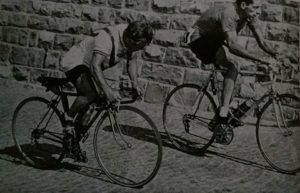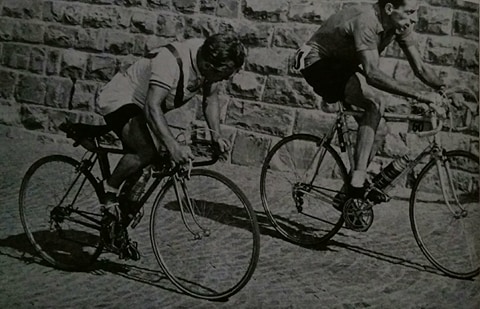 Every now and then its good to cast your mind back and allow a little nostalgia to creep in. Whilst much has changed in the world of cycling in recent years, the hero's of yester year and their results are still to be marvelled at.
The picture above shows iron man Dave Bedwell competing in the 1953 world championships at Lagano Italy alongside the "Campionissiomo" Fausto Coppi.
At 5 foot 4 "Little Dave" was a renowned road man sprinter of the 50's with a fearsome reputation and a high score rate. Which led to Dave becoming National professional road champion, multiple Tour of Britain stage winner and a Tour De France starter.
After his racing career finished Dave retired to Paignton and worked in Colin Lewis Cycles as the resident wheel builder. His story's and anecdotes entertaining and inspiring and living on in a generation of young cyclists to this day.
Checkout Dave's Wikipedia page https://en.wikipedia.org/wiki/Dave_Bedwell
For more info check out this site too
http://www.bikeweb.org.uk/bikeweb3/bedwell1.htm
Submission by Graham Brodie