The Colin Lewis Grand Prix was held in perfect condition this weekend with warm sunshine greeting the riders and spectators. Whilst this has been the fifth promotion of the event it's also the first that has taken place since Colin passed away early in the year and was a poignant occasion. The briefing to the riders encouraged them to challenge their "inner Colin Lewis" and provide an attacking race befitting of the man who was twice British National Champion and a Tour De France Rider.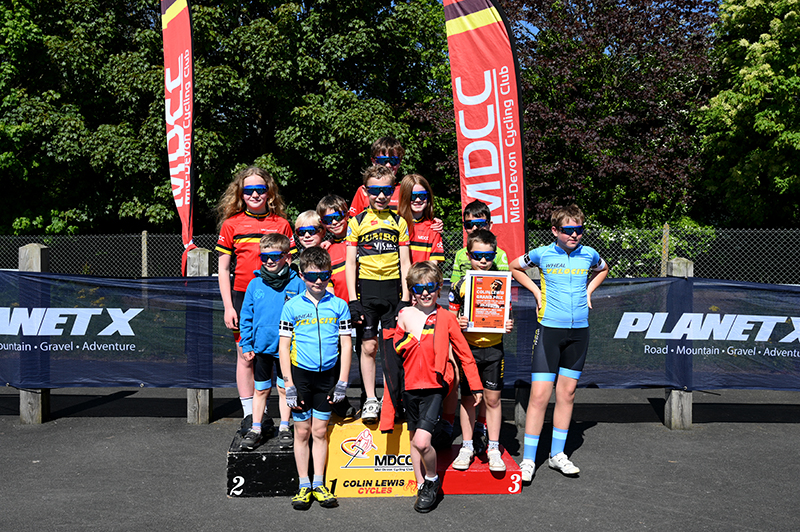 It was a great weekend of racing for the promoting club Mid Devon CC with new riders participating in their first races and podiums across all the age groups.
The list includes a clean sweep of the Under 8's podiums With Ted Baxter, Henry Hatton and Gabriel Peterson-Hunt and Charlotte Ward, first and third Under 10 Boys with Ben Ward and Rudi Bruseker, 1st Under 12 Girl Edie Baxter, 3rd Under 16 Ed Selwood, 1ST and 2nd 4th Cat with Martin Smith and Piers Mahn – the latter a Junior rider in his first event and James Williams coming home first in the final race of the day for 2,3,4 category riders.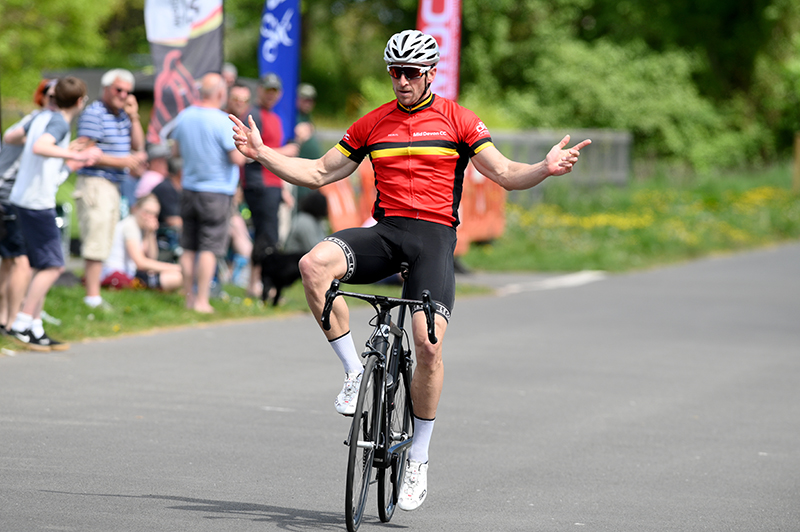 On the day Colin's daughter Abby joined us to present the prizes all of which were kindly donated by event sponsors Planet X through their Carnac brand, the crowd were entertained by Professional Commentator Joe Fisher which really enhanced the day. Thanks to everyone for their support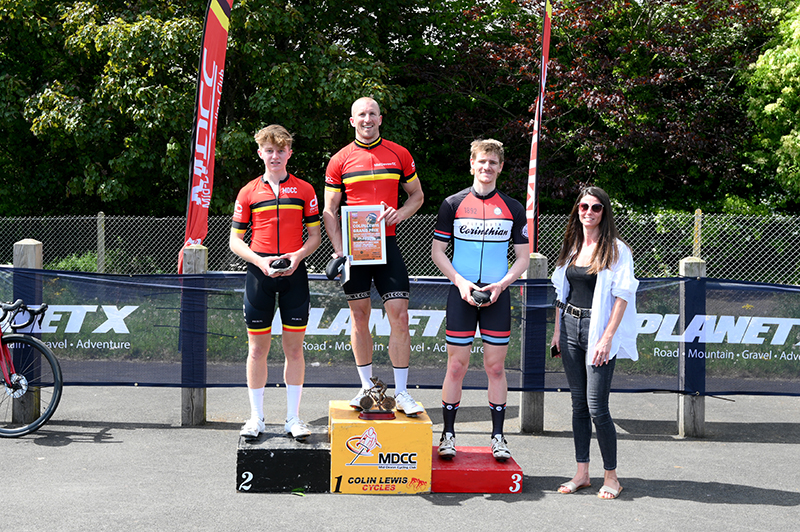 Link to Andy Styles event photos https://www.andystylesphotography.co.uk/gallery.html
Full results below
| | |
| --- | --- |
| Youth E | Boys |
| | |
| 1st | Ted Baxter |
| 2nd | Henry Hatton |
| 3rd | Gabriel Peterson-Hunt |
| 4th | William Ward |
| 5th | Elwood Robinson |
| | |
| Youth E | Girls |
| 1st | Charlotte Ward |
| | |
| Youth D | Boys |
| | |
| 1st | Ben Ward |
| 2nd | Charlie Robinson |
| 3rd | Rudi Bruseker |
| | |
| | |
| Youth C | Boys |
| | |
| 1st | George Stacey |
| 2nd | AlexanderPearcy` |
| | |
| | |
| Youth C | Girls |
| | |
| 1st | Edie Baxter |
| | |
| | |
| | |
| | |
| Youth B | Boys |
| | |
| 1st | Luke Mathews |
| | |
| | |
| Youth B | Girls |
| | |
| 1st | Holly Tregear |
| | |
| | |
| | |
| Youth A | Boys |
| | |
| 1st | Ruben Stacey |
| 2nd | George Watch |
| 3rd | Ed Selwood |
| 4th | Ben Meek |
| | |
| | Women |
| 1st | Amber Harding |
| 2nd | Nicole Coates |
| 3rd | Claire Nott |
| 4th | Laura Furness |
| 5th | Leah Brewer |
| 6th | Lois Brewer |
| 7th | Jessica Wood |
| 8th | Jo Atkins |
| 9th | Bethany Bennett |
| 10th | Lauren Booth |
| 11th | Nicole Fellows |
| 12th | Natallie Hamill |
| 13th | Eve Newton |
| 14th | Clare Pile |
| DNF | Rachel Fleet |
| DNF | Hannah Rainger |
| | |
| | 4th cat |
| 1st | Martin Smith |
| 2nd | Piers Mahn |
| 3rd | Aiden Jacob |
| 4th | Alfie Pilkington |
| 5th | Johnathan Gale |
| 6th | Charlie Bird |
| 7th | Daniel Costello |
| 8th | Christian Bird |
| 9th | Filip Chelminski |
| 10th | Gary Burman |
| 11th | Ben Phillips |
| 12th | Sean Beeson |
| 13th | Charles Hamilton |
| 14th | Orion Cenki |
| | |
| | 2,3,4 |
| 1st | James Williams |
| 2nd | Ben Savage |
| 3rd | Preslav Dimitrov |
| 4th | Steven Jones |
| 5th | Sam Shepherd |
| 6th | Felix Whetter |
| 7th | Keir Sutton |
| 8th | Andrew Davenport |
| 9th | Julian Pitocco |
| 10th | Edward Ray |
| 11th | George Eames |
| 12th | Henry Howells |
| 13th | Finlay Walter |
| 14th | Robert Lewis |
| 15th | Robert Harrison |