Good Friday Hilly TT Results
George Kimber (Spirit BSS) put his name into the record books by taking a clear victory in the Mid-Devon CC (Sporting) 23, while host club rider Tara Grosvenor was the women's victor.
The Mid Devon CC Teign Valley Hilly TT has been running for over 40 years and past winners include Colin Lewis, Jez Hunt, Stuart Dangerfield, Harry Lodge and Steve Lampier.
This year's course had to be shortened by a mile due to roadworks but the event still went ahead as planned.
Kimber winner with his time of 46 minutes and 38 seconds over three minutes clear of his nearest rival.
His winning time would likely have challenged Steve Lampier's course record of 50-06 set in 2021 which still stands.
The S17R/23S course features a challenging route skirting the edge of Dartmoor with a hilly outward route, the mile long climb of Doccombe Hill before a fast run home, with a final 'sting in the rail' being the climb to the finish in Chudleigh.
Conditions were perfect for fast times and scratch rider Kimber took advantage to take his second win of the season.
Riders of the promoting club, Mid Devon CC, were in fine form with team-mates Jack Troake finishing second (50-14) while reigning European Masters triathlon champion Don Brooks finished third (51-26) and was also quickest veteran.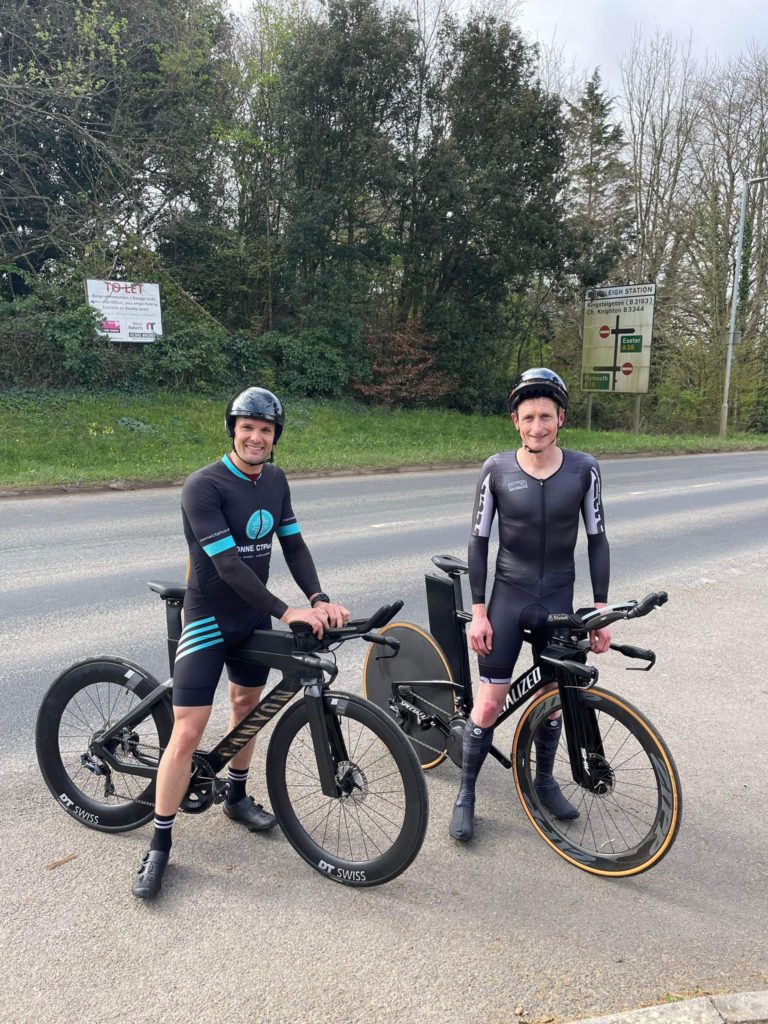 Quickest junior was Reuben Heal (also Mid Devon CC) taking sixth place overall in 52-54.
Meanwhile, another host club rider, Jason Kettle was winner of the road bike category with his time of 54-17 good enough for ninth overall.
Last woman starter Grosvenor, aged 33, finished second in last year's event clocking 1-07-41 but went one position better and over five minutes faster on this occasion winning in 1-02-22.
In a close battle for the remaining podium positions Alice Lake (Cranbrook Cycle Club) finished second in 1-05-07 which was 13 seconds faster than best veteran on scratch Martina Geraghty (Penzance Wheelers CC) (1-05-20).
* All reports are copyright of Cycling Time Trials/Snowdon Sports. Not to be used without permission.
Results
1 George Kimber Spirit BSS 46:38.0
2 Jack Troake Mid Devon CC 50:14.7
3 Donald Brooks Mid Devon CC 51:26.0
4 Seb Tremlett Guernsey Velo Club 51:35.1
5 Tom Scorer Royal Navy & Royal Marines CA 52:18.2
6 Reuben Heal Mid Devon CC 52:54.2
7 Mark Szender Exeter Whs CC 53:39.1
8 Sean Frost Tri UK 54:11.5
9 Jason Kettle Mid Devon CC 54:17.3
10 James Wood Exeter Whs CC 55:12.7
11 Lee Sanderson Mid Devon CC 55:37.0
12 Josh Coyne Bpm Coaching 56:38.2
13 Rod Saxby Exeter Whs CC 56:53.5
14 Mark Sanders Mid Devon CC 57:14.8
15 Philip Ley North Devon Velo 57:24.7
16 Piers Mahn Mid Devon CC 57:51.2
17 Sam Clarke 1st Chard Wheelers 57:54.4
18 Robin Delve Mid Devon CC 57:55.3
19 Filip Chelminski Mid Devon CC 58:18.1
20 Jonathan Gale Mid Devon CC 58:54.6
21 Jon Tune City Cycle Couriers RT 58:58.1
22 Simon Rendell Cranbrook Cycle Club 59:05.1
23 Josh Small University Of Warwick 59:22.9
24 Tony Symons Tavistock Whs CC 59:28.2
25 Joseph Sheppard Cranbrook Cycle Club 59:57.1
26 Charlie Davis North Devon Velo 59:58.6
27 Richard Easton Pure Endurance 59:59.4
28 Neil Castree Team Milton Keynes 1:00:37.8
29 James Stevenson Mid Devon CC 1:00:44.0
30 Stewart Dunn Devon & Somerset Fire & Rescue 1:00:46.1
31 Gregory Moss North Devon Velo 1:02:04.8
32 Michael Gratton Mid Devon CC 1:02:08.4
33 Paul Keatley Cranbrook Cycle Club 1:02:16.9
34 Tara Grosvenor Mid Devon CC 1:02:22.9
35 John Morse Penzance Wheelers CC 1:02:34.2
36 Matthew Pike Cranbrook Cycle Club 1:02:35.5
37 Ian Dabbs Mid Devon CC 1:03:23.2
38 Tom Long Cranbrook Cycle Club 1:03:35.5
39 John Scanlan Mid Devon CC 1:03:49.7
40 Darin Dodd Mid Devon CC 1:04:19.9
41 Alan Hughes Exeter Triathlon Club 1:04:47.4
42 Pete Bishop Exeter Whs CC 1:04:51.4
43 Alice Lake Cranbrook Cycle Club 1:05:07.0
44 Alan Tremlett Guernsey Velo Club 1:05:15.8
45 Martina Geraghty Penzance Wheelers CC 1:05:20.8
46 Sean Beeson Mid Devon CC 1:05:54.2
47 Orion Cenkl Mid Devon CC 1:07:17.2
48 Neil Bennett North Devon Velo 1:07:51.4
49 James Manthorp Truro CC 1:07:53.2
50 Lucy Poole Exeter Whs CC 1:08:01.3
51 Archie McGrath Mid Devon CC 1:08:16.7
52 Dean Rollings Mid Devon CC 1:10:08.0
53 Nicky Quant Mid Devon CC 1:14:05.5