Torbay Velopark – Race 1/7
In the Cat 4 race, the first in a series of seven to be held fortnightly on Thursday evenings 17 year old Stokeinteignhead junior Matt Langworthy from took off the bunch when there was around 10 minutes left and powered away. Lap by lap he rode further and further away from his pursuers. There was something of a blanket finish for the minor placing and it took close scrutiny of the finish line video to resolve the placings from 6th downwards. Paul Shannon, Nick Weddall, Andy Friend, James Tribble and David Johnson all placed in the top 10 for MDCC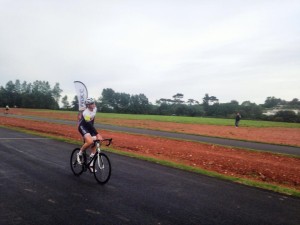 In the race for Categories 2, 3 & 4 it was a different story. As soon as the riders left the start line, Charlie Revell, Somerset Road Club/Bikechain took off and had a 400 metre gap in no time at all. After some jumping around from the bunch – Andrew Hitchens and James Davey were prominent in these counter attacks the one that mattered was launched by Andrew Perkins. he was joined by Peter Haworth. The duo soon settled into a rhythm and eat into Revell's lead. Perhaps sensing that he would get caught before the end Revell wisely sat up and waited for the other two. As a trio they shared the work holding the bunch at bay. With 4 laps left Perkins jumped clear forcing the other 2 to chase hard. He sat up after  a lap of effort. With 1 lap left Perkins repeated his attack and surged on for a fine solo win. Revell held off Haworth with both riders hard up against the grass verge.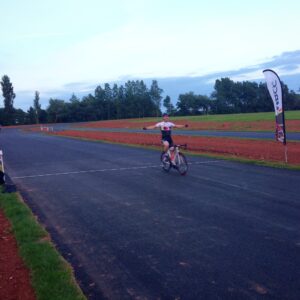 The bunch fragmented on their final lap with Ricky Parson, Mid-Devon CC, towing Sam Birkinshaw, Exeter Wheelers before breaking his resistance. James Davey went clear on the final hairpin for sixth spot and was well clear of Craig Hickson, Julian Pitocco and the 2 Cycle Sport South Hams riders, Will Hornby and Julian Green.
A minor spill on the final hairpin took Andrew Hitchens out of the equation. As he tried to avoid another rider who came down and slid on the tarmac Hitchens swerved hard and ended up on the grass lining the circuit.