RNRMCA – Cycling Festival – Weds 14th March
ROYAL NAVY & ROYAL MARINES CYCLING ASSOCIATION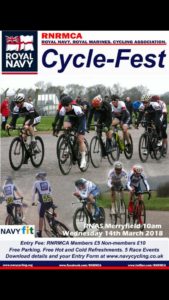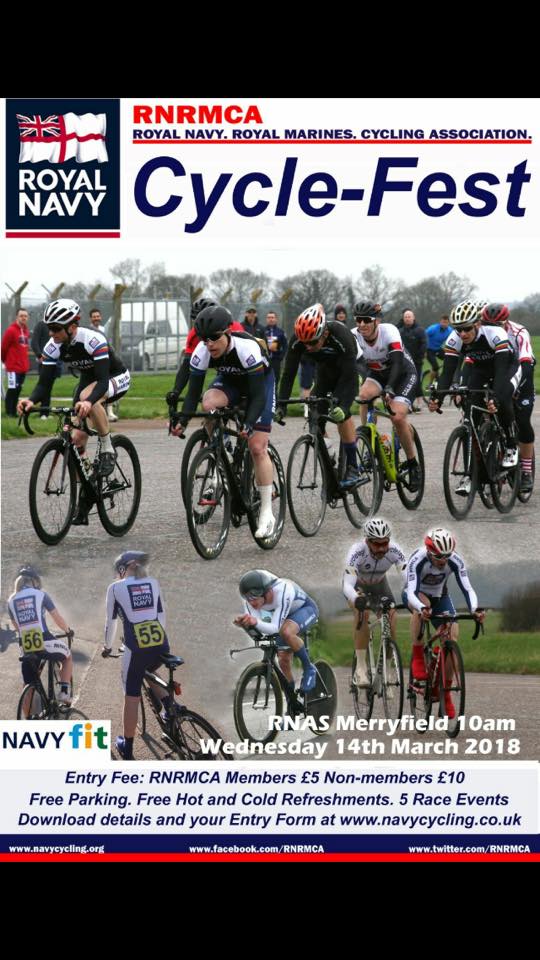 Entry form here Navy-Cycling-Festival-2018-Memorandum-and-Entry-Form150
 Navy Cyclefest March 2018
General
The Navy Cyclefest will take place at RNAS Merryfield, ILTON, Somerset on Wed 14th March 18, with registration beginning at 10:00 and the first race commencing at 12:00. The primary aim of this event is to make the sport of cycling attractive and accessible, whilst increasing competitive mass participation within a safe and traffic free environment. This event is aimed at making the complete beginner feel welcome and inclusive, in addition to catering for the more established and experienced competitor. The event will be a mix of road racing and time trials to encourage participants to compete in both disciplines and inspire competition between units.
Entries
Competitors are requested to complete the Entry Form at the Annex and return to the Event Organiser so that it is received by Fri 23rd Feb 18 at the latest. The event is open to service personnel, affiliated civilians members, and invited guests. Cost of entry is £5.00 for current RNRMCA members and £10.00 for military non-members/guests/other services. The entry fee covers participation in all events. Cheques are to be made payable to the 'RNRMCA' and forwarded to the organiser along with a hard copy entry form; or payment can be made via BACS to 'RNRMCA S/C 30-92-69 Acc 00743973 including your surname and initial as reference. This is to be followed by a soft copy entry form (email to parker.cj@hotmail.co.uk).
Competition Format
All races will take place on a traffic free 3.1 mile airfield circuit. The following events will be included:
Development Race. This event is designed to allow all competitors the chance to try road racing regardless of experience in a safe environment. The race will be 30 minutes plus one lap.
Inter Unit Road race. Units will enter teams with the top 3 scoring. This will be the first opportunity to score individual and points towards the inter units competition in what will hopefully become a racing series across the season. This race will be 45 minutes plus two laps.
One Up one lap time trial. Open to all competitors.
Two up Time Trial two laps. Open to all competitors. If you do not have a partner for this event but wish to enter tick yes on the entry form and a partner will be nominated.
Inter Unit 9 Mile Team Time Trial. Units will enter teams of 5. This event will also count towards the inter unit competition.
Race Rules
CTT rules will be briefed to all at the Registration, and at the start of each race. It is compulsory for all participating riders to wear approved hard shell helmets for all events. Tri-bars and Tri-Spokes/Carbon bladed/Disc type wheels are only permitted for the Individual Prologue and Navy Cup TTT. Deep rim spokes wheels up to 100mm are allowed for the Handicap Partner and Mixed 4 Up Super Sprint. Drafting or pacing is not permitted in the Prologue or 2 Up TTT, or 4 Up Super Sprint (unless between paired riders of that particular event). Minimum age for all participants on the day is 14 yrs. Signed parental consent is required for those U18 on the day of the event.
Directions
From the West on the A303, at the Ilminster roundabout (first Roundabout after Honiton) take second left on A358 towards Taunton continue along for short distance and then take the right turn to Ilton. Follow signs to Ilton, watching out for a sharp left to village.  Continue through village until barrier and entrance to Merryfield can be seen.  From the East Turn Right (4th Exit) to Taunton A358 at the Ilminster Roundabout at the end of Ilminster bypass, then pick up signs as above.
Facilities
Toilets and limited changing facilities are available throughout. Showering facilities are not available.
Registration
Signing on and race number collection will take place at the Registration (Crew Room). Your number is to be kept and used for all races. All riders are required to sign on before racing, and return numbers on completion.
Full Programme
Timings:
1000    Registration open
1145    Development Race Brief
1200    Development Race
1300    Inter Unit Road Race
1430    Individual 3 mile Time Trial
1530    2 Up 6 mile Time Trial
1615    Inter Unit 9 mile Team Time Trail
o/c       Race Numbers returned, de-rig.
o/c       Presentation.
Officials
Qualified officials will be in attendance for all events.
Prizes
A prize fund of between £500-£750 will be allocated towards prizes, dependent upon
on entries received. A full prize list will be confirmed and advertised on receipt of all entries and
annotated on the Start Sheet. This will be released by email on Fri 9th MAR 18.
RNRMCA Points Competition
The inter unit RR and the 5up TT will count towards the inter unit competition.
Refreshments
Free hot/cold refreshments, including a buffet will be available from 'Claire's Catering' who will be in attendance. Please ensure you bring your own adequate fresh water and additional food with you to last you throughout the afternoon.
Additional Information
As this event incorporates the Navy Cup, service personnel will therefore be representing their unit, and as such are requested to arrange travel arrangements via their PT Depts and MT Section. A signal will not be released in advance to confirm attendees.
The RNRMCA will be contributing approximately an additional £600 to assist with the delivery of this event, so please support it. Every participant over the age of 14 has the opportunity to participate in 4 separate races throughout the day, so all get value for their money.
Further information will be available on the Navy Cycling website message board (www.navycycling.org.uk) and Navy Cycling Facebook site.
Cancel this Memorandum 7 Apr 18.
Signed on original