Race Reports – Louie Priddle Wins in Devon and gets wet in the Youth National Series
Mid Devon CC Race Team Youth A rider Louie Priddle has been active over the past week. First of all taking the win at the Dunkeswell Circuit and then in Cardiff at the Youth National Series
Dunkeswell
Today I went up to Dunkeswell for the second race of the East Devon Circuit Series. The race was 30 minutes and was around a very technical track. As I made myself to the line and got debriefed I could feel that the wind was starting to pick up and realized that it would actually be a tail wind finish. Around 20 mins into the race and I knew that it would come down to a sprint. This wasn't going to be good for me as I can't sprint very well and needed to get away on my own if I was going to stand a chance of winning. Last lap, I thought if I can get away here on the second straight I'll be able to push it hard through each corner and solo attack off the front. So I did just that and came out of the last corner with about 15-20 bike lengths on the chasers. Sprinting like mad I glanced behind to see another MDCC rider Brad Messenger sprinting against CS Dynamo rider Corey Bale, Brad ended up getting 3rd with Corey just getting 2nd and me getting 1st which I extremely happy with bagging myself 3 points!
Youth National Series – Cardiff
I traveled up to Cardiff to compete in my first ever National youth race which was an experience and a half. I woke up at 6:00 AM on the morning of the race to travel up to Cardiff where it was being held. The weather was supposed to tip it down and tip it down it did. Going up through Bristol over the Bridge into Wales the weather looked as if it was going to get a lot worse with huge rain clouds over Wales. We arrived at Cardiff in the pouring rain and parked up and strolled over to the course to check it out. First impressions of the course was that it was going to be very dangerous with all of the tight corners and drain cover along with the uneven road surface. As we were walking over to sign on I got a phone call from Mark Dolan going through a few things that I should remember before I race such as gridding before the race.
All set up will rollers out under a gazebo 'thanks to the Peters for letting us in out of the rain' we waited, it seemed like the rain was going to stop – Maybe not. Gears checked all signed on and transponders attached to the bike we headed over for the warm up on track where Me Alfie P went for a nice steady roll around. It came clear to me very soon that it was going to be very dangerous with amount of riders which I think was like 70-80 riders. Warm up complete numbers pinned I headed over to the pen where we waited to be allowed on to the start line. I was in a fairly good position and thought I was going to get a god gridding place. I was wrong ended up on the back grid with some welsh fellas.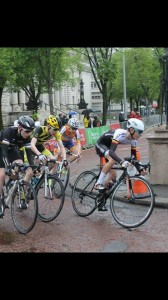 Race under way there was a crash on the first lap where a rider came down pretty hard on a straight. We were stopped in the pouring rain for about 5 minutes by then I was freezing! 3…2…1 the race went under way again for a second time. About 10 minutes after we set of for a second time the race was stopped again after another pretty nasty crash. We set off for a third time. About 30 minutes after we started for the third time I came very close to coming off. I came around one of the corners at a faster than usual speed, were I saw a kid who had decked it so I had no choice but send myself into the barriers nearly hitting a paramedic to avoid him. Oops! Carrying on after being stopped for about 10 seconds to see if my bike was okay I had to start chasing the group I was previously was in. Luckily I reached them but was only in it for about 10 minutes before being stopped again because the rain was getting to heavy. That was my race over.
The comms let the front 20 carry on for 5 laps to see the sprint as it was getting way too dangerous to race with all the crashes which were happening. Competing in a national was my main goal for 2016 and I am hoping to be doing a few more later on in the year