Race Report – Woolly Mamil Series – Isabella Ashford takes 3rd!
Mid Devon CC rider Izzy Ashford is surely one to watch for the future. After impressing in 2016, she's started her season earlier and claims the honour of the first podium for the club in 2017. Izzy reports as follows
Knowing this season is my first as an U16 I knew I had to get some early racing in my legs and get some BC points so I knew what to expect this year. For the past 3 weeks I've been going up to Stourport to race the Woolly Mamil series, great circuit and great riders so its been fun racing! The first 2 races I was super nervous, last year I was an U14 who only rode one national and was pretty used to turning up to regional races seeing the same people so when I saw amazing national riders at an East Mids regional it freaked me out! I raced and did relatively well, I was happy but wanted to do a bit better.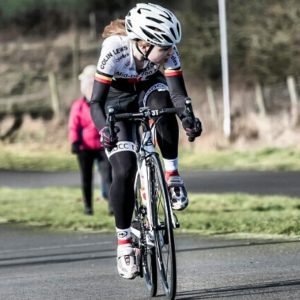 The third race, (the most recent) warming up I actually felt terrible, my legs hurt way too much but I really wanted a good result. The start of the race was delayed as the comms messed up with numbers but eventually we started. On the first lap I already felt it but I really wanted to do well so I just put my head down and got on with it. These girls are quality 2nd year As who have so much national experience, they're fast and it really hurt but forced myself not to think about it! Then unfortunately about 20 minutes in there was a bad crash and the race was stopped, we restarted and again I went far down the field but picked my way back up to the other girls. U16 girls fields are never large so its always obvious who the strong riders are, the race kept breaking up then coming back together, I had a few hard goes off the front to test my legs, the race broke apart for good during the last 10 minutes. It was me and a Mid Shropshire Wheelers girl racing for 2nd and 3rd, she's a great rider and can beat half the boys! On the last 5 laps we got on a group with some lads, we dropped them (I don't know how!) and I lost her on the last lap. Was so happy with 3rd. Can't wait for the rest of the season!