Race Report – Velopark Thursday Series – Race 4
The 4th Thursday Velopark race saw another big field of Mid Devon CC riders in the 3/4 event. Ashley Towey spent most of the race off the front on his own in an impressive display. Here is what he had to say
The race started out with another big field at the Velopark of around 50 riders. My thinking was to get near the front but not on the front (like most other people) to keep safe on the bends. Mid Devon started out strong with multiple attacks that always had a  rider present. When one came back another Mid Devon rider went! After about 12 minutes in me and another rider found ourselves with a gap of around 5 seconds from the bunch and we did a few turns but after a lap or two he dropped back to the bunch and I kicked on, not thinking that the move would go anywhere. I settled into time trial pace that i thought i could sustain to the end as the gap grew. When i looked across on the turns the team riders were covering everything and keeping riders from making proper attacks. This helped me to keep growing my gap and later on to keep the gap the same.
At about 40 minutes in I noticed a TRI UK rider trying to bridge with Andy Parker on his wheel. Andy then let the TRI UK rider sit on the front until he jumped him and bridged to me. In the dying laps we worked together to try and hold off a Tavistock Wheelers rider who was bridging to us. Sadly for us he made it and we joined together for the last few laps. At this point I sat on and let the other two riders work to try to freshen up for the Sprint. Leading into the final bend the Tavistock Wheelers rider was on the front with me and Andy sitting on. The Tavi rider launched straight out of the corner and went full gas, I thought for a moment that he might have gone too early but he hadn't. I tried to come round at the very last but only managed to get halfway round. Overall a great race with 2 Mid Devon riders on the podium, hopefully next time it'll be the top step. Really felt like we used our numbers to our advantage today and worked well as a team! Kenny Parker came in 4th with Nick Weddall 8th and Jason Burkett 9th!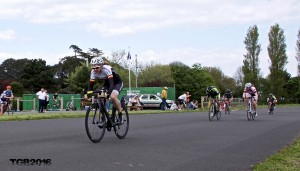 Next up was the Womens race. Another great ride from Jenny Corser and Juliet Elliot coming 2 and 3rd respectively. Here is what Jenny  thought of how things unfolded
It was a rainy evening and the corners looked slippery, but nevertheless we all set out. I'd been harbouring a cold for the last two days, and willing myself to get better. The previous evening I'd done my first timetrial and at the end – sorry for the graphic description – my face was covered in mucus, and I was pretty spluttery. One of the team members suggested 'manflu' capsules (!) . (I don't think they make 'womenflu' ones ). I was thinking of doing headstands to drain the mucus, and even found a website giving instruction on various yoga poses for the purpose of sinus drainage. I came second in the race. 
In the E/1/2 mens Julian Pittoco and Andrew Hitchens came 9th and 10th respectively adding to their points tally