Race Report – Royal Navy & RMCA (2-Up TTT)
Wednesday 18th May saw the first event of the year on the popular s4/10 TT course at Buckfastleigh. This was a 2up Team Time Trial and the Mid Devon had a variety of teams entered.
Coming in second overall with an impressive time of 20.22 was Mid Devon team Ian Cullen and Harrison "Indy" Wood. Even more impressive due to the fact that Harrison is only 15! Here is his Race Report
The conditions were hard. With a strong cross wind which made it slightly challenging to come through when doing the turns on the front. Warm up done and with many tips received from both Conrad and Ian I felt confident that we could post a good time. Strong winds meant I decided not to ride my deep front but instead a shallower 202 from Ian. We then headed down to the start We both decided that we needed to roll off the start line and not push too hard. So we did that which really helped as meant we were sat on sweetspot wattage to the bridge before then ramping it up back. We took even turns with Ian doing some big pulls on the downhill sections with me nicely tucked on his wheel. With 2.5 miles left to go my legs were really burning but knew I couldn't let Ian down when we were on for a good time. So I pushed hard again and we caught our 2 minute team just before the line. A solid 20:22 for us which saw us just miss out on first position by a near 9 seconds.
Winning the mixed event was Jenny Corser and Martyn Holmes with a solid 23.37. Here is what Jenny had to say
This was my very first time trial. All I can say is a big thank-you to Martyn who did it with me. You were very patient.We practiced a couple of times before the day, which really helped. I found the new position on the bike slightly awkward, it will take some practice if I'm going to get used to it.I have new respect for all the time trialists – it's hard! And relentless.But all in all a pretty good way to spend an evening .
Taking second in the Womens event was Sarah Lakey and Maria Weymouth. An unfortunate chain drop hindered them. Sarah reports
How long does it take to put your chain back on? That's easy to answer…….. 75 seconds. Maria and I teamed up for our first 2up TT on the S4 10 mile course. Leading up to the race we had only managed to squeeze in 1 practice ride but we had a clear plan of what to do and when.
As we started rolling we both settled quickly and got into our rhythm and swapping every 30 revolutions or so. I remember thinking as we past the 2.5 mile mark "I'm loving this" and I got the sense Maria was aswell. It seemed like we both knew at this point we were flying and on course for a good time.
At the turn we were a little disjointed but regrouped quickly on joining the DC and picked up the pace, and then it happened……. Mile 8, there for 18 minutes and then the horrid noise of a clunk, clatter and grind…… my chain had come off. Stopping in the middle of the DC may not have been the best decision of the evening, but fortunately we didn't get squished by any passing lorries and my chain went back on first time. Despite our efforts to make up time, we finished in 26.21 in 2nd place missing out on 1st by 75 seconds. I think its fair to say dropping my chain cost us the win, but we had great fun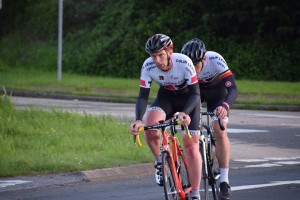 Other Mid Devon CC results
7th James Tribble/Jamie Plummer 21.19
8th Lee Sanderson/Mark Saunders 21.21
12th Andrew Parker/Tim Prowse 22.11
19th Ian Deakin/Simon Mayo 24.16
21st Jamie Horton/Andy Friend 24.39