Race Report – Velopark Thursday Series – Event 6
Mid Devon CC Race Team recorded wins in 2 out of the 3 races at the Velopark on Thursday 16th August
First up came the 3/4 race. Ashley Towey went one better than his previous second with a great attacking performance. We caught up with him afterwards
I started off Thursday in a German exam-the last of my exams. So I felt psyched to get out and actually be done and racing was something I had been looking forward to all day. The race started off as usual in a 3/4 with lots of attacks and Mid Devon were all over the front. This all came to a crescendo in a really hard 10minutes, with about 25minutes to go, where it felt like we were racing right on the limit. After this hard spell a Tavistock Wheelers rider moved off the front and got a substantial gap really quickly. Not having a Mid Devon rider up at the front meant that we would have to chase. At this point I decided to move up the group and then try to bridge. Closing the gap felt hard but worth it because once I was up there we worked well together. With it being just the two of us there was going to be any confusion as to whether we would work together. We were away for 15minutes and kept the gap to the bunch the same, at about 15 seconds. after working well together with two laps to get I made a move to get away and try to break solo which I managed to do. Felt good to get a Mid Devon win at a Mid Devon event. Awesome riding by the team, looking forward to racing with everyone again soon!
Results
| | | | |
| --- | --- | --- | --- |
| 1 | Ashley | Towey | Mid Devon CC |
| 2 | Lee | Adams | Tavistock Whlrs NorthShoreGallery |
| 3 | Adrian | Reynolds | Somerset RC – The Bicycle Chain |
| 4 | Kenny | Parker | Mid Devon CC |
| 5 | Andrew | Perkins | Mid Devon CC |
| 6 | Mark | Gibbs | Tanks Direct Cycling |
| 7 | Philip | Collings | Tavistock Whlrs NorthShoreGallery |
| 8 | Andrew | Parker | Mid Devon CC |
| 9 | Matthew | Norris | Tri UK |
| 10 | Tim | Prowse | Mid Devon CC |
A great evening for the Race Team taking 5 of the Top 10 places. Next up came the E/1/2 Race. A disappointingly small field saw a race dominated by Team Tor whose trio of riders escaped one by one before lapping the field together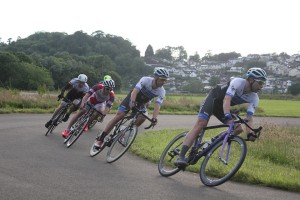 | | | | |
| --- | --- | --- | --- |
| 1 | Peter | Haworth | Team Tor 2000 Kalas Sportswear |
| 2 | Charlie | Revell | Team Tor 2000 Kalas Sportswear |
| 3 | James | Williams | Team Tor 2000 Kalas Sportswear |
| 4 | Joe | Saunders | Planet X |
| 5 | Ryan | Vale | Tanks Direct Cycling |
| 6 | Joshua | Croxton | Exeter Wheelers |
| 7 | Andrew | Hitchens | Mid Devon CC |
| 8 | Julian | Pittoco | Mid Devon CC |
| 9 | Adrian | Reynolds | Somerset RC – The Bicycle Chain |
| 10 | Darren | Saustin | Twickenham |
The Womens race was a last minute addition to the program. Jenny Corser won for the Mid Devon CC. Jenny's report follows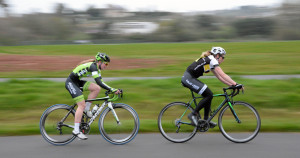 This was a last minute Women's race that I saw on Facebook/ email a few days before the event. There was an announcement that they would like to have a Women's race and would anyone like to enter.
The enthusiasm of some of the responses was great, and I was hoping they would get the numbers needed.
 As background to this, I had run a 22 mile trail race in Cornwall the weekend before on no running training whatsoever.  The last time my running shoes had been worn was four months ago. 
The run was easy enough, heart and lungs well trained from cycling,  however the next day my body was robotic.
I couldn't get my socks on my feet. Walking around the town of St Ives and the numerous stairs was pure agony.
I learnt a few lessons from this –
1. Just because you can do something doenst mean you should
2. Cycling trains the cardiovascular system well but different leg muscles are needed for running.
3. Ibuprofen is my friend.
 I didn't feel able to do any exercise until four days later, the next Thursday morning. Thursday morning I cycle with the fast guys.
 In between all this I saw the last minute race on Facebook, and the enthusiastic responses. Normally before a race I would rest (not run 22 miles), and not ride the same day. However I felt I needed the training ride and wasn't willing to give it up. Also I thought I should support the women cycling and go along knowing I was pretty broken, to make up the numbers and well ,… because its fun to participate with everyone, and I thought it would be some interval training for my tired legs.
 So I cycled 92 km in the morning with the guys, chasing to keep up with them, then got home, ate, and prepared for the evening Velopark event.
 The long preamble about what happened before the race is my way of explaining what happened in the race.
So there were seven of us that started.
 I didn't realise at all but one of the cyclists was a CAT 1. After about 2 laps she took off, and three of us followed, then there was just two of us sitting with her. Surely she would tire at that speed- but she didn't.
After a few more laps it was just her and me. 
Now this is where the difficult bit comes. So she expected me to take turns in the front. I nicely explained to her I was very tired and had cycled in the morning and run the coast path from lizard point to Penzance four days ago. 
This obviously wasn't an acceptable reason in a race so she kept signalling for me to take a turn and taunting me from ahead. I felt bad enough (pride) to after a while take some turns on the front, thinking maybe now we had dropped the whole field we would work together. 
 However I'm quite sure she could see how tired I was and after I had taken a turn- into a head wind, she would come sprinting past me trying to drop me for good. This didn't build up my trust in team work. Feeling the way I was I knew that too long on the front there was a good chance she would be able to drop me.
So I sat in.
 I had to make myself deaf to the constant  remarks about working and it's a race and sitting in and not doing my bit, but I'm afraid I just sat there.
A few times on the front she tried to sprint off- and it was hard at times to hold that wheel, but I could. 
All the time I was wondering about the end. Is it 'cricket' so to speak, to sprint past someone that has led you to the end. What should I do? Should I not try? Or see if she could out sprint me?
 Well a few more of the comments from ahead of me saying- are you still there, and then I decided, damn it, I don't care that its not fair, I'm going to sprint for the line. You've pushed the pace this fast and dictated the race. I will break myself to go any faster but I do have a sprint.
So I sprinted to the line and won.
Did it feel good as a win- no. 
But what was good is to get a glimpse into the next level of strength in racing. Im not sure if it felt this way because my legs were tired but that was the consistently strongest cyclist I've yet seen. 
Its given me things to think about-
1. How to get that strong
2 How being the strongest doesnt always equate to a win.
 Someone at the end said to me- Oh good another race report and more poetry…not sure if any sarcasm intended , but here we go,
(apologies in advance)
 There was once a young cyclist named Jenny
whos appetite was bigger than her belly
Her need was extreme 
For cake, chocolate and cream,
Now downhills are simple, but uphill she wobbles like jelly
Results
| | | | | |
| --- | --- | --- | --- | --- |
| 1 | Jenny | Corser | Mid Devon CC | 3rd |
| 2 | Natalie | Grinczer | Team WNT | 1st |
| 3 | Hester | Steinbridge | Elite Velo | 3rd |
| 4 | Laura | Stainton | Exeter Wheelers | 4th |
| 5 | Nara | Ishikawa | Lanhydrock Wheelers | 4th |
| 6 | Janine | Pettick | Widgers | 4th |
| 7 | Jasmine | Corney | Widgers | 4th |