Race Report – Tour of Milburys – Harrison takes the Win!
Talented Junior Harrison Wood reports on a successful raiding party to the Tour of the Milbury's
I fancied the look of this race on the British cycling website due to the short TT and then road race in the afternoon. The plan was then firmly put into action when my mum revealed her best friend lived around 30 minutes from the HQ and they would be happy to put us up for the night We travelled up to Chichester area on Friday with a quick pit stop at casa de Ian Cullen to pick up an 808 zipp wheel and a 404 wheel for the TT. We arrived after around 3.5 hours of driving to pouring rain and sunshine. I decided to give the pre race recce a miss and we drove the course instead of both the RR AND TT. I then set about my pre race routine in the car park of the local village hall. Oh how very Team Sky like. That night we were treated to a Mary Berry lasagna. Although Mary didn't turn up which was much to my disappointment! This was however very tasty and like rocket fuel!
The day arrived and it was sunshine! We got to the HQ and numbers were collected where I didn't use any pins as I had recently acquired a new No pinz skinsuit I was allowed to wear. All marginal gains I'm told. The TT course was mainly uphill with a slight downhill. I powered on and hit it very hard. I was hitting good data and crossed the line in 10.13 which placed me 6th on the general classification and within touching distance.
I refuelled off Dad's homemade pasta and pinned up my jersey for the RR. My legs felt good but a little bit sore but I knew everyone else would feel the same. The road race course was pretty grippy with fast descents. Open exposed roads. And hard climbs. GRIM We rolled out and the attacks came as expected. The leader was chasing everything down so I just sat in and hid for the first half of the race. Then a break of 7 established off the front with a good one minute gap! I spoke to Graham Collins from Team Tor and he also felt good so with 1 lap to go and nothing to loose we attacked on the finishing climb. Three others came with and we drilled it as hard as we could as we were all riding for GC positions, still thinking the break would stick. However with 4 miles left to go we saw them around 15 seconds up the road! We'd made it across the one minute gap in around 15 minutes which was a huge bridge! It was now a good group of between 12 and 15 apparently although I didn't really notice as I was focused on the win. Coming round the final bend I kicked as hard as I could and no one came round me! I'd done it. I'd won the RR with my hands in the air and my new MDCC jersey proudly on show. This was a shock result for many especially my mum who didn't realise it was me until I'd actually crossed the line due to the gap to the break. It turns out they had started looking at each other. Much to my delight. An anxious wait to be confirmed as GC overall winner was over and I'd been given a rather large yellow jersey. Or jumper as Conrad calls it.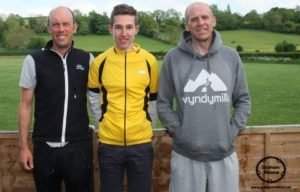 On the way home I treated mum to her first drive through KFC. And before you ask Yes Tom Dumoulin has the same post giro stage. Although she did get a bit confused which was humorous. So my first real objective of the year was achieved so I was very happy! I'd like to thank Conrad my coach again for all his help and guidance. My mum for taking me to the races. Dad for the nutritional pasta he provided and the whole of MDCC for continued support