Mid Devon CC Junior Trip to Belgium
The Mid Devon CC Rider Support Fund paid for Joe Saunders, Louie Priddle and Harrison Wood to travel over to Belgium to race. Here are their thoughts on the experience.
Harrison reports on Day One
"This was my first ever experience of continental racing and I was excited to say the least! Louie's Dad kindly took us up to near Folkestone and we met John Barclay who was going to be taking us over! We arrived at the race after a tunnel crossing and long'ish drive to the race. We went and collected our numbers and began the slightly slow process of signing on as a foreign rider. We then headed back to the car and pinned up! We then took the opportunity to head round the course. From the start we had a short 500m downward sloping hill to a sharp right hander. A slight kick up then a fast descent with some tight corners. This led us onto a chicane and onto a false flat crosswind section and then eventually onto a short but steep climb before taking a fast right hander back onto the finishing straight. A course which I liked the look of.
There were around 90 riders taking part in a UCI 1.14.3 which over there is a fairly big race. We started and it went straight from the gun with riders attacking. The Belgians like to race tactically so they'll break into a corner then absolutely smash it out of them in order to string the race out. Something which we are not used to over here in the UK. I was holding my own and moving my way up to the front before the climb and holding a strong position over it. Around 1 hour into the 83km race I followed a move over the climb and around 6 of us had a good gap back to the bunch. We rode hard and caught the original break. I was helping to force it through in the crosswind but a few riders sat on and wouldn't work. My Flemish isn't what it used to be so I had no idea what to say…
We got brought back and immediately a move went over the top. Sadly this went on to be the winning move and I'd missed it. I then held a good position in the bunch as lots of riders were dropped and shelled. Leaving only around 45 riders in the bunch, so a very depleted field.
The final time up the climb I was boxed in as riders began to blow and basically stop pedalling. I rolled back over the line in 46th position which over there was only 1 place off winning 5 euro.
I was super chuffed with my ride as it was my first continental race and first uci race I'd like to thank MDCC for supporting us for going on this trip. It's much appreciated."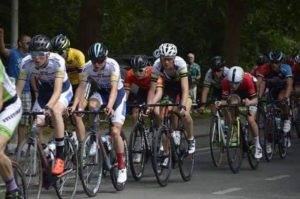 Joe Saunders gave us the low down on Day Two:
"This was the second trip to race in Belgium for me. Several weeks before the weekend I was on antibiotics and quite ill so that saw me off the bike for a few weeks. As a result of this I was unsure how I'd be feeling and hadn't raced for about 6 weeks.
We arrived at the race on Saturday and the heat was the first thing we noticed as we stepped out the car. I'd never raced in anything this hot before and knew staying hydrated was going to be key. The circuit was about 5.5km with a steep climb part way round the circuit. I coped well given the hill doesn't suit me. I struggled with the heat and felt very dizzy with about 4 laps to go. At 1 to go I was dangling about 100m off the back and got pulled out going across the line. Not an ideal day but for my first race back after illness I was pleased. The hill would normally have seen me out the back much earlier on so I'm happy with how that day went.
Sunday was the day I was hoping would go well. Longer: 98km was something that could suit me if I fuelled properly throughout. The race was fast from the start and the technical but long circuit saw a lot of people slipping out the back. Towards the end of the race I was following moves and working with different groups trying to pull back a group of about 6 up the road. In the end I was left with 3 others and we eventually started working together well to hold off the chasing groups. With 2.5 laps to go the other 2 slipped out of our group and left me and one other. We worked together really well until we knew we couldn't be caught and the last few hundred meters saw the set up for the sprint. He launched early, and I was able to roll him on the line. Despite picking up bottles from Dave throughout the race I was still cramping through that sprint which was an interesting experience. I finished 18th which I'm really pleased with and learnt a lot from that race with regards to feeding.
Thank you to Mid Devon for granting the money to support us racing. It's hugely appreciated and without the support trips like this would be made more difficult. Thank you also to Louie's dad for driving us up. John Barclay and Dave for taking us over and being there to feed us and drive us round over there. All in all a brilliant weekend and look forward to getting over there again soon."