Race Report – Modbury Road Races – Louie Priddle takes 2nd
Mid Devon CC Race Team were en masse at the Modbury 2/3/4 race on 12th March.
1st year Junior Louie Priddle gives the low down on his race where he took 2nd following a day in the break
This was my 2nd road race and I was very excited and ready to get stuck in on the action. During the First lap we were stopped around 2-3 times because people were crossing the white lines onto the other side of the road. But after the Comms had a good shout at us it seemed that people actually listened and started to behave themselves.
On the second lap there were two people up the road who had about a twenty second advantage on the main group which I was in. As I came up over the hill just before the finish line I had a little dig on the front and then found myself and another rider slowly making a gap. I then looked behind to see seven others trying to bridge this gap and get over to me to form a proper break away. One of these riders was team mate Harrison Wood.
On the third and fourth lap we worked very well as a group and ended up catching the two riders who were originally out front. Then they got dropped from our group. We had about one minute on the main bunch going into the last lap and we all knew then that it was probably going to be like that until the finish line as we were all still pulling strong turns on the front.
About 2 miles from the finish we started to play a bit of cat and mouse as no one wanted to go through and pull a turn as we were all trying to save our legs for the finish.
Last climb. Harrison attacked, I went on to bridge the gap so it was just me and Harrison on our own with the others behind chasing. Then Josh Croxton bridged over to us and it all came back together as a group of 7 again. It was going to be a sprint finish. As we started to sprint someone hit my back wheel causing a huge pile up behind including Harrison. I'm not sure how I escaped but I did and managed to take 2nd which means I am now only 12 points away from being a Cat 2.
A mega ride from Harrison despite being caught in the crash in the last 100m. And it's still only March!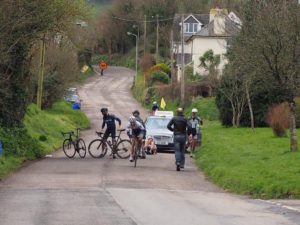 Harrison who was so unlucky to be bought down in the final gave us his thoughts
Going into the final climb into Modbury I opened it up in an attempt to get away and potentially whittle down the group.
This worked as 2 riders went out the back after a hard race.. I then positioned myself into 3rd wheel and was about to launch my sprint for the line when bang. I went somersaulting through the air and had a nice meeting with Barracks Road in Modbury. Sadly this put me out the race as i had no real idea where i was. Luckily Louie avoided this and took 2nd so a good result for him and made me feel as if the effort was definitely worth it. I was gutted but I did get some nice photos to show future generations
Mid Devon veterans Julian Pittoco and Ian Cullen also took 13th and 15th respectively
In the Womens race Jenny Corser took 3rd unleashing her trademark sprint and Ruth Burrows came in an impressive 11th in her first Road Race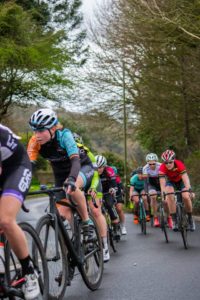 Mens 2/3/4
1 Joshua Croxton Team Tor 2000 KALAS
2 Louie Priddle Mid Devon CC
3 Mark Perry Ride 24/7
4 Mark Lees Southfork Racing.co.uk
5 Graham Collins Team Tor 2000 KALAS
6 Neil Phillips Kibosh
7 George Kimber Cycle Sport Dynamo
8 Ross Holland Bikechain – Ricci
9 Steve Thomas Bristol RC
10 Matthew Osborn Estera powered by Adventure Cy…
11 George Jones VC St Raphael
12 Alfie Peters Team Novo Nordisk (Development…
13 Julian Pitocco Mid Devon CC
14 Nicholas Vincent Lovelo Cinelli RT
15 Ian Cullen Mid Devon CC
Women's E/1/2/3/4
1 Elizabeth Bennett Liv Cycling Club – Epic Coachi…
2 Emma Cockcroft Bianchi Dama UK
3 Jenny Corser Mid Devon CC
4 Hester Stembridge Elitevelo Kalas Sportswear CRT
5 Sian Botteley Cycle Team OnForm
6 Fiona Redding Radeon-Bike Science RT
7 Georgina Panchaud Bianchi Dama UK
8 Bethan Stubbs Bianchi Dama UK
9 Christie Jones Hereford & District Wheelers
10 Elena Spanou Cycle Team OnForm
11 Ruth Burrows Mid Devon
12 Maria Powell Radeon-Bike Science RT
13 Zoe Betteridge North Devon Wheelers – South F…
14 Jessica Duffy Bianchi Dama UK
15 Claire Guthrie Exeter Wheelers
16 Emily Slavin University of Bath Cycling Clu…
17 Lucy Monk Exeter Wheelers
18 Neve Upton Cycle Team OnForm
19 Hetty Summerhayes Saint Piran
20 Amy Louden Lovelo Squadra Donne
21 Nikki Toomer Exeter Wheelers
22 Jenny Bolsom Team RGB Building Supplies