Race Report – Izzy Ashford Ride London and Scarborough Nationals
National Ride London Grand Prix
This race has been my favourite race since I first competed in it and has since then been the race I most look forward to. It's my sort of circuit: flat and untechnical, which has only ever ended up in a sprint.
This year we decided to drive up early Friday morning (the day of the race) and get there about 4 hours before my race as with it being a Ride London event there's always a great atmosphere with spectators and other tracers. Myself and the other U16s got our numbers pinned on after a slight trauma with the jerseys…and chilled out and watched some of the races before our own. This year prize money was equal for both genders, which in previous years it hadn't, and race durations were also equal so this event is really key in improving and maintaining equal and ultimately normal treatment and opportunity in male and female racing – which is really important to myself. The start of the Youth B girls race was expectedly rapid with Zoe Backstedt pushing on the front almost every lap, however our races were only going to be even faster which nerved us all.
The field in the U16 girls race was very strong and roughly 40 riders made the start line.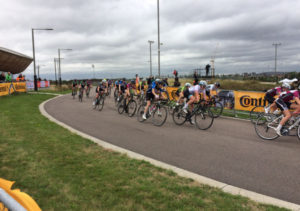 We set off with the usual fast fight for position, my heart rate was already way above threshold in the first lap, so for the next few laps I tucked in and waited for my hr to get to threshold. There were many attacks throughout however none stuck for long at all and it was heading for the usual sprint. At 40 minutes the bell went and I was fighting really hard to get towards the front, the group was all together and obviously no one wanted to give up there position, however being very small does come with advantages so I managed to slip into a good place for the sprint. The sprint was fast and I felt myself moving forwards, which as a first year I was pretty pleased. I was so so happy with the result as I came 2 seconds behind the winner Kate Wooton and same time as the National Champ, Emma. This has been my best result at national level, but in hoping to better it further next year!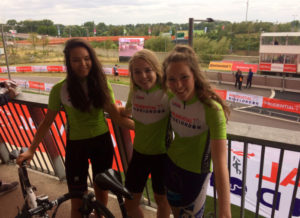 Scarborough National.
This has been the race I've always refused to do, after hearing actual horror stories from this race I was 100% certain I'd never do this National. Ever.
However after being picked to represent SW again it was pretty hard to back out of and after a lot of parental persuasion I decided to do it. When we got to Scarborough we completed a few practice laps and the climb was pretty brutal but I was convinced it'd be fine, I was way too complacent… The morning of the race I was a complete nervous wreck, but anyone who knows me would know this is the case at any race I go to, big or small! The race set off steady, 5 laps laps of the flat 2k circuit, however the circuit was narrow and moving up was virtually impossible and after being cut up whenever I tried to move up I knew that as we made our way down the descent before ascending Oliver's Mount I wasn't in the position I'd hoped to be in for the climb. After being way too complacent I soon realised the practicalities of riding at race pace up 20% Oliver's Mount with sprinters legs against skinny legged climbers with more appropriate and wise gear choices.
All I can say is the climb was just brutal. To put it into perspective, people were being sick on themselves (too information – but true!) and crying and screaming… and we had to do it 3 times, so yeah pretty nasty! But I got round and that's all I ever wanted from Scarborough. Also it was great with my close friend Lauren Higham from Welwyn Wheelers actually winning the race so I was extremely happy and proud of her.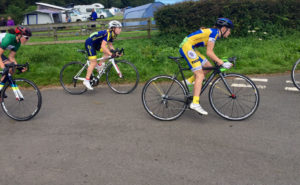 Also if you've got this far down (I do go on a bit!) I'm competing at the National UK School Games for South West England for 3 days and if you have any spare time on Saturday 2nd September there's a live stream for our races on YouTube.com/youthsporttrust and it'd be nice to have some MDCC supporting!:))