In horrendous weather conditions of high winds, rain that went from driving drizzle to torrential torrents and temperatures from 4 deg. C to 8 deg.C there were two fine displays of solo riding in the Men's Primavera Road Races promoted by Mid-Devon CC/Colin Lewis Cycles. The Women's Race had a different character and after a brave 3 up effort it came down to an elongated bunch sprint.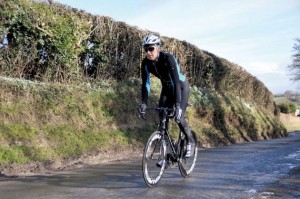 Marcin Bialoblocki, One Pro Cycling was the not unexpected winner of the Elite/1/2/3 category race coming home with nearly 4 minutes on the next riders.  After an elongated neutralised section from the Hatherleigh HQ to avoid potential emergency traffic light the race got going on leaving Highampton.  It was not long before the gaps appeared and a quartet were just ahead of the bunch when the prime got Halwill Junction. Bialoblocki took the prime. With him were Alexander Murison, Easton Ritte, Andrew Feather, Bike Shed / Uni of Exeter and Calum Croft, Primera. The bunch already showing signs of shedding riders was about half a minute behind.
Croft being a second category rider was prepared to mix it with his elite companions. 11 miles later at the second prime he just edged out Bialobloki by millimetres. The pace of the front quartet had pulled them away sufficiently for onlookers to know that the winner lay within the front 2.  There was a counter attacking group of about 10 but their chase was more in hope than expectation.
As the quartet came up the slope to the final prime Bialoblocki went clear. A few seconds at first then the gap grew and grew. Over the final 18 miles with it slightly hiller terrain the One Pro Cycling rider mover further and further ahead to cross the line arms aloft. Murison held of Croft and Feather comfortably.  Mark Lees, Tanks Direct, broke clear of the chasers with Private Member, Harrison Fielding edging out Andrew Williams, Cwmcarn Paragon and Joshua Jones, Bike Shed, Exeter Uni.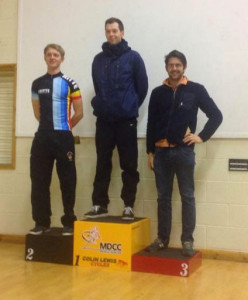 Marcin Bialoblocki    One Pro Cycling 53 miles in 2 hrs10 mins 30 secs
Alexander Murison    Easton Ritte @ 3 mins 45 secs
Callum Croft              Primera @ 3 mins 50 secs
Andrew Feather         Bike Shed / Exeter Uni @ 3 mins 55 secs
Mark Lees                  Tanks Direct @ 5 mins 30 secs
Harrison Fielding        Private Member @ 6 mins 45 secs
Andrew Williams        Cwmcarn Paragon st
Joshua Jones              Bike Shed / Exeter Uni
Ben Davis                  Private Member
Richard Harris           Cwmcarn Paragon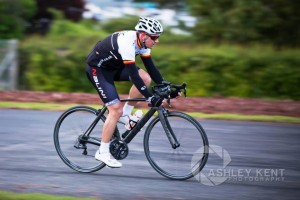 As with the E/1/2/3 race there was the same pattern to the first prime with Jake Hollins, University of Bath holding off Craig Hickson of the promoting club and the bunch in close attendance. On the country road to Beara Cross Hollins went clear and that was the last he rest of the field saw of him – a solo ride of some 40 miles. His lead steadily grew and he had had a comfortable margin over a pair of chasers and nearly 5 minutes on a dispirited bunch led home by Hickson.
Jake Hollins            University of Bath 53 miles in 2 hours 20 mins 10 secs
Liam Bromily           University of Bath @ 1 min 40 secs
Oliver George          Team Tor 2000 @ 2 mins
Craig Hickson         Mid-Devon CC/Colin Lewis Cycles @ 4 mins 40 secs
Bunch @ same time
(video malfunctioned and we have numbers that were DNS – will sort out and advise.)
The Women's Race which was handicapped with 3 minutes between the front groups and the scratch group turned out about tight in terms of handicapping.  The front group of 10 split up on the opening 7 mile circuit to the East of Hatherleigh. Three riders headed the field as they went through the lap end prime. They were Elliie Twentyman, Kerry Paul, Lanhydrock Wheelers and Ellie Gillham, Primera Sports who was returning to racing having had 12 months out of competition. She made her experience tell she not only took the first prime but the other 3.
On the final lap the junction was made. With 400 yards to go a small group went clear and from that group Gillham won by a couple of lengths from her erstwhile companion, Twentyman.  The rest of the bunch was very close behind.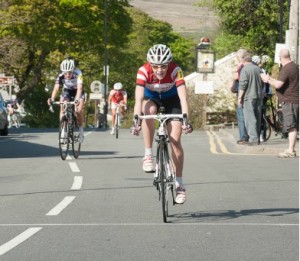 Ellie Gillham           Primera Sports 28 miles in 1 hour 21 mins 42 secs
Ellie Twentyman     University of Bath
Mary McFazdean    GB Cycles.com
Gillian Taylor          Fusion/GearClub
Heidi Veils              Somerset RC/Bike Chain
Sarah Godwin         Somerset RC/Bike Chain
Nicola Noble           Private Member
Bethan Stubbs        Bike Shed / Exeter Uni
Alex Sheehan          Bike Shed / Exeter Uni
Kerry Paul                Lanhydrock Wheelers  all ST
MDCC had 22 riders in the Mens Races. Notable mentions go to Andrew Hitchens 16th and Jason Kettle 18th in the E/1/2 – Jason missed a split in the bunch when taking off his glasses and putting them safe in his pocket.  In the 3/4 Callum Deakin was going across a gap to the leaders with some 8 miles to go when he punctured. Tim Prowse punctured after 10 miles and spent the rest race in the comfort of the broom wagon. Julian Pittoco finished just outside the top 10 in the 3/4 and Nick Weddall and Mark Coombe faired well coming in with the bunch. Ex MDCC starlet Charlie Meredith now riding for Giant Halo had an outstanding ride in the E/1/2 coming in 11th and first junior in his first road race!
Thanks also go to all the MDCC Club Members that helped in various capacity's, Andrew Parkers team of accredited Marshalls, Mrs Vincent for the refreshments,  the race officials and NEG's and our own Ken Robertson for a great job organising