Mid Devon CC Youth Stage Race
On Saturday 6th March the Mid Devon CC organised the season opening Youth Stage Race – with adult support races, at the Torbay Velopark.
Conditions were dry and bright with forty four entrants including a strong raiding party from Wheal Velocity and riders from Avid Sport in Bath and Cwmcarn Paragon Wales.
The format with two stages adding up to an overall ranking made for great racing. We've had positive feedback from parents and riders and look forward to the season building from here.
The adult racing featured 4th cat and womens racing, a strong wind made for attacking racing  in challenging conditions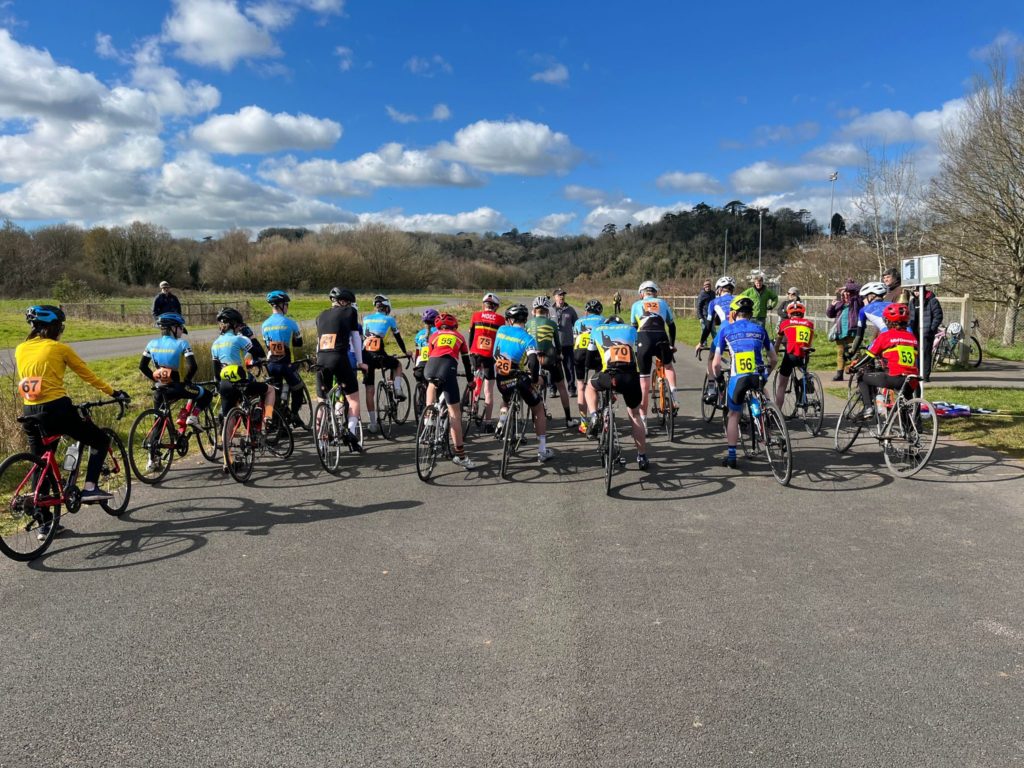 Congratulations to everyone competing, we had a lot of new riders which bodes well for the future. Full results are listed below and the photographers have kindly supplied free photos for all, using this link MDCC Velopark, March 2022. (photium.com)
| | |
| --- | --- |
| Youth E | Boys |
| | |
| 1st | Fredrik Simcock |
| 2nd | Ted Baxter |
| 3rd | Tiago Pacheco |
| 4th | Henry Hatton |
| 5th | Filipe Pacheco |
| 6th | William Ward |
| 7th | Elwood Robinson |
| | |
| Youth E | Girls |
| | |
| 1st | Daisy Duffield |
| 2nd | Charlotte Ward |
| | |
| Youth D | Boys |
| | |
| 1st | Maximilian Atkins |
| 2nd | Ben Ward |
| 3rd | Charlie Robinson |
| 4th | Benjamin Simcock |
| 5th | Rudi Bruseker |
| 6th | Oliver Gray |
| 7th | Henry Hern |
| | |
| Youth D | Girls |
| | |
| 1st | Seren Claxtton |
| | |
| | |
| Youth C | Boys |
| | |
| 1st | Hedd Griffiths |
| 2nd | Matt Holmes |
| 3rd | George Staey |
| 4th | Jowan Roberts |
| | |
| Youth C | Girls |
| | |
| 1st | Jess Duffield |
| 2nd | Ellie Birchill |
| 3rd | Edie Baxter |
| 4th | Amy Clarke |
| | |
| Youth B | Boys |
| | |
| 1st | Jed Claxton |
| 2nd | Loris Cains |
| 3rd | Jacob Start |
| 4th | Elliot Albert |
| 5th | Samuel Gray |
| 6th | Will Birchall |
| | |
| Youth B | Girls |
| | |
| 1st | Holly Tregear |
| | |
| | |
| Youth A | Boys |
| | |
| 1st | Nick Makin |
| 2nd | Ruben Stacey |
| 3rd | Oliver Wade |
| 4th | George Watch |
| 5th | Thomas Tregear |
| 6th | Finlay Mowat |
| 7th | Benjamin Pearcey |
| 8th | Ben Meek |
| 9th | Lewis Bateman |
| 10th | Kevin Treloar |
| 11th | Max Rodriquez-Emery |
| | |
| Youth A | Girls |
| | |
| 1st | Leah Emmens |
| | |
| | |
| Cat 4 | Mens |
| | |
| 1st | Martin Smith |
| 2nd | Charlie Davis |
| 3rd | Joseph Sheppard |
| 4th | Orion Cenki |
| 5th | Charlie Bird |
| | |
| | Womens |
| | |
| 1st | Amber Harding |
| 2nd | Hannah Rainger |
| 3rd | Olive Holliday |
| 4th | Urszula Donigiewicz |
| 5th | Claire Pile |