Mid Devon CC Academy – Skills Session 5 – 30th January 2018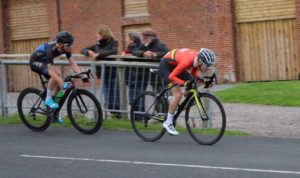 The fifth Mid Devon CC Academy Skills session will take place at the Velopark on 30th January 2018 at 6.30 pm sharp and will last for around 90 mins.
The plan will be:
6 lap warm up 4 lap, 3 rider break with single rider attacks on each straight. 5 minutes recovery then repeat. Pursuit race – 6 laps, starting in groups of 3-4 with time gaps according to ability. Tactical Emphasis on attacking the group and rushing the gap. Physical goals are 30s and 8 minute efforts.
This is open to anyone 14+ that has an interest in racing in 2018.The club is subsidising the cost for Youth/Junior and Seniors.