BMCR Race Report – Trevor Irons

Harold Nelson Memorial Circuit Races – Darley Moor Motor Racing Circuit, Derbyshire – 13 March 2022

British Masters Cycle Racing is for female and male racers who are at least 40 years of age. It offers a year-round programme of road, circuit and track races – around 150 races per year. The membership spans the full cross-section of skill and experience, from newbies to World Champions. Age Categories range from "A" (40–44) to "L" (95–99). I'm in "F" (65-69).

This is the first race of the year in the BMCR "Percy Stallard Series". This series comprises a number of races over the year, which take place on circuits and roads. I would definitely fall into the category of "newbies". Having ridden in just two races in a difficult 2021. However, I performed reasonably well in a two hour road race – in the leading group with 500m to go but "chickened out" of the final bunch sprint, which felt quire scary.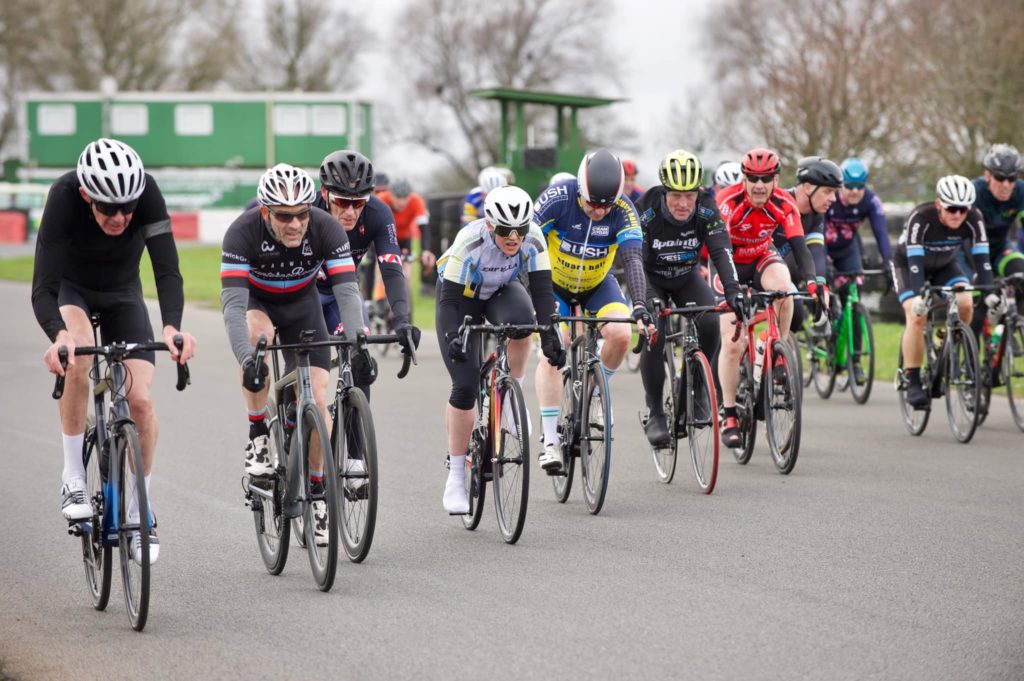 Having lost 7kg over the winter and increased my power by about 5%, I travelled the 4-hour drive with a little confidence and a lot of nerves. In order to dispel my nerves, on the drive up I formulated a plan. As I didn't want to get involved in a bunch sprint again, I resolved to stick in the pack until the first breakaway comprising two or more riders. I thought that having a plan would remove any indecision once the race commenced. And if my plan failed, at least I had tried and hopefully learned something. "Plans are great until you get punched in the face!"

The Darley Moor Circuit is a triangular track, approximately 2.25km long, It's at an elevation of just under 600 ft and therefore always very windy. It was a cold, but dry day, with the wind in your face along the 700m start/finish straight, which also sloped uphill. The race distance was 1.25 hours plus 5 laps, which turned out to be about 50k. The race started at 3pm, with a warm-up lap, which was fine. The pace then increased straight away to around 38kph. I was surprised, but thought that it was just the rush of adrenalin and that it would reduce back when everyone had settled. Wrong!

The pace continued and after a few laps, when I saw my average power was much higher than I knew that I could sustain for the full race, my plan went out of the window and became, "just hold on as long as you can"! I knew that, if I was dropped, I would not get back on again, so I just held on for as long as possible, hoping that others were suffering the same as me.

I lasted about 20 minutes and then was dropped on the uphill finish straight. Race over. It's a lonely place, being dropped. And on a circuit it's deadly boring – at least on the road there are changes of scenery, rather than the same three bends every 4 minutes. However, I pressed on, thinking that others may get dropped too or that there would be a massive crash that I could serenely skirt around. A few others did drop and I passed them, but most of the pack remained intact and eventually lapped me.

I vowed to keep going unless it rained. Thankfully it didn't, so I completed the full 90 minutes. The race was won by a group of three who broke away about halfway through. I was left wondering why my result was worse than last years. Perhaps a different group of riders? Perhaps everyone had trained harder than me? Perhaps there is a big difference between the requirements of a road race and track race. Unfortunately, due to cancellations, the next road race is a little way off so in the meantime more planning and training.