SW Regional Road Race Championships
Sunday 17th May saw the annual SW Champs run on the newly tested "Primavera" course at Hatherleigh. The strong field of riders were blessed with dry conditions. The course involved 5 laps of a circuit around Halwill Junction with an additional loop at the end taking in some nasty climbs around Okehampton. 6 MDCC riders took to the start as well as ex MDCC riders Seb Baylis and James Davey, now both 1st Category riders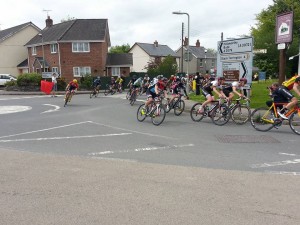 The main selection in the race took place at around 40 miles and MDCC's Andrew Parker and Jason Poore both made the break. The initial break split again with Jason Poore making the front group and eventually coming home in 6th place. A great result from Jason who has ridden himself back into great form this season. Andrew came home with a very respectable 12th.
At the front of the race Seb Baylis pulled off an amazing solo ride, going on his own from a long way out and holding out for the win. James Davey was 3rd with a great performance.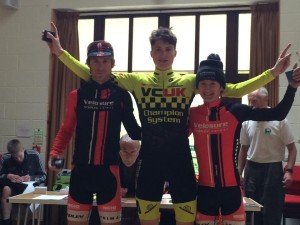 Commiserations to David Johnson who punctured after 24 miles, ending his day early. In the Junior race, MDCC's Matt Langworthy came home in 7th, also a notable mention to Charlie Meredith another ex MDCC rider who came 3rd. The Women's race saw Nicky Quant finish in 13th place.
Result – South West Divs
Junior 1/2/3/4
1 Cameron Pelly Cycle Sport Dynamo
2 Elliot Redfern Giant Cycling Club – Halo Film…
3 Charlie Meredith Giant Cycling Club – Halo Film…
4 Oliver Cooper 1st Chard Whls
5 Ryan Dunn Cycle Sport Dynamo
6 Robert Hogg Corley Cycles – Drops RT
7 Matt Langworthy Mid Devon CC
8 Charlie McFadzean Cycle Sport Dynamo
9 Jack Salvidge Exeter Wheelers
E/1/2/3/4 – Women
1 Natalie Grinczer Fusion RT Gearclub Bike Scienc…
2 Heidi Viles Somerset RC – The Bicycle Chai…
3 Alice Miller Elitevelo Kalas Sportswear CRT
4 Adele Martin PMR@Toachim House
5 Alexandra Sheehan Bikeshed – Exeter Uni
6 Emily Attfield Velosure Starley Primal
7 Sarah Godwin Somerset RC – The Bicycle Chai…
8 Emma Cockcroft Bikeshed – Exeter Uni
9 Jessica Duffy Feather Cycles Racing
10 Bethan Stubbs Bikeshed – Exeter Uni
11 Wiebke Rietz 1st Chard Whls
12 Lucy Walker Bristol South CC
13 Nicky Quant Mid Devon CC
E/1/2/3
1 Sebastian Baylis Champion System VCUK Racing Te…
2 Adrià Moreno Sala Velosure Starley Primal
3 James Davey Velosure Starley Primal
4 James Porter Team Tor 2000
5 James Williams Team Tor 2000
6 Jason Poore Mid Devon CC
7 Graham Collins Tanks Direct Cycling
8 Peter Haworth Team Tor 2000
9 Marius Cordier Velosure Starley Primal
10 Max Stedman Pedal Heaven RT
11 Andrew Feather Bikeshed – Exeter Uni
12 Andrew Parker Mid Devon CC
13 George Fowler Easton Ritte
14 Ryan Vale Somerset RC – The Bicycle Chai…
15 Kelvin Price Tanks Direct Cycling
16 Jamie Fabrizio Tanks Direct Cycling
17 James Curson Tri UK
18 Samuel Woods Plymouth Corinthian CC
19 Oscar Hutchings Bikeshed – Exeter Uni
20 Joshua Jones Bikeshed – Exeter Uni