SW Regional Circuit Race champs – Race Report
Race Report from Club Chairman Andy Perkins who has recently come out of early retirement to race again:
Picked up a 4th place in the Regional Circuit Race champs on Sunday at a slightly damp and very windy Velopark. Haven't done a circuit race since my crash on the Velopark last August and forgot how fast they start, so much so that I nearly dropped out after the first 6 laps I spent hanging off the back! Have lost my bottle on the hairpins and was losing 3 or 4 lengths each turn and then having to sprint to catch up.
By the time I found the front Charlie Revell and James Porter were about 40 secs clear with a couple of visitors from Team Cycle Store based up north just jumping clear. I went after them taking James Williams with me and catching them within 3 laps. We eventually finished a minute clear of the bunch but never caught Charlie and James who lapped the entire field! The two northerners jumped clear with two laps to go and James got me in the sprint for 5th taking the bronze medal as the two northerners didn't count for the champs as they were from outside the region James Porter jumped clear of Tony to take the title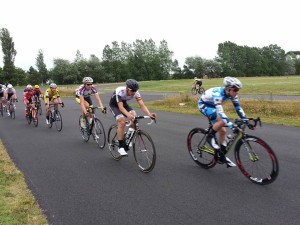 Ian Cullen and Jason Poore both finished in the main group
In the support race David Johnson took the win but sadly Harry Loader took a tumble and has unfortunately broken his collar bone. Julian Pittoco took 5th place