Race Reports – Matt Langworthy Update
Matts impressive form continues – here is what he has been up to recently
S40/50 TT 24th July
This was my first warm up event for the National 25 in a couple of weeks and having not ridden a TT for a month or so, I was interested to see what my TT form was like. Being a 50, it was an early start for a 7:40am start time. This was my second 50 and I was keen to get my pacing better this time having gone out too easy on the last one.
I went out pretty hard pushing threshold watts up the climbs but then recovering by freewheeling down some descents. I got to the first turn at Chudleigh in good time and I was feeling pretty good. However I had in the back of my mind I still had another lap to go and I was wary of opening it up going up Bickington. A headwind to the Dean Prior turn made for a slow midway time however I was still on for taking the course record and taking minutes off my PB. Heading up the hill to Ashburton I was really struggling to hold good watts but I knew I could rest with the tailwind descent at the top so I pushed on before maximizing freewheel time down Bickington. I then found some on the flat section to Chudleigh and my power was up towards 25 pace again so I was feeling more positive. Making the turn I pushed just under my limit to the bottom of Bickington before giving it as much as I could knowing I still had a few miles after the downhill on the other side to do. I was creeping over the top and 'recovered' off Bickington before the final slog to the line from the bridge.
I clocked a 1:46:10 which got me the course record for a bit before Conrad came in to win so I had done a pretty good ride.
I had some good figures and for a lumpy course, I should be on for a good time for the 25 in a couple of weeks. However I think that'll be the last 50 I'll do for a while. I much prefer 10s and 25s where it's less about pacing and you can actually do stuff in the afternoon after the race.
Velopark 2/3/4 28th July
It was once again pretty windy down at the Velopark on Thursday evening so naturally a breakaway was on the cards. The race started and a few attacks went but nothing was staying away so I sat in the top third and kept an eye on what was going up the road. After around ten minutes, three guys had gone up the road and they were holding a gap of five or so seconds. Nobody was really chasing so I bridged over to them and over the next ten minutes we stretched the gap. I knew if we stayed away for more than ten laps or so, the bunch would give up and this is what pretty much happened apart from a few attempts at some riders trying to bridge over to us.
One guy in our quartet got down on the finishing straight but luckily he was okay. The three of us carried on taking turns well. I knew getting away from the other two would be hard as having more riders in the breakaway means everyone will probably be a bit fresher. I attempted a long break into the wind with one lap to go but the Plymouth Corinthians rider pulled the gap back towing the other guy with him. This was not ideal for me as I had just made a big effort and I now had to sprint which is not my forte. I came into the final corner second man and managed to follow the guy in front when he kicked. I then opened my sprint as the corner straightened out and just managed to get round him in time for the line to take the win.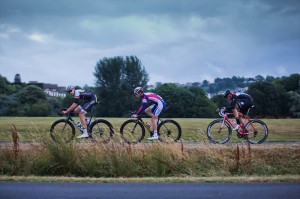 S4/25 TT – 31st July
After last week's 50 on the S4, the 25 was certainly much shorter in my mind than it previously had been. I wanted a big ride today as I have the National 25 next weekend so this was an ideal warm up event. I changed my warm up routine to be longer as my legs were still feeling the crit from Thursday. I started my warm up around an hour before my start time just spinning it out before five minutes of tempo and then some race pace efforts. I then relaxed in the car for 15 minutes or so and then got my overshoes and kit on. I headed out hard pushing my ten power up the hill to Ashburton and then used the downhill as a bit of recovery but not as much as I did in the 50 last week. I pushed it hard to the turn then rolled round it to give the legs a few seconds of rest. I pushed all the way to the bottom of Bickington with the plan to do a huge effort up it but the power never really came. I was holding good watts but I think going hard early on was now catching up to me. I freewheeled down to Ashburton and then it was flat out to the end. I thought I was on for a 49 as I was coming up to Dean Prior but I watched the time tick over 50 as I took the slip road. I recorded a 50:15 which was good enough for 2nd 38 seconds behind Conrad and 15 seconds ahead of Gary Chambers so I had a good ride with some decent power figures. It's looking good for next weekend when I'll have a flat course to get going on!
National 25 TT Champs 7th August
The National 25 was always an event I wanted to have a go at especially as it was a fairly flat course for 2016 in Norfolk. Dad and I drove up the day before and riding the course revealed a rolling and draggy course with the far end near the turn being surfaced in concrete in poor condition making for a rough ride. The weather forecast indicated it would be a super windy return and that was certainly the case as we arrived on Sunday morning.
I warmed up well for around 40 minutes before getting all my kit on and heading to the start. Due to my ride in Wales last year I was a late starter so with Rob Sharland being my minute man and Matt Sinclair starting two minutes behind me, I knew being caught was going to be more of an issue than catching anybody.
I went out pretty hard doing the first ten miles in under 18 minutes with the tailwind and got to the turn averaging just over 34 mph. I clocked Sharland coming out of the turn and got a time gap on him of 1 minute so I knew I hadn't lost any time to him which helped my confidence. As I made the turn I hit the headwind and my speed dropped as expected. The rough surface made getting power down difficult and a drag out the turn meant I was crawling along. I pushed on and eventually got back to the better surfaced tarmac where I could get some power down. My cadence was noticeably slowing into the wind dipping into the 80s but it was the only way to get the power out. When I hit the roundabout I knew there wasn't far to go and I hadn't been caught so I must be going well. I started to lift it and give what I had left as I hit the most exposed section up a draggy climb before the finish. I watched 47 and 48 minutes tick over and as the finish came into sight I knew I was on for a 49 which was the aim. I pushed over the line to clock a 49:36 which I was pretty pleased with considering the conditions.
I came 21st overall which at first I was a little disappointed with considering I managed a top 20 in the National 50 however when I analysed the results I was less than a minute off a top ten and the standard of the field was so much higher than in the 50. It was only the top guys who were knocking out the 46s and 47s on a day like today. I was also 3rd U23 so I was glad to have achieved that result.