Race Report – NRMCA Cyclefest
On an overcast Thursday in mid March 5 members of the Mid Devon race team attended the Royal Navy at Ilton air field. This is an annual event which Mid Devon cycle club receives an invitation to attend.
The day comprises of 5 races, the first of which was a 1 lap 3.1 mile prologue or individual time trial.
Fastest time went to Ian Cullen of MDCC in a time of 6:43
Andy Perkins was 9th in 6:55
Lee Sanderson was 11 in 6:58
Mark Sanders was 17th in 7:22
& Stewart Dunn was 28th in 7:46
The second event was a development race and aimed at novice racers to give them vital experience with in a safe environment. None of the Mid Devon riders were involved in this race.
The third event was a 2-up 2 lap time trial. Once again Ian Cullen showed his class work with Andy Perkins to take the win by 36 seconds. The pairing of Lee Sanderson and Mark Sanders finished 8th in a time of 14:14 and Stewart Dunn was paired with veteran Tom Cox and finished a creditable 10th on a time of 14:50.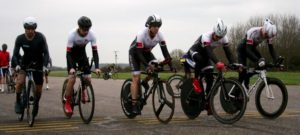 The forth event of the day was a mass start crit race. 45 minutes plus 1 lap.
From the gun Andy Perkins attacked off the front with one other rider. They held a minute gap for several laps in though conditions before the Andy dropped back to the bunch. The other rider stayed out alone for a few more laps while the bunch settled, an opportunist attack by Stewart Dunn saw him go clear of the bunch for half a lap but came to nothing. The Mid Devon boys then amassed towards the front of the bunch in line astern formation controlling the race before Ian Cullen got in what became the race winning move with 2 laps to go. Ian was piped on the line but finished an impressive second.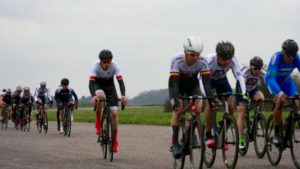 Andy Perkins made his moved with just under half a lap to go heading the bunch over the line in 10th place. Lee, Mark and Stewart all finished comfortably in the pack.
The last event was the Team Time Trail 5 riders 3 laps.
Hot off the back of a testing crit race the team react was going to be tough. Mid Devon concentrated on working together as a unit and sheared to work between the team. With tired legs they managed to finish an impressive 3rd which meant that Ian Cullen had finished no lower than 3rd in all 4 races he'd entered.