Race Report – Northover Vets 10 and 25 / RNRMCA championships TT
This weekend saw the Northover Vets RT 10 and 25, with the 10 being held on Saturday evening followed by a brief sleep and early start at 7am on Sunday for the 25. The course was the U30 at Yeovilton, utilising the A303 for a large part of it. The 10 has the potential to be quick due to the gentle rolling nature, but it seldom is due to the open exposed nature of the course, and a long technical slow climb around the turn. The 25 can best be describes as rolling the whole way round, with a slow bumpy 7 mile section, followed by 4 longish climbs that are taken in quick succession.
The Mid Devon CC sent several riders up to attend the events. Conrad Moss in only his second outing of the year, came 2nd in the 10 and 1st by a huge margin in the 25. In the 10 Ian Cullen finished with a strong 21.54, Mike Gratton did 22.46, and Sarah Lakey took 1st Lady with a strong well paced ride. In the 25 the only other rider foolish enough to brave the freezing temperature was Mike who scraped under the hour in 59.58  to take 12th on a day where not too many broke 60 mins
Here's Conrad and Sarah's thought on the races
Conrad Moss
 10 Miles.
This was my second outing this year, and my first over 10 miles, which is my weakest and least favoured distance. I'd won the 10 last season,  but I had already had half a dozen races in my legs, so I was a little unsure of how this would pan out. Warming up was a challenge, as despite a stunning blue sky and bright sunlight it was a tad cold to say the least, and despite a good solid hour I just couldn't raise the heart rate, and so come the off it took me a good few miles to find my rhythm. Once I did get going I was going well and holding 32 mph out to the turn, there was a light cross wind, that neither helped nor hindered, and empty roads meant I could pick a good line on the DC.  I didn't ride the turn particularly well – a bit over cautious if truth be told, and by the time I rejoined the DC I was just shy of 30 seconds down on a few riders who mattered. I rode well back to the finish to take 2nd in 20.49, but 10 seconds short of the win, and a poor power split which reinforced my thoughts of how the race had gone. 
 25 miles.
Scraping ice of your windscreen one hour before the off never bodes well for a pleasant experience, and when you're faced with a fairly challenging ride, in lycra, in 1 degree temperature at 7am I wasn't super excited for this one, but it's the same for everyone, and Mike and I had been wise as owls by staying over to avoid a 430 am drive, and our 5 am alarm call to eat was almost a luxury.
A brief 30-40 min 'warm up' to loosen the stiffness, did loosen the joints, but did nothing to actually warm me up, but come start time it was a stunning morning. Frosty fields, clear blue skies, empty roads, bright sunshine, and the unmistakeable whiff of deep heat.
I rode with 3 base layers, leg warmers and winter gloves, in a vain attempt of keeping some core warmth. Onto the DC it was clear that it was going to be a challenge with the cold, as the 32 mph I was holding on Saturday, was more like 29 – 30 for the same power, but I rode pretty well for 40 minutes or so, with strong average power as planned I felt pretty comfortable. Over the last climbs though my power dropped off dramatically, I can only assume /hope that it was the temperature as I certainly didn't feel like I was suffering, but I pushed on hard to finish in 53.29 to take the win by just over 2 minutes from Sean Childs. 
On a weekend like this where conditions play a factor, you really need to try not to over analyse your data, as there really are so many ''maybes and 'what ifs'.
I'd say an 'ok' ride on Saturday, where I learned a bit about where I currently am performance wise, and some mediocre 'numbers' on Sunday but a good overall result.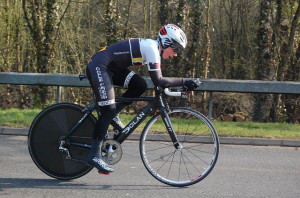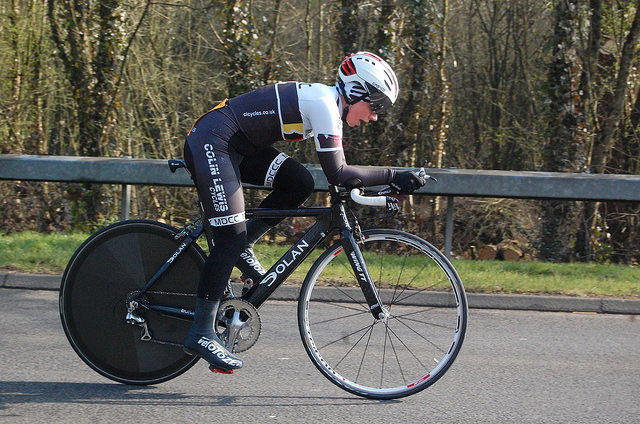 Sarah Lakey
 Its hard to write a race report where TT is involved.  It's an individual discipline where nothing exciting happens on the road other than seeing cyclists in funny pointy helmets racing against the clock!  But what I have discovered over my first season and at the start of this season its not all about the clock, but about being the best you can be on 'that' day, on 'that' road in 'that' weather.
This year I'm doing things a little differently………….
Im asking fellow club members for help, support and advice, something I didn't do last year.  We are very lucky to have an amazing wealth of talented cyclists within the club and others who just know a lots about all things bikes and racing.  So this year I'm tapping into this to help develop my own TT style.
The race on Saturday was in the evening, the forecast was dry with the wind dropping.  As I didn't have to get up at 5am I had the luxury of having a slower, relaxing morning before starting my routine after lunch……….
I got my bike ready, packed the car, had an afternoon power nap and left early to give myself time to drive the course a few times before the race.  Im very glad I did as the turn at 5 miles is tight and with few junctions to negotiate before getting back onto the A303 for the return leg.  I got changed, again super early, much to the amusement of all the other competitors as I still had over an hour and a half before I was due to start, but, I need a little flapping time so I was to schedule. This year I have  changed my warm up / routine to be an hour long.  Apparently a 'women of my age' needs to warm up for longer! I definitely felt fresher on the start line so this will now be adopted for every race.  Finally, I bravely took my leg warmers off and headed for the start line……… a few big breaths and that was it, the 10 second count down started.
To talk you through the race itself would be a little boring, but, it hurt and that was my goal.  Could I have pushed harder or ridden smarter? I think every TT'er will always say "Yes" no matter of they won or not, but "Yes" I could have pushed harder!
Saturday was my first win, ever.  Last season I had a few 2nd and 3rd places but mostly 4th and 5th. I'm also very aware if Becky and Gabrielle had raced then I would have come 3rd, but, a win is a win!
I must thank Caroline Light for questioning her recorded time.  She had originally won but didn't think her time was correct so she flagged it to the organiser. They had in fact miscalculated by 2 minutes which meant I actually beat her by 12 seconds. Winning both 1st lady and 1st Vet. Caroline is just coming back from a terrible accident and put in an amazing ride.  I must also thank the chap from Exeter Wheelers who caught me in the car park as my cleats were stuck in both pedals and I couldn't get off my bike unassisted!