Race Report – Jenny Corser reflects on her first year racing!
A year of racing.
I started road cycling almost exactly a year ago. The cycle to work scheme allowed me to purchase my first road bike. Previously Id been a very average, but very long distance, trail runner. I ran trails because I liked the scenery and the immense challenge of scaling a mountain in my running shoes and… well because I liked eating cake afterwards.
Id also been amongst other things an expedition medic, an Antarctic doc, and an avid ski mountaineer.
The bike was something completely different. Once on it I found I wanted to go fast. It was of course helped by the fact that cycling too involves cake, so this similarity was a definite bonus.
I started with a social ride. I researched on the internet and turned up. Not really knowing how to reconnect my front wheel to my bike as I took it out of my car I think the group had some doubts about my ability to keep up.
But I did.
A series of progressions followed. I cycled with the Tuesday/ Thursday groups. I cycled the D group on a Sunday. I cycled the C group on a Sunday. I joined the faster Thursday group. I cycled with the A/B group on a Sunday.
All the time this was happening I was questioning whether I could go faster. I didn't believe that I could. I kept thinking, this was it, Ive hit my maximum. I couldn't conceive of being able to push more.
But Ive learnt progress isn't linear. It comes in a series of spurts and plateaus. You've just got to keep pushing and believing. It helps if there's people encouraging you on, otherwise you need to maintain a very strong sense of self belief- sometimes in the presence of evidence completely to the contrary.
My very first race was an uphill timetrial- Haytor and Widecombe.. Id been cycling 2 months. Afterwards a friend said to me- maybe this isn't your sport, maybe you should try something else. Well meaning advice, but advice I attempted to ignore.
Over the year I've done 22 races and 5 time trials.
-Ive crashed.
-Ive been dropped.
-Ive been told to get cycling lessons.
-Ive struggled..
…but some of them I've won. (nine) and some of them I've placed in the top three. And mainly I've gained a lot of experience along the way and had a great deal of fun.
The Kalas womens series I didn't really know about until it was underway. I won the series in the categories:-
-Cat4 at start of season,
-Over 40 vet.
And Overall in the Womens Series I was 3rd.
My British Cycling category status has progressed through the year from cat 4 to cat 3 to cat 2.
Very small achievements in a grand scheme of things but enough to make me feel good.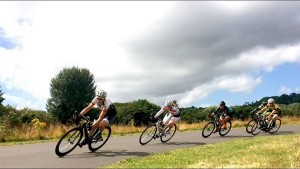 So I think what I'm saying is:-
-training is not without its pains. At times I've been so exhausted and short of breath on the bike its felt like I'm going to fall off. In fact I did fall off in one training session- I'd had a 12 hour day at work, but wouldn't let myself go home before I fitted in a hours training ride. I lost concentration and fell off sideways after a sprint effort. (my immediate reaction was to look around, hoping no one had noticed the crazy cyclist randomly falling off their bike)
-but above all the most important motivator is self belief . When you are pushing hard, and a little voice in your head asks you why you are doing this, and asks you if you will achieve anything, you need to have a good answer to silence that voice…
Success may just be being the best that you can be, and that's quite something.