Race Report – Cadence Junior National RR
The Mid Devon CC has a long and proud tradition of bringing riders through the ranks to experience national level racing. One of the principle aims of the Rider Support program (funded by the Dartmoor Classic) is to support up and coming Youth and Junior riders to test themselves against the best in the UK. Over the past few years we have had many great riders who have proved that they among the best in the country: Tom Baylis, James Davey, Charlie Meredith, Matt Langworthy and more. Before that John Locke, Yanto Barker, Jez Hunt and a host of others.
This year we have 4 Juniors riding at a National level. Joe Saunders and Steve Jones who are in their second year and Harrison Wood and Louie Priddle in their first. In future years these names may be among the alumni that future generations look up to and the process continues onward. This weekend saw Harrison Wood tackle his first National Road Race at Junior level. His report  follows
Today was my first ever national I'd taken part in on a road bike. I'd done the TT but not a race with 101 people in. The course was a challenging fairly short course consisting of 8 laps so 8 ascents of the final finishing climb which was a nasty 2 min climb which started off steep and then flattened off. The course as a whole was also hard due to it being fairly winding and exposed. Although there wasn't much wind which made it easier to hold your position on all parts. I'd travelled up on the Saturday as didn't fancy the 3 hour drive the morning before the race. This meant I had time to recce the course with Joe and realised that this course was going to be ridden hard and positioning was everything! Onto race day and it was like a scene from the Tour de France. Team cars everywhere with some teams even having mechanics with them. Although this doesn't make you faster! I didn't let this worry me and I just set about my own warm up routine. After the rider brief we rolled out for 67.5 miles of hard racing!
The neutralised section was sketchy as everyone was braking then accelerating! I was mid bunch at this point which was a good position to be in. After the flag dropped the pace ramped up but sadly Steve Jones crashed out shortly after due to being taken down by a fellow rider! Me and Joe were holding our own and I used any luls in the pace to move up the group! First couple of laps nothing really happened due to some half hearted attacking Then on the 3rd lap in Tom Pidcock began to test out his and others riders legs. I was around 30th wheel so I wasn't well placed. I pushed hard and missed the lead group. I chased hard on the descent moving up positions where possible and eventually was back in contact I realised I needed to hold a good position and if necessary get a bit physical in order to do this.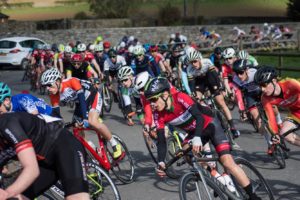 4th time up the climb I was 4th wheel and rolled over the top in 6th wheel! I looked behind and the whole bunch was strung out and splintering. I felt pretty good at this point so I was starting to think about a potential attack! Then on the back part of the course my race was finished. I was around 30th wheel as I'd dropped back a touch when all of a sudden an NEG motorbike hit the deck and took out the rider on the far right. It was then like a domino effect across the road and with me being in the left hand gutter it meant I had no where to go. I got pushed out and fell into some barbed wire ditch. I quickly got up and saw around 10 of us had crashed. I needed a new front wheel as mine was buckled. After getting it i had already lost 2 mins on the peloton. I got back on and chased as hard as I physically could do the top of the climb where they sadly had to pull me out I was gutted as I think I could of definitely got round with the bunch if not better! My bike sustained some more damage after Modbury but as Arnie Schwarznegger once said "I'll be back" All in all a great experience with a slightly annoying and angry ending! Thanks to Mid Devon CC for the support this year. My parents for helping me with my racing and Conrad my coach for helping me get into great condition ahead of these races!