Mid Devon CC wins Devon Sports Club of the Year!
The Exeter Foundation Devon Sports Awards in association with Active Devon shortlisted 3 different clubs for the prestigious 'Club of the Year' award.  Mid Devon Cycling Club had tough competition in the form of local Netball club the Teignbridge Titans and Devonport Royal Swimming Association having  both produced athletes which have gone on to represent  GB in their sport.  The Mid Devon CC has been the spring board for the success of many top UK cyclists over the years throughout all the age ranges and disciplines. It also offers rides for a broad spectrum of abilities from racers to beginners.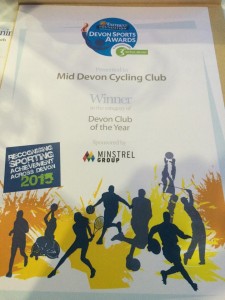 After a very inspiring talk from World record holder and Olympic Swimmer Mark Foster the award was presented to Sarah Lakey and Guy Langworthy by Dave Gibbons from BBC Sport and sponsors the Minstrel Group.  On receiving the award Sarah was asked 'What makes the club so special?' her answer was simple, 'Our members, they really do come in every shape and size! We are a Club for everyone, whether its kids just working on their bike skills all the way through to our National Champions such as Matt Langworthy and Harry Birchell who are with us tonight and then everyone in between.'
The award night was attended by Michele Radant who was voted 2014 Club Person of the Year, Matt Langworthy National Youth Circuit Time Trial Champion 2014, Guy Langworthy Chairman of the Dartmoor Classic and Sarah Lakey Sportive Officer and Ride Coordinator.  The club will now go through to National Club of the Year so fingers crossed we are shortlisted for this title.
Many thanks to all members who attended the filming session for this award, but more importantly many thanks to all our members…….you all make the club a fantastic club and all of you deserve to win Devon's Club of the Year 2015.
Chapeau!