Junior National 25 TT – Silver Medal for Harrison Wood
TT Today was the day of one of the biggest UK time trialling events. Alongside the national 10 it is the pinnacle of UK TT'S I'm told. Having recently refocused over to time trialling I was looking forwards to the event. I wasn't off until 16.40 so this allowed me to travel up on the day and enjoy the comfort of my own bed rather than that of a B&B. We travelled up with Jez from Bay cycles who also wanted to come along and watch the tt unfold. I arrived with time to spare so went about my usual warm up routine.
I was using my new MDCC skinsuit kindly supplied by the Club for this race which had been produced to order by Nopinz – it looked and felt amazing!. I started off hard as I knew the bank would offer some respite. I hit the bank and it was a headwind meaning I had to manage my speed and continue to push in order to maintain momentum. On the way out to the turn I focused on aerodynamics. Staying tucked in and as low as possible saw me maintain good speed and save some energy for the return leg. The return leg was rapid with me averaging over 50km/h on the way back. I picked off my 2minute man and knew I was on for a good time. I hit the final roundabout and went flat out all the way to the line to do a 49.18.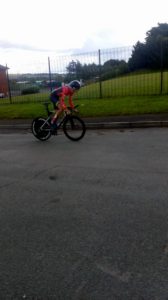 This was good enough for 2nd place with the winner doing a 48.52! I was chuffed with my ride which was also a personal best and a power pb I believe. So I couldn't of done much more Thanks to MDCC for the support this season and Nopinz for the suit. I'm now off to France to race in some UCI races as a guest rider!