Four Castles of South Devon Audax
A new Audax event from a new organisers perspective.
The Four Castles of South Devon Audax – Chris Noakes
Having discovered Audax riding a few years ago I decided i would like to bring an event to our local area and put on an event on behalf of the club to showcase the beauty and brutality of the terrain we live and train in. In the past I have organised time trials and hill climbs but this was all in the distant past. Attending many events throughout the South West I've taken note of how some of the best and most experienced organisers put events on so I had many ideas but ultimately it was important to deliver an event to remember.
Mulling over OS maps, riding lanes to see where they go and gradually putting together a route was the first stage. Then realising the elevation was ridiculous so back to the drawing board. I think the end product was the eighth edition !! Then I rode it and realised this was going to be a tough ride that would eventually be awarded an Audax 2.25 rating (1 point per 1000m of climbing in a 100km event). The plan and route was submitted to Audax UK for acceptance along with a risk assessment. As this was my first event as an organiser I had to have a mentor. Unfortunately Mr Brodie decided to disappear on his around the UK cycle travels. With invaluable help from David Twigger and the online organisers help pack, the event got its approval.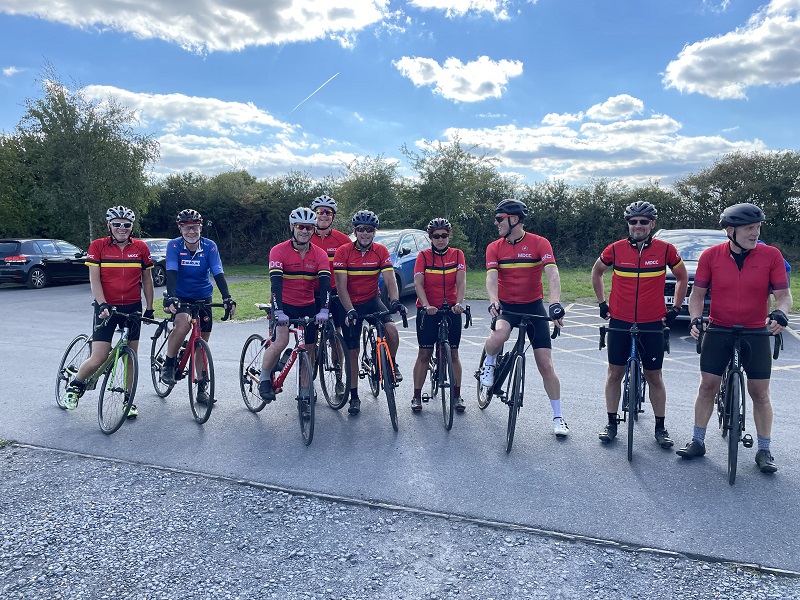 Just before entries went live I found out that the chaos of 11+ day at Churston grammar school clashed on the same day. A quick rethink and the problem was soon solved by moving the event back a day along with a new start venue at the very accommodating Brixham cricket club. A Facebook event page was set up and I went out to ride the 108km course multiple times to check the route accurately to provide a route card for the non GPX riders and to check for hazards and take picturesque photos to entice more entries..
Five days before the event I received a heads up about two road closures. An evening ride out to visit both sites to confirm there was enough space to pass the obstructions…. Panic over. Come event day I had seventy four entries of which nearly twenty percent were from female riders. Out before sunrise putting up a few signs, then welcoming riders at the HQ signing on. After a riders briefing followed by a minutes silence to pay respects to our late Queen, two similar sized groups were set off a couple of minutes apart.
The first information control was at Stoke Gabriel then onto Berry Pomeroy castle, then Compton castle and the first full control at Staverton railway platform cafe where my helper (Hilary) was on hand to stamp the brevet cards. Onwards to Totnes Castle then out to Ashprington, across to Harbertonford then up the biggest climb of the day to Crabadon cross. After Moreligh village the fast descent to Gara Bridge and then up the other side to California Cross then a few miles further on the second control was sited at the Aune Valley farm shop cafe where James was on hand with his ink stamp.
After a refuel the riders passed through East Allington before dropping down to Slapton and the stunning coast road back to Dartmouth to visit the fourth castle of the day. A ferry crossing over the River Dart and one last climb before a scenic descent back to Brixham. Back at the finish and a final brevet stamp and a welcome drink from the cricket club bar in the early autumn sunshine. For the record, James O'Neil was first rider back in a very rapid time but still well within the stipulated time limits. For the remainder of the afternoon riders returned with their own (smiley face) experience of the day. Deemed a success after lots of positive feedback the event will be back next year and hopefully be a regular fixture on the Audax calendar.
My intention is to have three or more different routes and to rotate them. There's so many more parts of South Devon to explore and it gives me a great excuse to get out and recce these lanes. Moving with the times i also hope to have electronic brevets available.