Ken Robertson Memorial and Tributes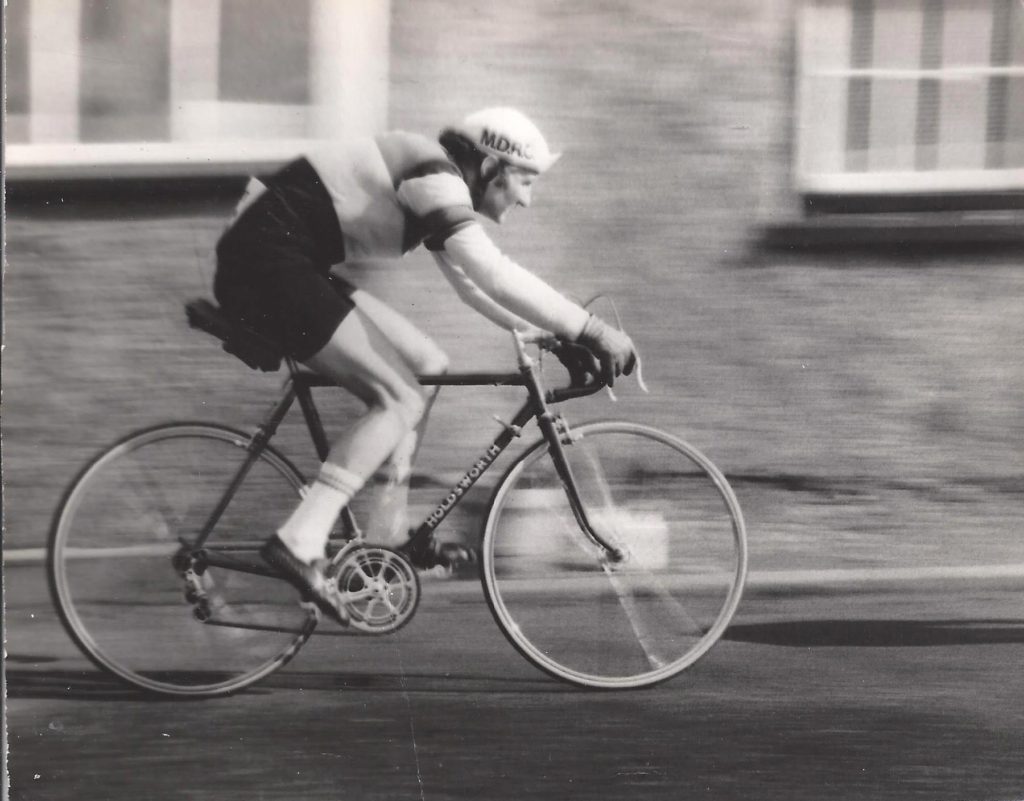 Please support the chosen charity of Kens family:
https://www.justgiving.com/fundraising/ken-robert-middevoncc
It is with great sadness that we have to inform you of the unexpected death of our very dear friend Ken Robertson who passed away peacefully this afternoon at 12:43.
He had been in intensive care at Torbay Hospital following a cardiac arrest whilst riding his bike yesterday morning. His son was with him and the radio was tuned to the French news station. Ken was a legend in the Cycling community, having spent over 50 years competing in, and organising races. He was an inspirational man, someone with so much knowledge and passion for our sport. He was also a true gentleman who always acted with dignity and honour.
We shall all miss him terribly having been a mainstay of the Mid Devon CC for generations. He will leave a gaping hole but we will keep his memory alive within the club and the wider sport We will all have our own thoughts and reflections of our time spent with Ken, which I am sure at some point can be shared, for the benefit of his family.
Rest in Peace Ken – thanks for all the memories.
Mike Gratton – Chair Mid Devon CC
Dear Mike,
Following your Facebook post about the sad passing of Ken Robertson I would like to offer sincere condolences on behalf of everyone at British Cycling.
For cycling to be successful we need volunteers across the country, and it is clear from both the comments on social media and in reading more about Ken's contributions that he was a valued, well liked and respected member not just of Mid Devon CC, but of the broader community as well, whether in organising events, providing support and insight, or simply being a good friend.
Individuals like Ken cannot be replaced or forgotten, and I hope that his inspiration lives on. Please pass on my best wishes to his family and friends.
Brian Facer – CEO British Cycling
I wanted to drop the club and Ken's family a line. I was driving behind Ken (I drive the disabled bus at Hollicombe Community Centre in Preston, Paignton and was on my way to pick up clients). I saw Ken slump onto his bike before falling off on Torbay Road. It was early in the morning, 7.45. The car in front of him stopped and the car behind my minibus. We phoned 999. The ladies who came to help were lovely, caring, gentle. We stayed with him, kept him warm and comfortable with our coats and jumpers. What I want to pass on is this. His fall looked like it was done in slow motion. We tried CPR but he already looked at peace. There was no suffering. None at all. I lost my own Mum 4 years ago and if Ken's son wanted to know more about the events of that morning I would be happy to talk to him or his family. Regards
Bob G
Ken was a beacon of light in the club. He was generous, inclusive and always working out ways to help cyclists. I was so impressed that he set up a rota one autumn to clear the cyclepath on Clay Pits Way. He made it easy and fun to help – and it made a real difference for so many. He was such a good guy in every way.
Celia, Harberton
I met Ken just days after moving to Torquay outside the Riviera centre where he was advertising the Dartmoor Classic. I said I'd like to sign up for the ride. Ken's words…
"Well you can't because it's full but you can join the Mid Devon cycling club and practice for next year"
I'll remember Ken for his great knowledge and experience as a cyclist and his generosity and kindness in sharing that with everyone he met. I also remember how he loved his tea and cake!!
❤
Linda, Torquay
I am so so sorry to hear that Ken has passed away. He was an inspiration for everybody and had so much more living to complete. It's been a privilege to have known him, cycled with him, helped at a few events and also been present at 2 of his ablation procedures. Will very much miss his presence, smile and wave.
Cherith, Paignton
Ken introduced me to the MDRC as a mid-teen Junior in 1983, quickly furnishing me with an old Black/Red/Yellow MDRC jersey and weekly rides to Buckfastleigh for the Summer Evening '10s'. The following year he caught me by a minute in a '25', offering me a friendly remonstration as I soft pedalled briefly behind a tractor and trailer (with full wind break of hay bales) past Bickington. By this time, Ken was also repairing my punctured tubs for a very modest fee. And I hold him (fondly) responsible when a year later, at his encouragement, I enter my first '12' and additionally, in what might have been madness-in-a-moment, I accepted responsibility of Club Secretary. I am very sad to hear of Ken's passing; his passion for cycling was incredibly infectious and I know I am but one of so, so many to have benefitted from his enthusiasm for the sport.
Jonathan, Exeter
I have a lifetime of memory's of Ken and met him for the first time aged 8 when my parents moved back to Devon. Over this time Ken has organised generations of Parker's with my Grand Parents, my parents and my children all recruited and performing tasks in various Mid Devon promotions. Having just turned 14 I experienced marshalling for the first time at Ken's Springtime Pursuits at Liverton (where I first met Andrew Perkins), since then I was encouraged to become a time trial and road race organiser as well as a Commissaire. Ken asked me to become Mid Devon Chairman fifteen years ago and it was a great honour to take on the role and lead the club. It was these experiences that helped me when I applied for the role of South West regional events officer with British Cycling. Ken has been a constant source of encouragement and guidance and I've grown accustomed to his early morning phone calls and emails, which I know I'll miss.
I think one of the best story's I can recall is from Ken's promotion of the Totnes Vire stage race some time in the mid 2000's. Ken has always been a stickler for abiding by rules, but applied them fairly and without favour. On this occasion Rob Hayles a professional rider and a reigning world champion on the track had entered after the closing date, despite there being spaces available Ken applied the rules and Hayles was denied entry and I'm sure now manages has calendar more diligently! Ken was devoted to his wife Anne and they were a formidable team with Anne manning the refreshments and Ken organising. In later years Ken led her care, nothing was too much trouble and as her eyesight failed he read to her.
Ken loved his trips abroad and particularly to our twinned cycling club in Vire the Velo Club Bocage where he made many friends and was greatly respected. I can recall him animatedly translating for the Mid Devon team and he was rightly proud when the club riders gave him a result to talk about with his French counterparts.
Chapeau Ken, a life well lived
Andrew Parker, Vice President Mid Devon CC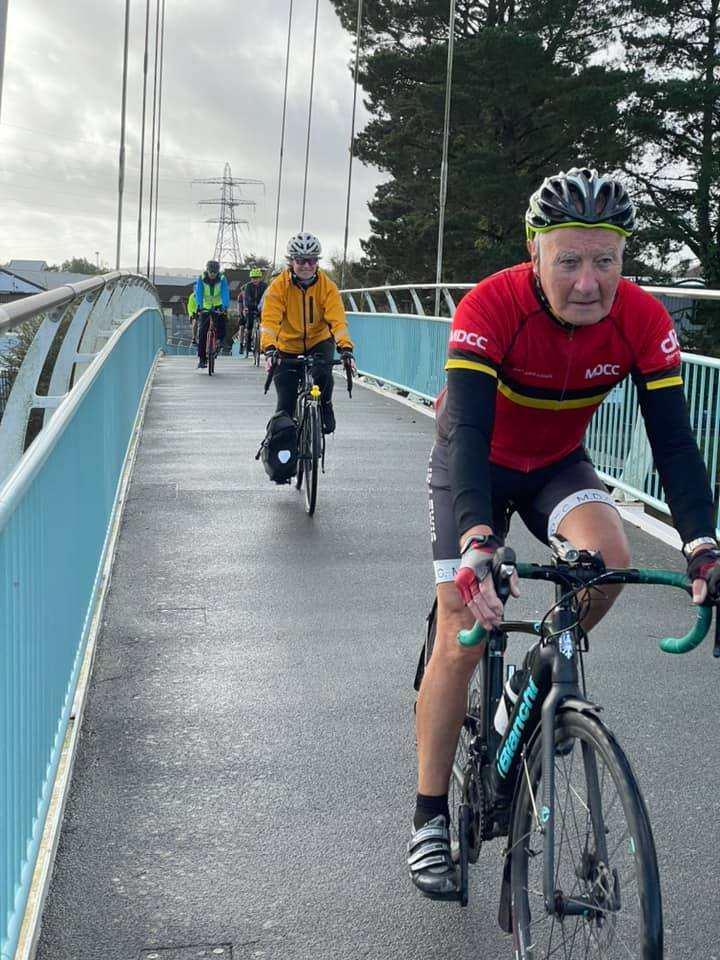 I remember Ken for his kindness and encouragement. His support on my early MDCC rides really helped me as I started to get into road cycling.
It has been nearly 10 years since then. I will be remembering him today.
Susie.
I have known Ken for over 35 years. He was supportive, in the brief years I did time trialling. I remember him overtaking me on a 100 mile time trail, and telling me to keep going , because I was going to do sub 5 hour. I did 4 hours 58 mins and 13 seconds. Still don't know how he knew that and marvel that he would think about my time above his own ride. That was Ken. In between years Ken has worked tirelessly to improve cycle routes and cycle facilities so that everyone can enjoy cycling safely. My last ride with him was over Haldon at the end of November as we joined Jessie Stevens on the first stage of her ride to COP26. I hadn't seen him for a while and I said he was looking fit, he let me know that he had a few health issues hence his new electric bike. As we climbed up from Bickley Ball to Teignmouth Golf Course I over heard his conversation with another rider. "Your electric bike is very quiet", says other rider, "Oh, I only use that when it gets difficult ", says Ken. Anyone who knows that hill will know there isn't much that isn't difficult in that climb. That was Ken. Thanks Ken for all you did for cycling, you will be missed.
Jackie, Newton Abbot
A true gentleman. Welcomed me to the club 5 years ago and true inspiration to keep on cycling. He will be truly missed.
Eamon, Chudleigh
To the organiser of organisers. Ken will forever be remembered for all he did for cycling across the South West. A great inspiration to us all.
James, Cornwall
Such a shock to hear this news of Ken. I first met Ken in 1984 when I was a skinny junior. Without his encouragement and support I doubt I ever would have raced – hence he is to thank for many years in a sport I still love. Ken was certainly ahead of his time in championing support for young riders and is undoubtedly part of the reason that Mid Devon Road Club (as it was called at the time) was so respected for being such a conveyor belt of talent. A kind and thoughtful man who will be sorely missed. He could also dish out an utterly deserved bollocking – we're all better off for that!
Ed
Such sad news. Ken was a lovely person and an inspiration. Rest in peace my friend, you will be missed by soooo many people mate. Love you xxxxxx
Stevie G
R.I.P. Ken. I remember him when road racing in my junior days.
David M
Ken you were a LEGENDARY gentleman on the bike and off the bike . Glad to have known you for the last 37 years rest in peace with Anne.
Didier L
That's sad, RIP Ken.
Jane W
RIP Ken, it was a pleasure to know you.
Mary C
Such sad news.
Laura W
A true legend, RIP Ken.
Claire, M
Very sorry to hear the news of Ken's passing. He was a legend and a real gent.
Julian S
RIP Ken, you'll be missed.
Gary B
So sorry to hear this sending Love
Veronica B
Really sorry to hear of Ken's death yesterday. We spent many years together on the old RTTC committee where Ken was a font of knowledge and information, firm but always fair in his decision making and always available with a bit of advise, he leaves a big hole to fill. Although a sad occasion it is perhaps appropriate that Ken's last hours were spent doing the thing that he loved most. My thoughts are with his family and the MDCC at this time. RIP Ken and may all your hills be little ones.
Alan D
What a way to go doing something he enjoyed will be sadly missed.
Martyn L.
RIP Ken, condolences to the family.
Simon B.
Sad news but fond memories of a prominent figure in cycling in the southwest. Thoughts are with his family.
Kevin B
Such a shock. He was a great inspiration and a fantastic source of knowledge. RIP Ken, it was a pleasure knowing you xx
Angela, Paignton
Very sad news indeed … Ken was a good friend and an inspiration to myself and my son when we first started to ride out with MDCC and he has been a major part of the success of the Dartmoor Classic Sportive He will be greatly missed.
Colin M.
So sad! Didn't know him at all but thinking of his family!
Laura H.
RIP Ken from John Brittle and family. I remember him well from my Dad cycling with him in the late 70s early 80s. My Dad will be very sad to hear this news.
Such a shock to hear this, a true gentleman, will be a huge loss to everyone who knew him and like others I've learnt a lot from him. RIP Ken
Andy, Teignbridge
One of a kind
heaven has gained another bright star
Rest in peace Ken xxx
Elaine, Torbay
What an inspiration Ken was and will continue to be to so many. He'll be remembered very fondly.
Helen C.
Sad to learn of Ken's passing. He frequently rode on our "P" courses in South DC. A great loss to the sport. RIP.
Martin N.
Such bad news, he was always kind and a Gentleman who pushed you on and said good words to you. My thoughts are with the family at this very sad time. God bless you you he was a wonderful man. We will miss him a lot.
Ralph F.
RIP Ken. From us all at CS Dynamo. You leave a big Ken shaped hole in SW cycling that will be impossible to fill.
Paul M.
My dad, during his time with Mid Devon during the 80s, spent many hours cycling with Ken and I had many hours of cycling stories from Ken as a small kid stood on the side of road during marshalling for various time trials and races.
Wayne F.
I have known Ken for longer than I can recall; having first met him when I was a competitor then working with him multiple times as chief commissaire on the Springtime Pursuits and Totnes Vire race. He was also the regional secretary when I became regional chairman of BC and was so generous with his knowledge, advice and guidance as I settled into the role. He was also a regular "sounding board" in my role as a director of BC. What was so evident about Ken through all of our involvement together was his huge, huge passion for cycling, his desire to help and his generosity. I am fortunate to have learnt a lot from him. RIP and thank you Ken.
Nick L.
I certainly remember Ken from my time at the Mid Devon during the mid 80s. A man never forgotten. I thought he'd live forever.
Tim M.
A gentleman and true character always willing to help and give advice.
Guy F.
Very sad news.
Peter W.
Sincere condolences from Penzance Wheelers – Ken's support of Cornish cycling will never be equalled – a great loss – an honour to have known him for many years RIP.
Jonathan B.
Very sad to hear this news. Lovely words Mike. A great ambassador for the sport and a great organiser of races. The thoughts of Bath Cycling Club are with you.
David S.
RIP Ken, I was riding along the Torquay Road early 1967, I was 17, when Ken caught me up, he didn't ride by, I must have been going quite quick, he stayed with me & suggested I come to the Mid Devon club room on Friday night, I did & rode my 1st TT the following Sunday. Thank you Ken for starting me off in my cycling life which so far has lasted 54 enjoyable years in different guises. Commiserations to all the family at this sad time.
Alan B.
It was an honour and pleasure to have known and worked alongside such a gentleman. Will be remembered with great affection. Thanks Ken RIP.
Graham M.
Of course it's exactly how he would want it. Rip Ken I too will follow in your footsteps, I am grateful to have known you.
Andrew M.
RIP Ken … was very supportive when I first joined the club, big loss to the local community and the world of cycling.
Simon F.
So sorry to hear this sad news. Not into cycling myself but remember Ken fondly as a colleague and being impressed with his cycling exploits.
John F.
Such sad news and my thoughts are with Ken's family. I have never know anyone that loved cycling more than Ken. His passion and knowledge was inspirational, we were so incredibly lucky to have him firstly as friend and driving the success of cycling in the South West. Rest in Peace Ken you will be missed greatly but so glad to have known you. XXX
Maria W.
RIP Ken. Knew him for 30 years and always an authority on all things two wheeled. Thinking of MDCC and family at this sad time.
Mark P.
Thoughts are with the family, a life well lived and an advocate for the sport dear to him. Will be missed by very many.
David W.
I'm so sorry to hear the sad news of Ken's passing away, met Ken many years ago when riding Totnes 2day, what a great guy full of enthusiasm for the sport and inspiration to many, what great a great guy, good memories, RIP Ken.
Mike W.
RIP Ken. Such an inspiration to us all. Probably the best organiser the SW has ever had.
James B.
Oh my goodness that is horribly sad. Such a gentleman such a pleasure to know. From all at One and All, our sincere condolences.
Rod J.
Aww very sad news. Condolences sent to his family. RIP in peace Ken – one of a kind! Sharon A. So sad to hear. My thoughts are with his friends and family at this time x Will T. Awful news. RIP Ken always a gentlemen and great supporter of grass roots local racing.
Mark B.
My condolences to Kens family, A very sad day for MDCC and a huge loss for cycling in the South West and beyond. May the roads you now cycle Ken be flat and smooth. Pedal on. #RIP #rideinpeace
Matthew S.
Very sad news, indeed. Known Ken since I was a junior. I'm nearly 61 now! Au revoir and bon route, Ken
C Littles.
Oh my goodness. I have never met Ken but exchanged many emails. Sending Massive hugs out to family
Emma D.
RIP Ken – What an amazing legacy to have left the sport and region. Thank you.
Tim A.
That's so very sad, what a lovely man Ken was and the greatest ambassador for South West cycling for so many years through his hard work and encouragement.
Steve T.
RIP such a lovely guy met him around 15 years ago when I first got into cycling.
Sarah C
Heartfelt condolences from all of us at Wheal Velocity Cycling Club. Many in the club counted Ken as a dear friend and all will miss his enormous contributions to cycling across the whole South West.
Craig R.
Very sad to hear this news, Ken was always such a source of knowledge and support. Such a great champion for all cycling, even BMX racing.
Paula H.
Ken was amongst my best friends and I was with him this week at his house when we looked at his latest medical report. He then told me my TT bike was safe in the back of his garage. I agreed it was best there not believing I would not see him again. We spent so much time together over many years. RIP my friend Ken.
Ralph H.
A real sad day for cycling in the South West. A true gentleman who will be missed my condolences to all his family. Thanks for some great memories RIP Ken.
Andrew W.
I was lucky to have bumped into Ken on Sunday . I know he was working for cycling last week because he sent me an email. He put a lot of work in over a lot of years. I have a lot of respect for Ken a true gentlemen RIP Ken.
Keith L.
I'm so very sorry to hear of Ken's passing. I first met Ken as a "wet behind the ears" apprentice 30 plus years ago and quickly learned of his passion & enthusiasm for cycling. Ken popped into the shop earlier this week to say hello and spoke with that same passion and enthusiasm of his recent trip to the USA and of his plans for the TDF 2022. My sincere condolences go to all Ken's family. RIP Ken, you were a real inspiration. It was an honour and pleasure to have known you.
Simon P.
Words really fail at this time. The overwhelming feeling is of sadness and a great void. Phrases like force of nature and legend as very overused, but very apt in Ken's case. I will be indebted to him for all the help and support he gave me as a race organiser, volunteer and when taking over as BC regional secretary. Ken gave everything he did 100% and you could only aspire to his standard, which was always excellence. Cycling in the SW has lost its biggest supporter and cheerleader. RIP Ken we will all miss you.
Brandon E.
I have joined the club recently, but I have managed to meet Ken. A joyful gentleman with passion, with vigour, with humour. Ken was an outstanding human, and, from reading all these memories in others comments, I gain more understanding of what an inspiration he was. True legend. RIP Ken, you will be missed!
Filip C.
This is such sad news, sending all my love to his family. He never ceased to amaze me with the support he provided to all the riders, MDCC has lost a true legend. Thank you Ken, keep pedalling up there!
Lauren D.
It is with great sadness that we inform you of the passing of District Secretary for the South West and an ex-member of the National Committee, Ken Robertson. As many of you know Ken was an active participant in every aspect of the sport throughout his life. His passion for time trialling was pivotal in developing the sport over the many years he was involved in competing, organising and overseeing events.
Ken was the 10th longest serving member of the RTTC national committee having served for 21 years from 1981-2001. He was always ready to join in the discussions around the meeting table, never afraid to say how he saw things but ready to listen to the point of view of others. Never one to stand back from taking on any task, Ken was a great volunteer and was awarded his RTTC Gold badge for services to the organisation in 2001.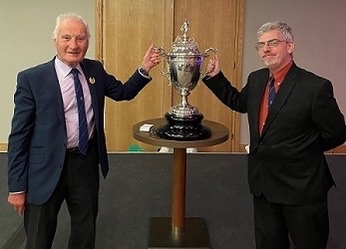 Ken's life revolved around cycling and his late wife Ann would often accompany him on his travels to meetings and events as well as being a great support at the numerous events he ran in the South West, including a number of RTTC National Championships.
Ken will leave a big hole in the cycling fraternity, particularly in Mid-Devon CC the club of which he was a life long member but also across the wider world of cycling.
Cycling Time Trials Stewart Smith
I would just like to say that Ken was the most hard working person I know for our sport of cycling. His tireless efforts will be sorely missed, his smiling face at a start of a TT with a quip of some sort was priceless.
Ken I hope you will be turning those wheels in a better traffic free place RIP a true friend you will be missed by all, I am proud to have known you and call you a friend!
Tom C.
I'm so sad to hear of the passing of Ken as I'm sure all the messages you receive start. You may or may not know that my Simon (Thomson) passed away in Oct 2020 on his bike just like Ken, cardiac arrest, just him and I alone on a ride, just as he loved it. I do appreciate and understand how hard this is for his family and friends and would like to pass on my sincerest condolences to all who loved him. When Simon and I first joined MDCC ken was so welcoming. On one of our rides he held on to Simon's top up a hill as he said Simon was such a strong rider and he needed a lift! It was very funny at the time and something Simon referred to on many an occasion. From my own personal point of view, Ken persuaded me to take part in a time trial as he said he had seen me ride many a time and knew I was capable of breaking the 30 minute barrier and I would be letting myself down if I didn't try. Obviously he was right and I did break it (just) and earned myself my place on the C ride with Simon. He was the heart and soul of MDCC and i have never met a more welcoming soul. I know what loss feels like 14months on so I wish his family and friends all the best and always talk, always, he will live on. I know him and Simon will be having a lovely reminiscence about cycling up there.
Sarah G.
Finally found this picture that I had been looking for since Saturday. This is how I will remember Ken. He did everything he did with absolute conviction. Whether as in this case it was just a club 10 or a national event you always got the same dedicated, 100% from him. I did my first ever MDCC club ride and was lead by Ken and I fondly remember dragging him all the way up the hill from Copplestone to Bow with him hanging onto my Jersey pocket! Desperate to impress I put some effort in and we were soon off the front of the group. I got us to the top feeling pretty pleased with my effort only for Ken to tell me I had done the whole thing in the wrong gear! That was Ken. A true legend.
Stewart D.
Beyond sad…. Ken such an amazing memory for every detail. Reunited with Anne I hope. Such a gentle man. RIP
Hilary D.
Very sorry to hear the sad news about Ken. I don't manage to get out on the club rides very often but I remember Ken being very helpful and welcoming when turned for my first club rides a few year back. I had a flat on my first ride out which he helped to fix and I remember on a ride in the South Hams somehow Ken and I found ourselves detached from the group. I would have had no chance of finding my way to the coffee stop without Ken's amazing knowledge of the lanes. An embodiment of all that is so good about cycling.
Andrew T.
Sad sad news, the cycling community in the south west have lost a one of kind servant of the sport, his enthusiasm and commitment in all things cycling was truly inspiring to anyone who met him.
Richard R.
Ken will be greatly missed and long remembered – he was absolutely committed to the sport of cycling and those who cycle – one of the great members of the club.
Stephen P.
RIP Ken. What a wonderful gentleman he was. Ken was an inspiration in many ways, and he epitomised the mantra "use it or lose it"! He recently put himself forward when I asked for a mentor to support a new member, and as always was a great ambassador for the club, demonstrating that inclusion is very important. His memory will live on.
Gill H.
So sorry to hear about Ken. I was always amazed by his knowledge about basically everything.. He will be sadly missed. Kens house is just up the road from me. Even on days when there was no club ride I would see him cycling up Marldon Road, I remember my first club ride back in the 90's. We were cycling up to Moretonhampstead and I was at the back of the group struggling . Ken dropped back for a chat, then proceeded to push the guy next to me all the way up the Hill, pretty much all the way from Bovey to Moretonhampstead.. I was gutted.. why wasn't it me…. I realised then what a legend he was. Going for a club ride will never be the same.. RIP Ken…
Rob N.
Sadly missed..
Kris P.
We all have so many lovely memories of Ken. Very sad news. My last memory is when he was buzzing telling me outside Cafe 360 about his away day in North Devon. Glad he got to America recently with family. What an inspirational man.
Forbes P.
So very sad and still in shock that our great Ken will not be at Abbrook this Sunday. He was such an inspiration to so many people and will always be grateful for the help and advice he gave Harrison. You will be missed by so many people. RIP Ken
Sue W.
RIP Ken. Beyond inspirational! A true legend!
Vivek K.
Devastating news I think anyone who cycled in Devon knew Kenny. A very sad day indeed. RIP Ken
Shaun C.
RIP Ken. You were a force of nature. We will miss you.
Craig M.
Deeply saddened to hear this news RIP Ken you will be truly missed by us all.
Barrie L.
Will miss him. Didn't matter who you were, he always had a cycling story to share as you cycled along side him. All the best to his family.
Kevin W.
Will miss him so much but his memory will live on. The word inspiration does not fully describe what he stood for. We all have a bit of Ken inside us to carry on into the future, which is what he would want.
John S.
Deeply saddened to read this- I only rode with Ken and the group on Tuesday! He was a true inspiration with his dedication and passion for the sport- a real cycling legend. He will be missed by many. Much love to friends and family x
Caitlin M
Such sad news , Ken was a inspiration and a true gentleman , always there to help and show support to the club , and it's members , bless you Ken xx
Karelyn F.
Sad news. He will leave a big hole in the club. A good egg and a true legend. Rest in Peace Ken.
Jonathan C.
So sad and shocking, he was a legend and a personal inspiration, he showed how it is possible to an active and lively life well into your eighties, l will miss him and his whistle announcing all the rides.
Dave L.
I'm sorry to hear about this.
Meg H.
So many memories of Ken in so many ways, never to be forgotten.
John C.
A true legend. RIP Ken.
Louise S.
Ride on Ken with tailwinds and rest in peace. Much love to his family xx
Sara C.
We will miss him dreadfully. He cooked an amazing meal for Mike and I a couple of weeks ago. I shall certainly miss his 6 am emails x
Michele R.
End of an era – the passing of Ken leaves quite a hole in the SW cycling community. I first met Ken in 1972 or '73, in almost the spot where he fell yesterday, before I'd even got to the top of the hill he had conscripted me into the MDRC! Ken wouldn't want people to be sad, but to carry on riding and inspiring others like he did. R.I.P Ken.
Graham B.
Didn't expect this and I imagine he had many things in flight. I'll honour him in continuing them where I can.
John S.
So very sad, he was such a lovely man and such an inspiration.
Rose P.
RIP Ken. You were inspirational to what young and older riders could achieve be it for fun, exercise or competition. MDCC has lost a star. You also led discussion with Local Authorities and Sustrans to improve and make cycling safer. Your boots will be difficult to fill but to many you have set an example of what is possible by helping our community to enjoy cycling.
Martin E.
Rest in peace Ken. What an inspirational man.
Jenny C.
Oh gosh, I'm shocked and so deeply saddened by this news. Ken was an absolute legend, a true gentlemen, an inspiration.. We have so many fond memories that we will cherish. He would not have coped with long term illness or to be in a situation where he couldn't ride his bike so it's a blessing he passed away doing what he loved. xx
Bec K.
Truly saddened to hear of Ken's passing. A great loss to us all and me personally for his inspiration and presence when I first started club cycling. Will miss him enormously.
Ray B.
Ken became my friend and close mentor. A man for whom respect and highest regard was his gift. He gave so much to us all and I shall miss him and remember his 7 am calls or messages with fondness and humility. It was a privilege to be alongside him and to learn from his wisdom. Rest in peace. Our world is a smaller place without him.
Liam M.
RIP Ken, hope they have bicycles in heaven . Lots of love to your family. Sally C. Very sad news.
Julia M.
A fitting post trying to undo the fabric of club and person would be impossible in this case . Ken was through and through he was Mid Devon. But he was a fabulous servant to cycling and in particular the south west. In the early years we fought as Cornwall and Devon never mix more still I was young. Laterally the last 10 years he was an amazing supporter to Saint Piran Cycling and any activity where we promoted cycling. Through the team with Steven Lampier and our organising with Tom Cox and support he gave to Jenny Bolsom in promoting cycling is his legacy. Thank you for you advice. Service and input into cycling. Our sport has lost a great man in many respects. Mid Devon a pillar of the community. His family and loved ones a wonderful person. Ken thank you from the bottom of my heart.
Richard P.
Shocked to the core. Terrific fella, so welcoming to me those years ago. Regards to his family.
Simon K.
Awww. Such sad news. I did the group ride Autumn Leaves with him a few weeks back…..I felt honoured to be at his rear wheel. Gosh it was very windy and wet that day, just as we were going up through Exmoor. Such a lovely kind man. RIP Ken and thank you for the talcum powder.
Nicky T.
I'm so sad to hear this news. Being a relatively short term member of the Mid Devon CC, I found Ken to be a true gentleman and friend. The club and cycling in general has lost a great man.
Tony O.
RIP big Ken what an absolute legend.
Simon M.
Very sad news, Kens enthusiasm for all things cycling was infectious. Rest in peace Ken. My thoughts are with his family.
Will L.
Such sad news and touched all of us who had opportunity to cycle with him over the years.A true gentleman and inspirational cyclist. RIP.
Eamon C.
Gutted. Been on many a club ride with Ken but not in recent years. A wonderful man. My thoughts go out to his family and all who knew him. Rest in peace on the great bicycle in the sky.
Kristian D.
How sad. He was so kind and his love of cycling was legendary and inspirational to many generations. Rest in peace, Ken.
Katrina V.
I can't believe he has died. I thought he would brush off his collapse in the same way he would climb a steep hill. At least when he collapsed, he was doing something he loved.
Andrew G.
He will be very missed. Our thoughts are with his family x
Liz C.
We'll have to raise a mince pie in memory of Ken and his interesting shortcuts on Sunday.
Sarah M.
My thoughts go out to Ken and his family, a true gentleman and great ambassador of the Mid Devon, he done so much for the club, it was a honour and privilege to have known him, greeting everyone with a smile, he was "The MDCC" I will always remember his love for cycling x
Gemma F.
Such sad news. It's not often you can truly call someone a legend but Ken gave so much to cycling over the years in so many ways.
Martin B.
Aw such sad news and massive loss for the community x
Joe T.
A life well lived! His legend will live on with all of us he touched.
Sean L.
Oh gosh, so saddened to hear this . He was so brilliant.
Juliet E.
A true gent. Always had time for you. RIP
Gary C.
A true gentleman sadly passes today we are in total shock, we all learnt so much from him, the club will miss him terribly.
Sean B.
Rest in Peace Ken, a true local treasure.
Old G.
So sad to hear the news, what a great loss for his family, the SW Time Trialing community and club cyclist. A stalwart to cycling and the CTT. I will greatly miss his little email nudges and such a resolute sounding board for all my TT conundrums.
Richard B.
Bless him!! So sad but what a great life he had xxxx He will continue to inspire me for sure and get back on that bike! Thanks Kenny.
Stevie G.
Thoughts with his family and club alike. A champion of the sport.
Rob L.
RIP Ken.
Tim H.
Nothing but admiration and respect for Ken. He was a gentlemen and ambassador. He did more than most for cycling over a period which in his case lasted a lifetime. He will be missed sorely by many.
Sean C.
RIP Ken.
Rob M.
What a guy Mid Devon road club through and through sadly missed. He touched all clubs in the local area.
Andrew L.
I first met ken when I was 14. The club house was up behind the church above the strand. I was in awe of Ken and Colin Lewis. They were my heroes!! So sad.. He will be sadly missed!!! RIP.
Chris K.
So very sorry to hear this thoughts are with his family at this sad time xx
Jan L.
Amazing man who left an amazing legacy…. Huge respect
Chris G.
RIP Ken. – What a fantastic legacy for the sport he loved and SW region. – Thank you.
Tim A.
Mike Skinner, Ralph Hitchens, Ken and Ron Georgi. Taken on the climb out of Nice on route to Monaco to watch the time trial of the 2009 T.D.F. We flew from Southampton to Avignon, staying in Cavaillon on the first day from there we rode through Draguignan, Fayence, Grasse, Nice and Monaco.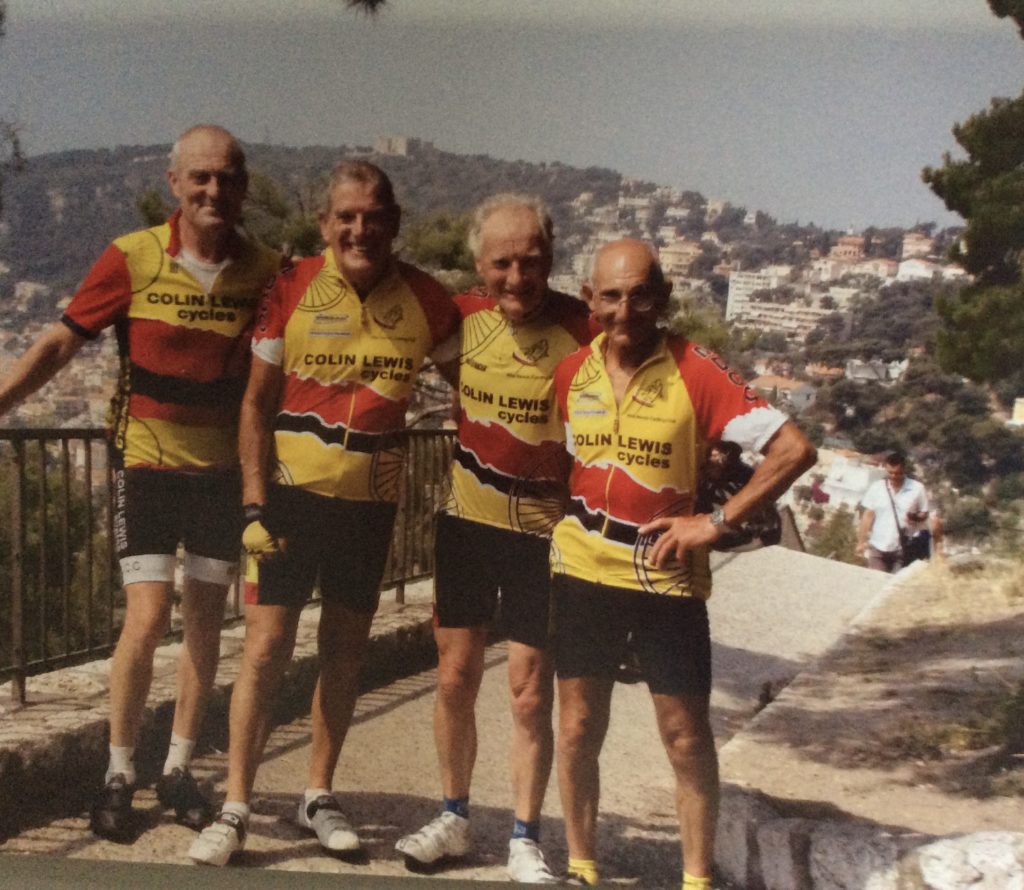 Great write up and certainly the man I knew. A sad loss to Mid Devon and the wider cycling community. RIP Ken.
Mark P.
He allocated sufficient time to ride his bike to keep himself as fit as possible at all times. He was always one of the best time trialists in the West Country at all age groups for a very long period of time.
Ken worked with organisers of time trials, road races and other cycling events to ensure the South West region had a good range of races. He was ever present at the annual date fixing of events for each forthcoming year. He was Mr Time Trials South West. His hard work resulted in a full programme of racing events being published annually.
He organised numerous local events including the appointment of time keepers, judges in time trials and road races. He liaised with police regarding road safety, marshalling points and the appointment of race officials. It will probably need 10 people to replace the time needed to ensure there are volunteer race officials to cover his voluntary duties.
In this era of deteriorating communications the Club needs good communications volunteers to ensure what is going on is publicised adequately to members.
Ken was ever present on the Club Committee as a volunteer. New volunteers will be needed to replace those who have completed a stint.
Ken led many Club rides, whether they were Sunday Club rides, weekday club runs or friendly social rides. Leaders of Sunday Club rides are often needed as volunteers. For several years I benefitted from riding with Ken and Ron Georgi on long rides as training sessions for my multi-sport duathlon international races (run/bike/run) and running marathons. Their company during these rides was invaluable to my success.
Eric B, Torquay
And it goes without saying, I have been following the tragic news of Ken's loss. It is so sad to lose an icon. I personally believe Ken is in a better place and will always be with the club on rides – as he is with us in spirit. God bless.
Chris T.
An inspiration to everyone that met him.Only met him a few times but a true gentleman.Rest in peace and God bless you.
John W
Dear Ken, such a lovely guy and a brilliant inspiration. I will always be grateful for his company and advice on rides.
Paul, Cornwall.
My favourite pictures of Ken are the attached, dating back to Feb 2014, when weeks of rain resulted in a flood so deep that Ken hitched a ride on a tractor with the bikes of his group.
Phil S.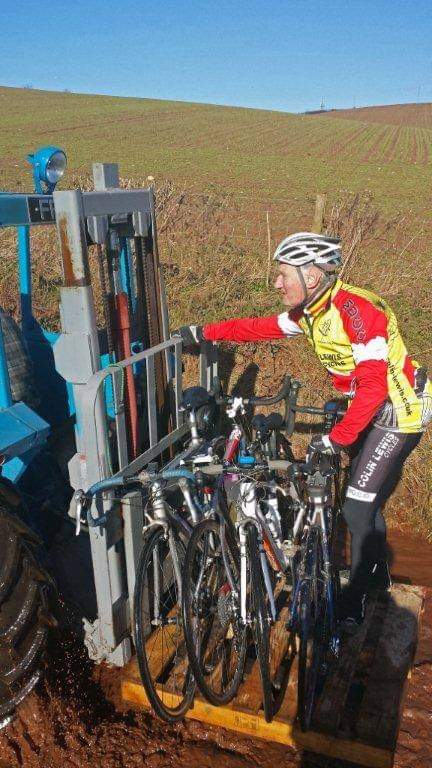 I've been a bit slack on getting some thoughts and memories of Ken, as been a bit busy racing and organising events. But also still coming to terms with such a big loss to know what to say.
I've not done much in the way of riding with Ken but since I joined the club and gradually got more and more involved. Starting with DC help, then help with crit races at the Velopark I then took on helping with Ken's road race The Primavera. I raced it twice but mainly helped out with installing signage and also with radio work assisting commissaires in the race convoy. It was an event I look forward to, no matter the conditions and always amazed me the amount of work Ken put into making it such a great race. I distinctly remember the pre-race briefings and Ken would be like a strict schoolmaster apprehending late riders! Also a classic quote from that briefing was "if you see a pothole and there's no room to manoeuvre, suck it up and take it like a man". The classic bike racer that was Ken.
As well as eventually being on the MDCC committee I also joined the Velopark Steering group that Ken and others set up so we could try and make the place a bit 'busier'. Ken was instrumental in trying all angles to enable getting improvements made and for the benefit of the public users as well as the club.
It's only from gradually getting myself more involved with cycling locally that you realise how much Ken did and still had the time to ride the many miles a week he did! Ken seemed to have a finger in every cycling pie available and his knowledge and determination to get things done were something myself and many others will only be able to hope to emulate. If you had an early morning email or phone call from Ken, you simply were unable to say no. Ken was a do-er and always got things done.
I've lost count how many various meetings I've attended where Ken was involved, there's a huge space in local cycling that Ken occupied and his memory forever will stay – I hope more people who care as much about cycling as Ken did, will do their bit when asked, but not just when asked. Do it for the love of cycling and improving peoples lives. Ride in Peace Ken
Martin S
I was first aware of Ken's Trojan contributions to cycle sport at a late 1970s edition of the Totnes/Vire stage race. So, it may therefore surprise you to learn that, over four decades on, I have few 'stories' (as such) to tell. At that time, I was not a Mid-Devon member but was simply present at the event, representing one of its sponsors. However, it quickly became clear to me that the power house behind the event's slick organisation was Ken Robertson, who was a virtual tornado of activity, managing every aspect of the demanding occasion.

A few years later, under a new organisational structure – and still not affiliated to the MDCC – I was invited to promote a revamped Totnes/Vire, at which Ken would be the chief marshal. This was when I really got to see the industriousness, skill and passion of the man; a true event official in every sense of the word. Then, throughout the 1980s, I was able to closely observe Ken working tirelessly for the sport he was dedicated to. During this time, and ultimately freed of my other responsibilities in cycling administration, Ken finally persuaded me to join him in the club he loved.
Early in the 21st century, Ken and I got the golden opportunity to work together again as (respectively), organiser and promoter of the Dartmoor Classic. Often, over the decade which followed, it was Ken who's grasp on reality balanced my flights of fancy; which always delivered a sensible outcome.

Despite being fellow club members, I only actually rode with Ken a couple of dozen times or so over the many many years in which I knew him. One such occasion was when we were part of an MDCC team competing in the annual Prix du Jumelage stage race, organised by the Velo Club du Bocage; part of the Totnes/Vire twinning association. Here I was in awe at the reception Ken received from the local dignitaries, who treated him like visiting royalty. Then, only in his early forties, Ken had already established his credentials with our French hosts as a man of integrity, reliability and honour.

Perhaps that which best sums up my working relationship with Ken are these words from a 2011 Cycling Weekly preview of the Dartmoor Classic:- Ken Robertson and Ron Keegan are a respected dynamic duo in South West cycling. They've been organising events on behalf of the Mid-Devon Cycling Club for years, and they come together for this very special sportive by playing to each other's strengths. Robertson is the organising details man, while Keegan is the publicist.

A measure of Ken's organisational supremacy occurred at the 2013 Dartmoor Classic. Half an hour before the start, he was informed that a massive tree had fallen during the night and the route was completely blocked. Cancellation appeared the only option, but Ken had other ideas. He came up with a 12 mile detour that would neither add nor take away from the event's published distance. Within minutes, he had redirected the marshals and resigned the route. The start was delayed by just a quarter of an hour!

My enduring memory of Ken will be that at Torbay Velopark, where a big group of veterans were enjoying an hour's workout on the circuit. Less than five minutes into the ride, Ken dropped off the back. As we were part way through the next lap, we saw Ken stopped on the inside grass verge. Calling to check if he needed help, Ken waved us on. By the next lap, Ken had almost disappeared into the undergrowth. Several laps later he emerged clutching a plastic shopping bag containing several kilos of berries he had picked for one of his other passions; jam making with his much loved sister Janet.

Bon route Ken, I shall seriously miss your comradeship.
Ron Keegan Vice President Mid Devon CC
What an excellent turnout for Mr Mid Devon well done all who supported this amazing send off Ken
would have been proud as punch.
Gerry B

Unlike most of Mid-Devon CC I hardly knew Ken. Mostly we only passed each other on Sundays at
9:00 at Abbrook. I only had the privilege of riding with him once, and it's a special memory to have,
especially riding alongside him uphill from the Teign Valley site of Doccombe when the rest of the ride
had gone on ahead and I stayed back to accompany Ken who was a bit slower on the hills. It was
lovely to chat with him about families and cycling and his encyclopaedic knowledge of the roads of
Dartmoor. My other memory of Ken is at the start of the Dartmoor Classic, especially this year 2021,
when Ken was as usual briefing and releasing the groups of riders from the racecourse and I was
doing my best to shepherd the groups to the timing point. I must have head Ken's briefing a dozen
times and each time it was wonderful. He was a role model to us all, and despite his full life he has left
us far too soon.
Mike D, Kingsteignton

It was in 2006, when I was 43, that I purchased my first bicycle since leaving school. In my
younger years I had kept pretty fit and active but in recent years I had let my fitness slip and had piled
on the pounds. I took advantage of the 'Cycle to work scheme' to buy my nice shiny new bike and
embarked on my mission to get back in shape. Observing my new steed, a work colleague told me of
his cycling exploits and how he would cycle 100 miles in a day. I was suitably impressed by this
herculean achievement and thought to myself, "Well, If he can do it, so can I"

Rather fortuitously, around the same time, Mid-Devon CC advertised it's intention to stage the
inaugural Dartmoor Classic with a 100 mile route option. Challenge accepted! So, in order to train for
the event I decided to join Mid-Devon CC. On my way to Abbrook for my first Sunday club ride I was
somewhat nervous, wondering what I had let myself in for, after all, it really was a case of 'all the gear
and no idea'. On my arrival I quickly glanced around, 'sizing up the competition'. Spotting Ken and a
few of the other senior members such as Max Vautier, I began to relax and thought to myself, "a little
bike ride with these old blokes, how hard can it be". Well I was about to find out!

Ken spotted me as a newbie and informed me that I would be in his group, the B ride. In those days
there were only two options, the A group for those who raced and the B for anyone else. Ken told me
that the ride was to going to Okehampton but as this was my first ride, I should turn back at
Moretonhampstead. "No" I stupidly said, "I am training for the 100 mile Dartmoor Classic, I will do the
full ride". Ken replied, "You would be better off aiming for the 100 km route, it's a tough ride".
Undeterred I set off on my inaugural club ride. By the time we reached Moretonhampstead Ken was
patiently waiting for me at the top of every climb. By the time we got to Sticklepath Ken was beside
me pushing me up every hill. On reaching Okehampton I was completely blown. Having a
reasonable knowledge of the area I persuaded Ken to leave me to limp my way back on my own.
Affording me plenty of time to reflect on my poor judgement of a few old blokes!

Following Ken's advice I quickly switched my Dartmoor Classic entry to the 100km route and no
sooner had I completed that epic endeavour, Ken had me 'volunteered' on to the Dartmoor Classic
committee. Then, in no time at all, I turned up for a Dartmoor Classic meeting, Ken proposed me as
the new chairman, Andrew Parker seconded it, the committee agreed and Ken just looked across at
me, smiled and said, "come on then, let's get this meeting started, I haven't got all night".
Ken remained committed to the Dartmoor Classic throughout. He never missed a meeting and during
the event weekends he was always the first on site and the last to leave. His level of knowledge and
commitment was unrivalled. Just two days prior to his sad departure he was with us at the Dartmoor
Classic committee meeting, putting forward his proposal for a special club-members edition of the
event.

Ken has had a profound impact on my life. He was without doubt one of the South West's most
inspirational characters in cycling.
Stewart B.